The ensemble of buildings has a strong topographical relationship with both land and water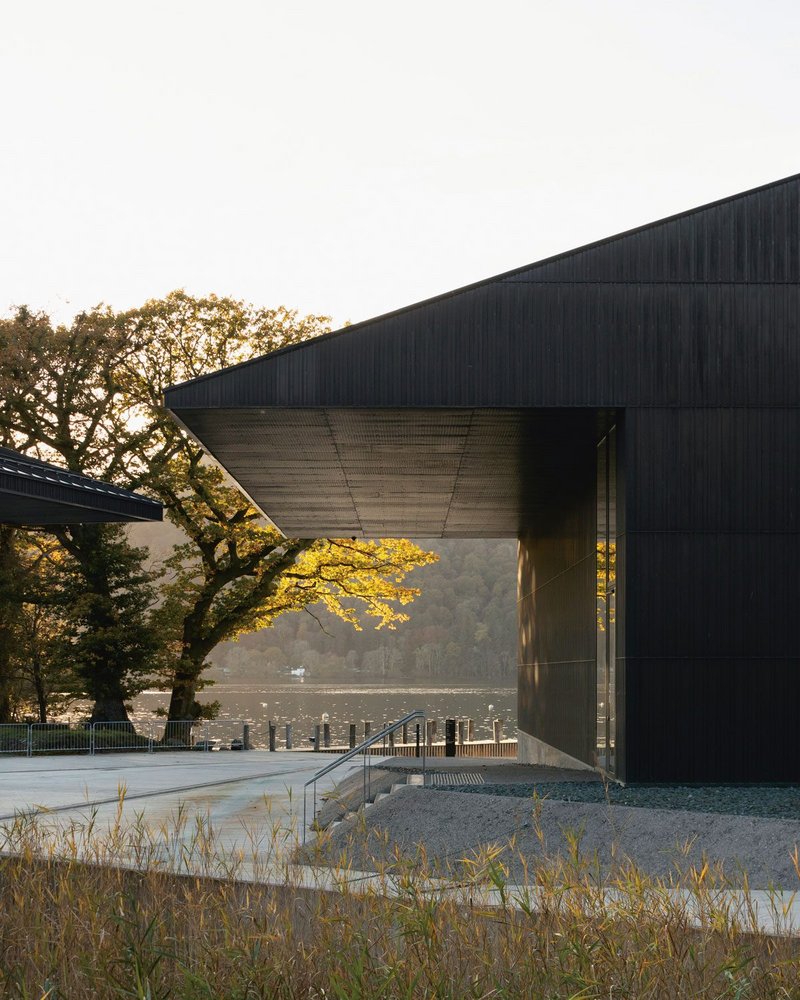 Windermere Jetty Museum, Windermere

Credit: Johan Dehlin
RIBA National Award winner 2021
RIBA North West Award winner 2021
Winner of the RIBA North West Client of the Year Award (Client: Lakeland Arts) and RIBA North West Building of the Year Award
---
Carmody Groarke for Lakeland Arts
Contract value: undisclosed 
GIA: 2,560m2
Nestling into the eastern shore of Lake Windermere, the Jetty Museum creates a compelling composition of vernacular forms, reconciling the reassuringly familiar with the strikingly contemporary. When seen from the lake, the dark shed-like buildings appear embedded in the wooded hillside behind. Yet when experienced on arrival, they exude the confident identity of a major cultural institution.
The cluster of pitched-roof forms successfully breaks down the large scale of the museum, integrating it into its landscape setting. This seemingly picturesque arrangement derives its layout from functional requirements while carefully framing views of the lake. It is these views, and the experience of the water, which become the main protagonists in the choreographed sequence of the visitors' route, with the building successfully blurring boundaries between climate-controlled galleries, workshops, the wet dock and the lake itself.
Learning from older lakeland buildings, the provision of deeply overhanging eaves creates external rooms, sheltering visitors from the elements. Considerable thought has been put into the selection of materials, in particular the use of oxidised copper, the primary external material, which is already weathering to a variety of subtle hues
The sustainability strategy is intelligent and comprehensive, from reuse of the existing wet dock through to the choice of building services systems and materials, and consideration of biodiversity, drainage and health and wellbeing. The building touches the earth lightly and sits comfortably in its setting.
This is an outstanding project. The unique setting demanded a scheme with a clear vision and of the highest quality. The resulting building has been handled with sensitivity and deftness. It has a restrained and simple beauty that is boldly confident in its design and delivery.
---
See the rest of the North West winners here
And all the RIBA Regional Awards here
See other RIBA National Awards 2021 winners, Culture, here