The design reinterprets the back-to-back courtyard house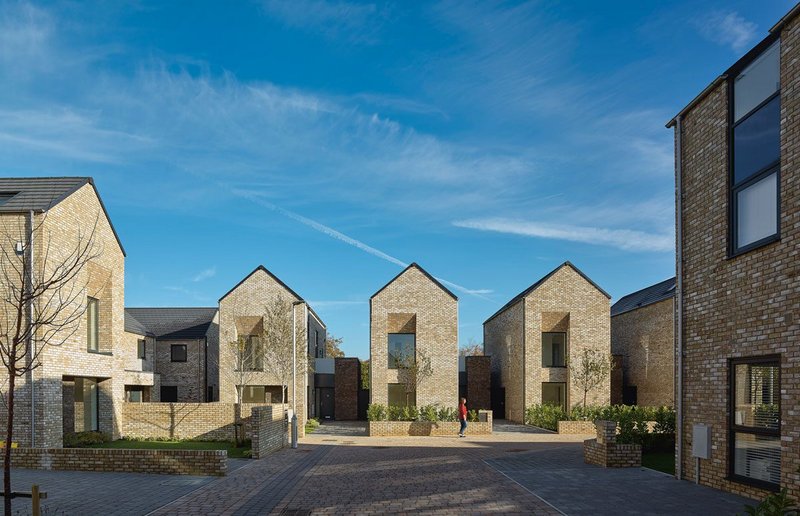 The Gables, Liverpool

Credit: Paul Karalius
RIBA National Award winner 2021
RIBA North West Award winner 2021
---
DK-Architects for Musker Developments
Contract value: £5m 
GIA: 3,342m2 
Cost per m2: £1,499
This project rethinks the suburban house, creating a working model for denser, more characterful and more sustainable development. Housing is clustered around well considered shared-surface streets in which car parking is thoughtfully accommodated without dominating. A gable-motif and shared street give the scheme its identity. Despite achieved densities, the site doesn't feel over-developed and there is no compromise to privacy or amenity.
The project demonstrates the importance of decisions made on the basis of value rather than simply cost, resulting in high build quality. Homes exceed National Space Standards, with considered amenity space and robust, well detailed finishes. The scheme's character and enhanced density have underpinned its financial success, sale value and appeal to the market.
Clever reinvention of the back-to-back terrace creates homes with both gardens and roof terraces. Their compact form enables higher densities and cuts embodied carbon by optimising building volume, to reduce heat loss and use of materials. Of the 30 homes, 20% are affordable, with a mix of size and type contributing to a more varied and socially sustainable neighbourhood; the fact that the variety of tenure and property size is not evident is a triumph. Impressively, this variety is achieved with a moderate budget via construction methodology and some standardised elements.