BREEAM Excellent stone-clad building is designed round a tiered atrium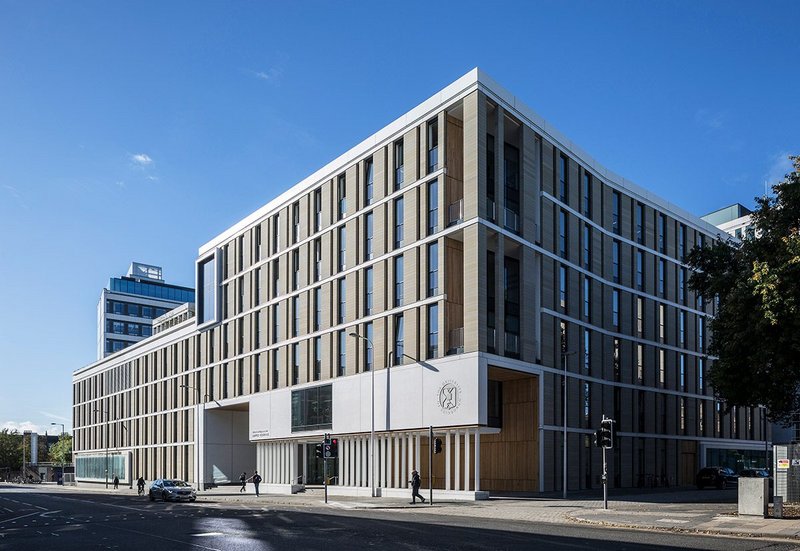 Bayes Centre.

Credit: Keith Hunter
RIBA National Award winner 2021
RIAS Scottish Award winner 2021
---
Bennetts Associates for University of Edinburgh
Contract value: undisclosed
GIA: 9,500m2
The Bayes Centre is the final phase of the University of Edinburgh's Potterrow development, which started in 2003. It is a building for research, business and learning, designed to enable collaboration between different groups of users who are part of the data industry.
The Centre is designed around a tiered atrium, criss-crossed with various horizontal and vertical links that encourage people to linger and exchange ideas. The ground level creates a permeable pedestrian environment with a central courtyard.
The building is clad with prefabricated stone panels that match the local stone used for neighbouring buildings, along with polished white precast cladding to reflect sunlight in the courtyard. Landscaped roof terraces allow for spectacular views of the city and surrounding hills. Internally, the exposed concrete frame is modified with acoustic baffles and oak finishes to provide a sense of warmth.
It is a rigorous and adaptable design that should robustly meet the changing requirements of the university, and positively support the urban activity alongside the nearby Student Union and McEwan Hall.