The circular window reflects Milton Keynes' defining landscape and grid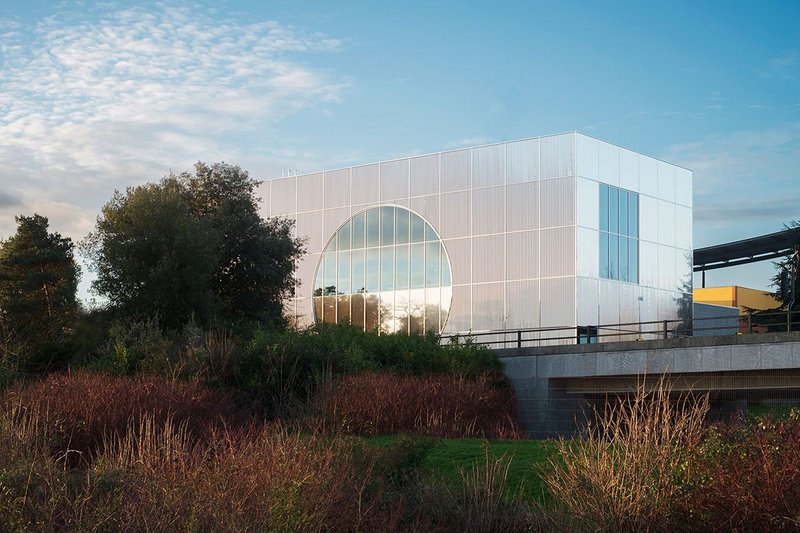 MK Gallery.

Credit: Johan Dehlin
RIBA National Award winner 2021
RIBA South Award winner 2021
RIBA South Project Architect of the Year Award sponsored by Taylor Maxwell
---
6a architects for MK Gallery
Contract value: £7m 
GIA: 2,062m2 
Cost per m2: £3,395
This was a challenging project that has been beautifully crafted. A high level of research, interrogation, collaboration and consultation from an enthusiastic team has delivered a revitalised and expanded building that remains true to the ethos of the original Milton Keynes masterplan and aesthetic.
Reworking of the original gallery spaces, with a new window to the plaza, provides an enfilade connection through all the galleries to the parkland beyond. The existing interior spaces have been opened up and reconfigured to provide both greater flexibility and a better user experience as visitors pass through the building to other facilities, including the new performance space.
The authenticity of the project is reinforced by the architect's reinterpretation of the original design ideas for Milton Keynes, such as colours, fonts, materials and street furniture. The use of two colour palette ranges, extracted from the original concepts for the New Town, provides clear wayfinding while also reinforcing the original idea of the muted picturesque against the vibrant cosmopolitan. This idea is also reinforced on the building externally through the use of colour and materials. The new galleries are clad in reflective materials which are either solid or perforated so that they appear light or seem to disappear.
The design team found and incorporated an original pointing finger gate into new landscaping – another indication of its level of commitment to Milton Keynes' heritage. This is a project that uses originality to create a building for now and for the future, while drawing on the New Town's past.
---
See the rest of the South winners here
And all the RIBA Regional Awards here
See other RIBA National Awards 2021 winners, Culture, here