The catafalque acts as the interface between the ritual and more utilitarian aspects at Bierton Crematorium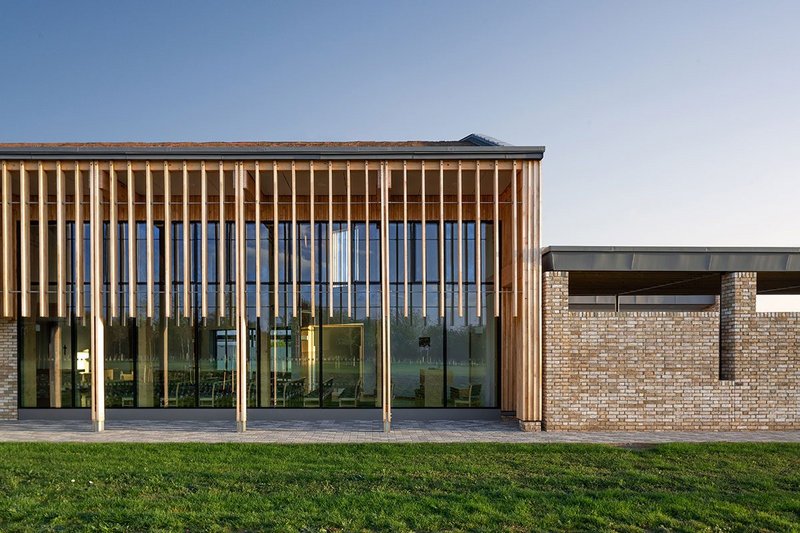 Bierton Crematorium, Bierton, Aylesbury.

Credit: Tommy Pengilley
RIBA South Award winner 2021
---
Haverstock for Chiltern District Council on behalf of Chilterns Crematorium Joint Committee
Contract value: £5.05m 
GIA: 512m2 
Cost per m2: £2,800
The brief – the second such commission for Haverstock after its Chilterns Crematorium – was to provide a large chapel for services of remembrance with internal and external waiting areas and ancillary spaces in which arriving mourners can comfortably congregate in advance of their service. This was typically designed in such a way as to ensure arriving and departing mourners don't meet.
But there was also a need for the functional spaces for cremator and administration facilities. The catafalque (resting place for the coffin) acts as the interface between the ritual and these more utilitarian aspects.
At Bierton Crematorium the architectural language takes account of and expresses both functions: waiting areas, porte cochere and administration facilities are unified by a single low roof element with clerestory windows for requisite privacy; the chapel and crematory, meanwhile, are identified by a more lofty double-height volume covered in vertical timber rainscreen cladding and a dual-pitched sedum roof.
The form of the porte cochere is used as part of the site design concept, being seen on approach from the car park. This strategy, allied with careful control of occupant movement internally, serves a dual purpose; helping to orient visitors to the site and maximise privacy and seclusion for mourners once they are there. Formal planting near the facility – a private garden and arboretum area – is counterpointed by more open and natural landscaping to the south, with its 'remembranc