Ergonomically designed social and study spaces that are well connected to the outdoors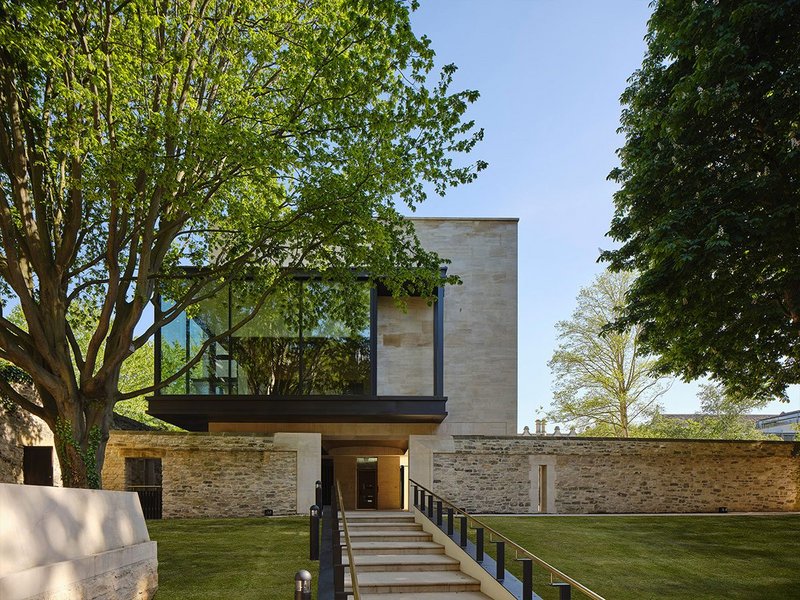 Library and Study Centre.

Credit: Dennis Gilbert
RIBA National Award winner 2021
RIBA South Award winner 2021
RIBA South Building of the Year
---
Wright & Wright Architects for St John's College Oxford
Contract value: undisclosed 
GIA: 1,780m2 
Oxford's colleges have a history of commissioning architecture that is designed to enhance the education of future generations as well as providing a legacy to the built environment. As colleges expand in the city, they become more constrained. Finding new sites becomes a greater challenge, especially when looking within their own grounds.
In developing the brief for the new library and study centre, St John's College and Wright & Wright have achieved a building which delivers on many levels. There is a robust sustainable design criteria, with the commissioning of artisans for elements such as the stone artwork and joinery. This is combined with an attention to detail, connections and overall materials and finishes which does not go unnoticed
The Library and Study Centre project has been used to link older parts of the college with newer parts, with the creation of new routes providing communal meeting points. The centre is student focused, with different types of reading/research space provided to cater for personal preferences and study methods.
Integrating historically sensitive elements of the college grounds and buildings into the new scheme has been well conceived. Sitting behind the historic Sprott's Wall, while also looking over it to the gardens beyond, the architectural concept uses transparent wrap-around glazed corners to allow visual connection through, and in doing so minimises the visual mass.
In providing the new building, the design has – where allowed – enhanced and revealed some of the existing context that was previously hidden away, while maintaining privacy where needed, such as for the President's Garden.
---
See the rest of the South winners here
And all the RIBA Regional Awards here
See other RIBA National Awards 2021 winners, Education, here