New lease of life for stripped-back, grade II listed market building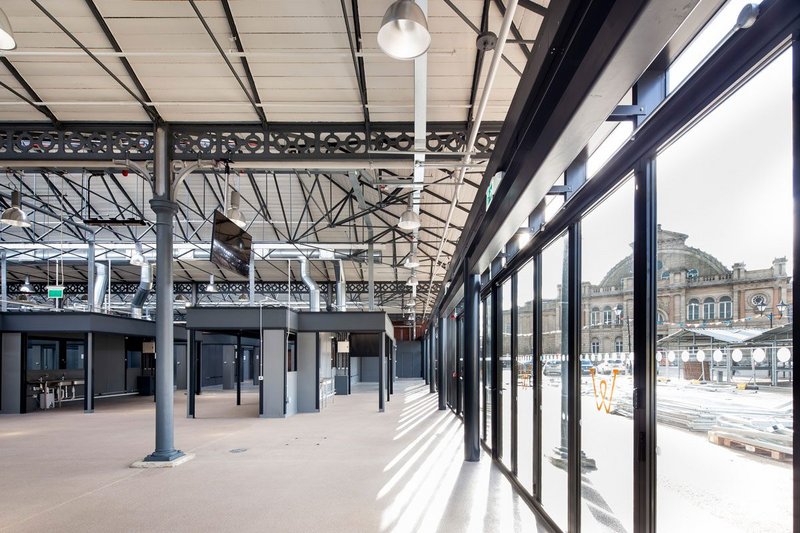 Doncaster Enterprise Marketplace, Doncaster

Credit: Philip Grayston
Bond Bryan for Doncaster Council
Contract value: £3.2m 
GIA: 2,250m2 
Cost per m2: £1,422
The market district of central Doncaster has formed the central hub of the local community for centuries. The Wool Market itself was built in 1863 with a wrought/cast iron frame and brick elevations. Along with the Corn Exchange and Market Hall, it defines the open public space of Market Square. Over the years, the now grade II-listed structure had fallen into neglect and had become a focus of anti-social behaviour.
The refurbishment of the Wool Market seeks to regenerate this part of the town centre and attract the local community to use it throughout the day. To do this, the council decided the building should be used for a more modern market, with a rich mixture of food stalls, retail opportunities, event spaces, 'pop-up' stalls and exhibition spaces.
The new stalls are connected with the civic public realm outside – drawing visitors into the central heart of the Wool Market with a horseshoe shape of food stalls, arranged around a central eating space. The focal point of the dining area is an area for local performers to showcase their talents.
The building structure has been stripped back and given a new lease of life, with a new floor slab added into each side of the development to ensure easy access for everyone. A fully glazed wall has been added to two elevations to provide shelter and transparency in the winter months. During warmer periods, key sections of the glazed facade open up to ease the flow between the outside and the internal covered space.