The carbon neutral and net zero-energy mixed use scheme, one of 15 eco-exemplar projects, will be built in an industrial area of Oslo
A super-sustainable mixed-use development in Oslo, that will upcycle local building components and materials to slash emissions by 90%, is among a wave of competition winning eco-exemplar projects to be built worldwide.
Recipe for Future Living, by Ineo Eiendom, Mad Oslo, Landscape+AS and Vill Urbanisme, is a carbon-neutral and net-zero energy residential and commercial complex in the Fossumdumpa industrial area in eastern Oslo.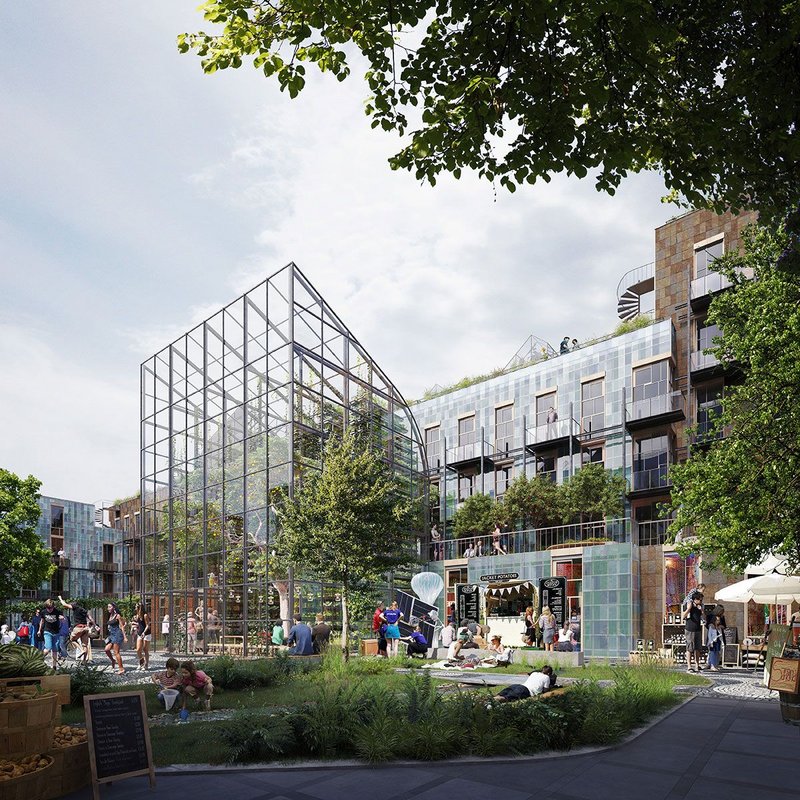 Mad Oslo et al's mixed-use, sustainable proposal for the city's Fossumdumpa industrial area.

Credit: Mad Arkitekter
This scheme is one of 15 international winners in the Reinventing Cities competition, launched by climate leadership group C40 Cities, which challenged architects, designers and urbanists to come up with innovative sustainable ways to rethink and transform underused spaces in their own cities.
The Oslo project focuses on the circular economy and aims to turn the construction industry's huge waste problem into an invaluable resource by extensively upcycling and reusing materials taken from demolition sites and live construction projects and around the city.
It is intended that the architecture will match the quality of a regular development, but precise details of where and what resources will be reused remains uncertain. Nikolaos Farmakis, partner at Mad Oslo, told RIBAJ: 'This project is all about the method, we do not know how it will end up because it all depends on what we find. We will carry out analysis of all the building and demolition sites in and around Oslo to pinpoint precisely what we can reuse on our project. We are hoping to be able to dismantle facades and rebuild them on our premises.'
Some materials are likely to be sourced free from demolition sites keen to avoid landfill charges, while sootherse may be purchased from firms that salvage building components, such as the start-up Recycle, which acted as a partner in Recipe for Future Living.
Every aspect of the project will be covered by the re-use and upcycle policy, including the landscape. Earth from excavation will be reused to create biodiversity and vegetation areas. Some 50% of the 10,000m2 site will be dedicated to public space, such as gardens, greenhouses, aquaponics, beehives and orangeries.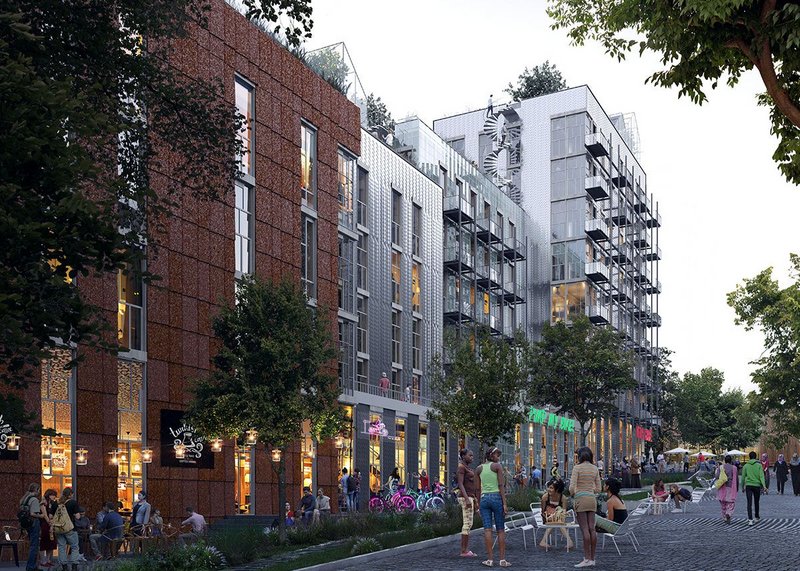 Mad Oslo et al's mixed-use, sustainable proposal for the city's Fossumdumpa industrial area.

Credit: Mad Arkitekter
Other practical and legal hurdles must also be overcome, says Farmakis: 'It is an uphill battle with the authorities, none of Norway's regulations take into account the use of upcycled materials in construction so we have to work with the politicians to an extent never seen before.'
Reinventing Cities has given 15 winning projects the go-ahead, in the cities of Chicago, Madrid, Milan, Oslo, Paris and Reykjavík, to be built with the support of public-private innovation partnership Climate KIC. Each will function as a test-bed example of carbon-neutral design to inspire other cities across the world.