Once darling of the architectural world, the warehouse is back – with a post high-tech, post-industrial difference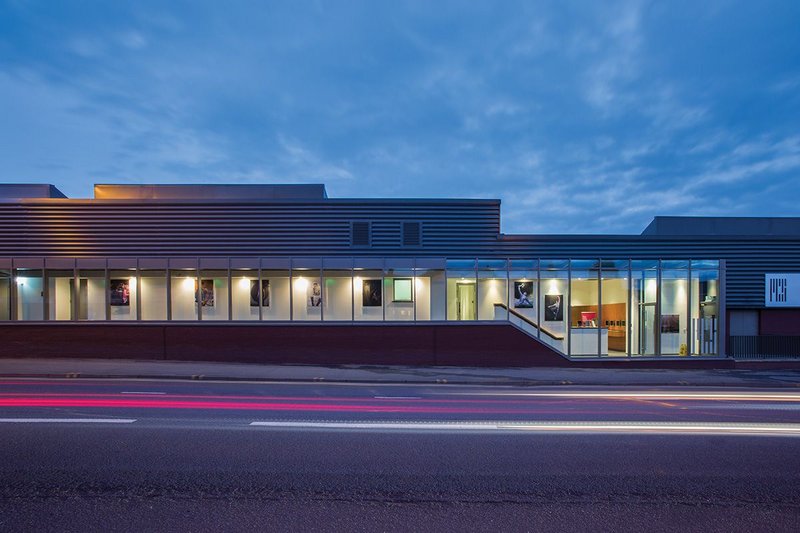 Royal Conservatoire of Scotland's new studios as seen from the busy Garscube Road. Malcolm Fraser Architects' new glazed rear entrance and circulation corridor connects the back of the building to the front via a new suite of dance studios.

Credit: Gillian Hayes Dapple photography
Remarkable if only for its sheer ubiquity, the warehouse typology has spent decades in the design desert. Foster, Rogers and Grimshaw saw fit to celebrate them 30 years ago, using high-tech language to glorify their demanded long spans and appropriating cheap industrial cladding systems to sublimate them to new aesthetic heights; and we began to see the likes of Reliance Controls, the Renault Centre and Herman Miller dotting our urban fringes. But the 1980s spawned other things too; more relaxed, market orientated planning policies, Sunday opening and the birth of out-of-town retail parks. Everyone wanted warehouses and seemed prepared to accept anything to pander to new markets, so the design of our DIY sheds became more laissez-faire.
Having become commonplace and generic, the warehouse fell from aesthetic grace. Until now, it could be argued. Two recent projects have seen rundown warehouses brought back to use with radical retrofitting and reprogramming, not only to give them a new lease of life but to help regenerate their blighted urban surroundings. They are examples of highly economic and ingenious industrial re-use and retrofit – canny interventions rather than statement buildings in themselves.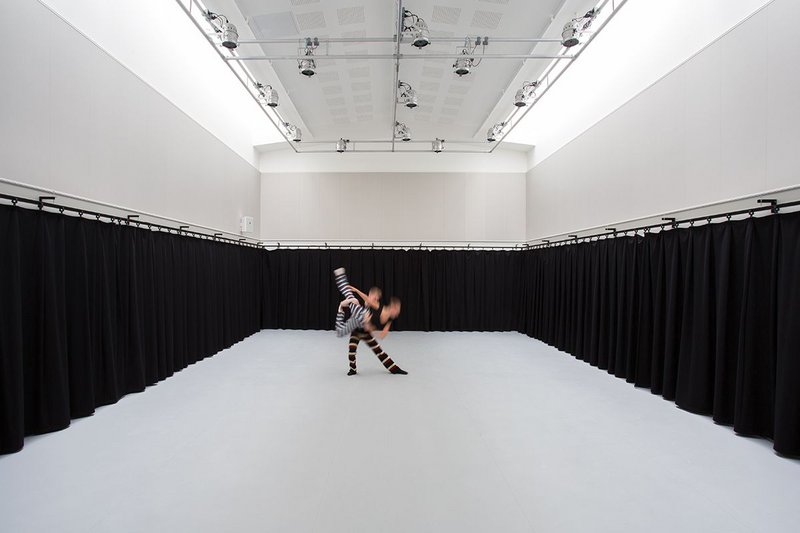 Dance studios are intimate and naturally-lit. Well heated, they are ventilated by the rooflights above. Acoustic plasterboard and drapes over the mirrors increase performance

Credit: Dapple photography
Speirs Lock Studios for the Royal Conservatoire of Scotland
With 1000 students, Scotland's national school of music and the dramatic arts is the most oversubscribed academic institution in the country. Based at Glasgow's Renfrew St, the Royal Conservatoire was seeking new state of the art rehearsal, recital and dance spaces. But with a limited budget and no space to expand, it needed some lateral thinking and another location to meet its burgeoning needs. Malcolm Fraser Architects was appointed to the job and presented with an old industrial warehouse, once used by BBC Scotland, 10 minutes' walk from Renfrew Street. Project architect Clive Albert says the client took some convincing from its estates department that converting the run down units could even be viable, but with a phase one budget of £3.35 million (just over £900/m2), there seemed little alternative. This initial conversion of the warehouse for technical disciplines like stagecraft, scenery and costume design was completed in 2010, but it is phase two that really made demands of the architect and completed the extensive reconfiguration. This involved converting more units to the north as well as a new build component on the east side to create bespoke ballet studios and two blackout rehearsal spaces, all connecting back into the existing circulation. The phase two budget was the same but total area was smaller at 1860m2. Including the new build, this came in at £1750/m2 and was completed in 2014.
Albert says acoustics were of prime importance. Technical demands for the new rehearsal and performance spaces were onerous and the warehouse, on a busy road, was little more than an uninsulated shed. Even so, budgets were so tight that the firm was forced to work with what it had. Albert ­explains that the metal profile roof with thermoplastic rooflights was stripped to the purlins and a new, higher specification 'layered' roof installed. Beneath a standard Kingspan standing seam roof, a roof service void with suspended ceiling below helped the firm create the acoustic isolation it needed. Above the plasterboard ceiling of staggered boards, a layer of mineral wool also gave thermal performance, as rehearsal rooms are generally heated to around 26°C. New Velux rooflights with mechanised actuators allow the ballet studios natural ventilation in summer, with high level fans redirecting warm air back down into the space in winter. Heating is provided by perimeter radiators: Albert says contemporary and ballet dancers, who dislike heated floors, warm their legs and feet against them when rehearsing. Notably, the ventilation rooflights on the road sides were designed to open away from them to minimise sound ingress when open. The new blackout rehearsal rooms on the east side are windowless, serviced by air plena leading back to a dedicated air source heat pump and heat exchanger plant room.
With money tight, the architect only intended to repaint the high level steel cladding. It was the contractor who argued that a reclad could be a cheaper option. Adopting the proposal, Albert says they went for the same trapezoidal profile to reduce chances of differential thermal expansion. And while it provides a fresh look to the exterior, boldly offset by the glazed entrance and corridor which animates Edington St, it was behind the original building line that the money got spent. Again, acoustics were everything, with the firm having to build a new blockwork wall inner leaf inside the line of existing steel columns, inserting Ecotherm on the outer side. Double skin staggered sheet plasterboard wall linings were isolated from the block with jumbo studs to minimise vibrational transfer from outside to in. Upper sections of the walls are acoustically lined, with simple drapes masking mirrors and offering added attenuation. Harlequin sprung floors were specified everywhere except the blackout rehearsal rooms.
In Speirs Lock Studios the architect has reinvented a warehouse, both inside and out, to create bespoke, highly performative spaces for the Conservatoire of Scotland on a shoestring budget of £6.7 million. With the adjacent National Theatre of Scotland and Scottish Opera facilities, this impressive work also regenerates a blighted part of Glasgow's city centre to create a new cultural hub.
---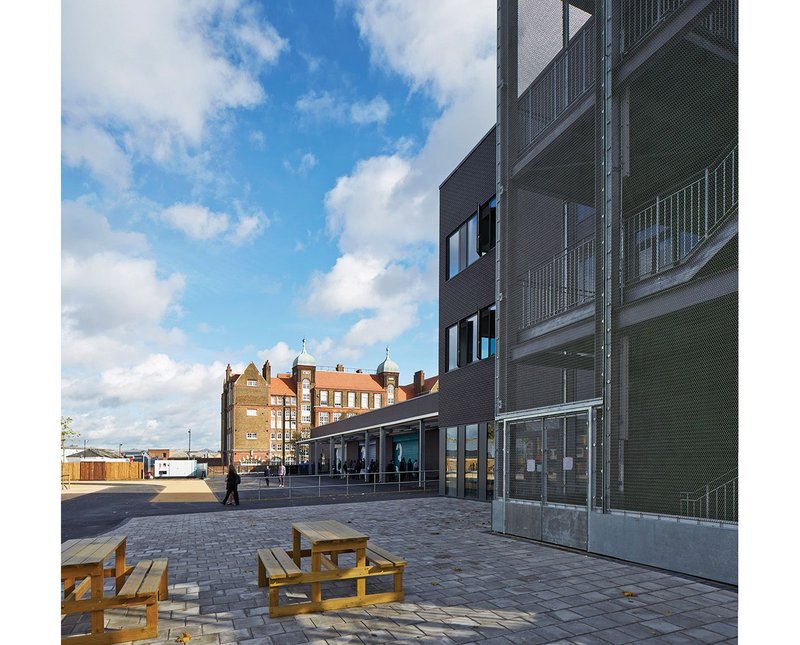 North elevation of the Greenwich UTC looking past the steel mesh external stair of the new block to the refurbished former Siemens warehouse beyond.

Credit: Dennis Gilbert View pictures
Royal Greenwich UTC
Procured under the National Academies Framework (NAF2), Royal Greenwich University Technical College was an attempt by former education minister Lord Baker to emphasise vocational training, giving pupils practical as well as academic skills. The £9.7m Greenwich UTC, which specialises in construction and engineering for 600 14-18 year olds, opened last year and is a prime UTC facility. Architect Walters & Cohen was taken on by contractor BAM, builder of the project.
BAM inherited a 1957 disused former Siemens warehouse on the Woolwich Road, which needed a radical overhaul to create a suite of workshop and seminar spaces. A new three storey block containing study rooms, library, communal and dining and administration areas was also part of the scheme. Partner Cindy Walters says the practice adopted an industrial aesthetic, influenced by the site's history and a client who bought into the idea of maintaining the original warehouse. This allowed the firm to create grand, 6.5m high workshop and study spaces beneath the sawtooth roof, which Walters says would never have been viable in a new build. There were also architectural opportunities. The original factory, hidden from the Woolwich Road by a retaining wall parapet, had no connection to the street but Walters & Cohen's new three-storey block, addressing the road, creates a new link to it. It was also built on the foundations of a workshop at the site's west end, saving time and costs.
Walters admits budgets were stretched here. BAM had not foreseen the need to replace the whole warehouse facade, the argument becoming more about saving embodied energy than costs. And while the architect says it was kept at arm's length on cost decisions – it came in at £1600/m2 – previous experience with the low end of BSF meant the firm was aware of how to best value engineer the project, although it concedes some decisions were based on the best way of addressing a problem. This explains, for instance, the presence of otherwise expensive concrete floated floors across 2740m2 of warehouse refurb – which obviated the need for expensive remediation of the damaged floor to potentially change it for a cheaper surface. Walters claims that here, as with all the firm's projects, the aim was to use a palette of robust materials: brick, aluminium frames, mesh, that would perform well over time. The approach was to never remove something for value engineering that could not be put back at some point in the future.
The result is a project that not only makes more sense of the site, but came in on budget and stayed true to its industrial history and wider sustainability agendas with a BREEAM 'Very Good' rating despite being a retrofit, ending up as much about embodied memory as embodied energy.
---