Winner: Tapestry, King's Cross, London. Entrant: Niall McLaughlin Architects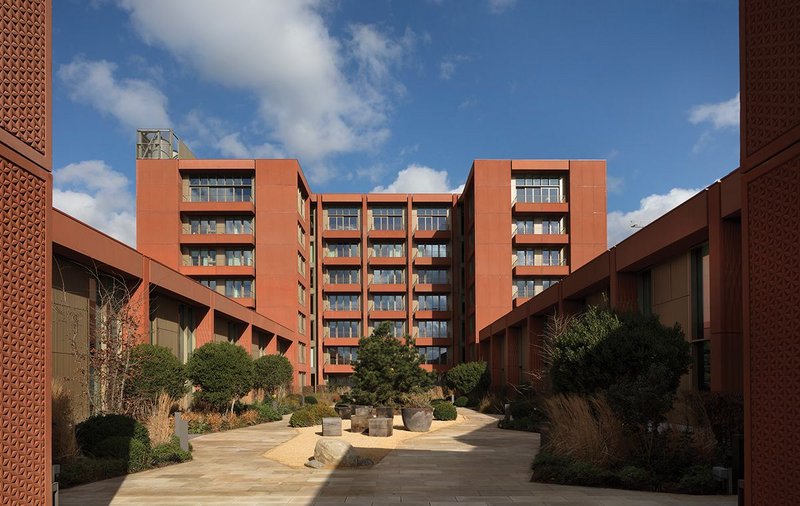 Tapestry combines deep vertical piers with high levels of Schueco FW 50+ glazing.

Credit: Nick Kane
As well as providing 129 apartments, Tapestry houses an energy centre, multi-storey car park, café/restaurant and sports facilities on a site to the north of the Regent's Canal in King's Cross.
Niall McLaughlin Architects created a consistent facade language to unite these disparate uses, assisted by extensive use of Schueco products in combination with distinctive, terracotta-red cladding in lightweight glass reinforced concrete (GRC).
The aim was to create a sculptural quality through the articulation of deep vertical piers with horizontal elements such as balconies and bay windows spanning in between. Within the common language, each facade varies in relation to its context, with largely glazed-in balconies to the west overlooking the high-speed rail lines.
The practice worked closely with specialist contractor Glassolutions Contracting to develop a facade that met both architectural intent and building performance across the development, which rises from 9 to 14 storeys.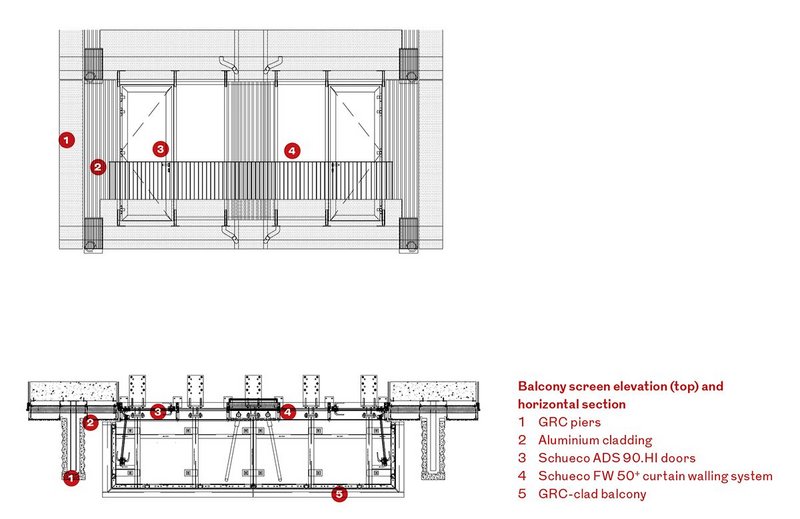 Schueco FW 50+ curtain walling and Schueco AWS 70.HI windows form the glazed elements of the building envelope, balcony screens and bay windows. These are combined with SGG Cool-Lite Xtreme 20/28 glass to achieve the required balance of solar gain management and natural light.
Schueco ADS 90.HI doors were specified at the entrances to the podium-level townhouses and balconies. These were tested and achieved Secured by Design certification.
'Schueco provides a very well performing product suitable for different environmental needs, allowing a common language to the various facades across the building,' says project associate Tilo Guenther. 'It was fantastic to work with a subcontractor who was very familiar with the product.'
The architects conceived the building as dressed in a tapestry of rich ornament. This was inspired by the Victorian red brick buildings that once populated the area. The variety of decoration employed on the building was also informed by Owen Jones' seminal theories on ornament, and by an Assyrian carpet on display in the British Museum.
Judges liked the beauty and proportion that the practice had brought to a deceptively complex project.
'There's an elegance there, a level of quality and attention to detail,' says Steven Kennedy.
'It's a very interesting building that makes a very positive contribution to that whole fast moving area around King's Cross,' adds Eleanor Young.
---
Client: Argent LLP
Architect: Niall McLaughlin Architects
Structural engineer: Ramboll
Main contractor: Kier Group
Specialist contractor: Glassolutions Contracting
---