Larch-clad volumes create a distinctive silhouette to entice drivers between Leeds and Harrogate to the complex that combines a garden centre, food hall and restaurant
When I learnt about farm shops in geography lessons, they were all about farmers diversifying. I understood that as selling their carrots direct from a shack. But now farm shops are big business. A recent study has estimated that the UK now has more than 1,500 such outlets, with annual sales of £1.4 billion. For Leeds-based ArkleBoyce Architects, the sector has been a new kind of challenge. Crimple, on the A61 near Harrogate, was its first experience of the typology, though it has led to more. 'Four years ago we were doing zero,' says ArkleBoyce director Graham Boyce. 'Now we are doing 10.'
Rural roadside locations are best for farm shops and, happily for architects, both planners and punters are looking for some level of design. The farm setting is one of the attractors – albeit a cleaned-up, picturesque version. At Crimple, ArkleBoyce's design evokes barn structures, its steel-framed larch-clad volumes, a saw-tooth roof and stepped profile giving a sense of different volumes and breaking up the mass while making for a distinctive silhouette for drivers passing between Leeds and Harrogate.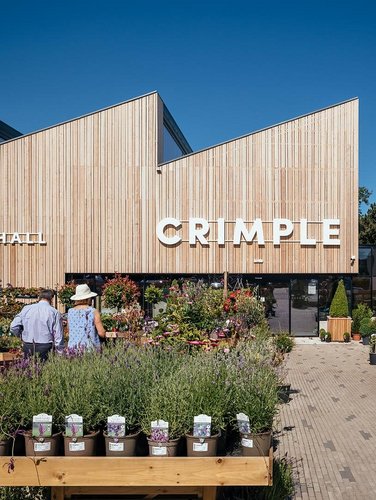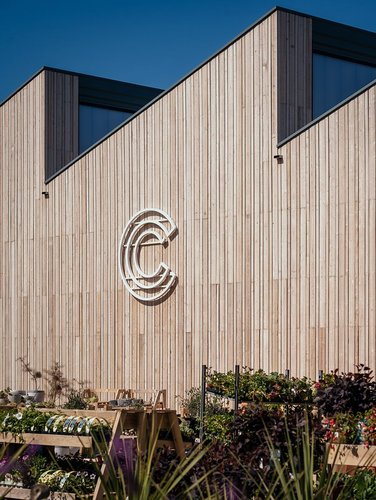 The practice was presented with a site that contained car parking galore, a garden centre in a lightweight structure and an 'antique antique centre' as Boyce puts it. 'It was a bit of a mismatch really.'
Crimple's owners, the Watson family, wanted volume with indirect natural light to display fresh produce. The building has to work as a restaurant, shopping food hall and garden centre (the latter a reclad).
Boyce and his co-director James Arkle were taken with the idea of a giant rural roof covering a variety of activities, including harvest festivals and the odd barn dance, though it is not clear that was ever in the client's business plan! But it helped drive the clear span that provides the flexibility to move displays and functions around.
The saw-tooth roof with north lights works to moderate sunlight (south-facing roofs are kitted up with photovoltaic panels) while also acting as an integral part of the natural ventilation strategy (the north lights are on actuators attached to the building management system).
Timber cladding has both wide and narrow strips, giving a certain modulation and depth to the facade. Inside, steel trusses are exposed with just a coat of paint, creating a dramatic roofscape along rows of air ducts. Did the practice consider designing the structure in less carbon-costly timber? No, says Arkle, it didn't really work with the diagram they had set themselves. 'The scale of the building wasn't a timber-frame building. We wouldn't have got those spans.'
The customer journey starts in the car park; it always does at farm shops. But the garden centre's external display provides a strong seasonal and green approach to the building, ensuring that even those who just go to pick up some milk and printed oven gloves get a sense of the wider offer. The building plan makes use of a single, clear entrance from where visitors can see everything and orientate themselves. The staff in the office can also see everything in the food hall as they are perched in a mezzanine, 'a grandstand view', says Boyce. From there, managers can see out, able to check staffing levels and spot if there is a queue for the deli.
The catering area has to work morning, noon and night, also functioning as a restaurant and a venue to hire. So, unlike in many farm shops, it is its own enclosed space, running through the centre of the building and out the other side to a terrace. At the front entrance, it spills out into a less formal café area with fun, bright Starck Masters chairs and views into the 'bar and kitchen' with its banquettes and exuberant plants. Alongside is a service spine.
ArkleBoyce also got to design the food hall interior, working out how the company might operate in the space and what would appeal to customers. Unsurprisingly, an agricultural theme was settled on, but one that gives a sense of the human side of food production. So in the deli and butchery there is a bit of Victorian scullery being channelled in the white tiles. Elsewhere, raked boxes display fresh fruit and vegetables, while jars and other sundries are gathered on wooden shelves on metal frames – echoing the steel trusses and the material language of the building itself. It shows quite how far the farm shop has moved on – in retail and architectural sophistication.
Credits
Client Graham and Tori Watson
Architect ArkleBoyce
QS and contract administrators Appleyard and Trew
Structural engineer Topping Engineers
M&E Nexus Allied
Breeam Genex
Principal designer PSC Consulting
Landscape and ecology Smeedon Foreman
Main contractor Sutcliffe Construction
Building control Stroma
Highways Fore Consulting