Food supplier and seller are moving closer again with ACME's super-sustainable prototype store for German supermarket REWE – a novel timber structure with a farm on the roof.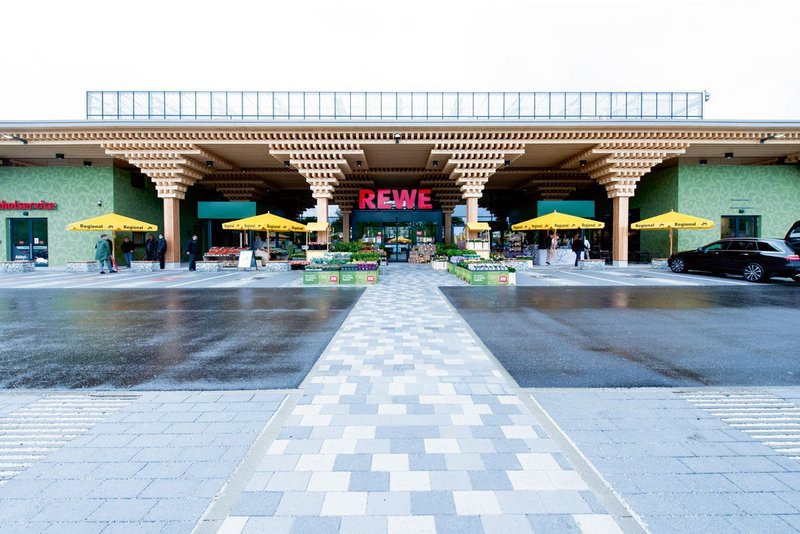 Landscaping includes extensive unsealed areas to improve drainage.

Credit: Jeva Griskjane
All sorts of associations are conjured by the new REWE supermarket in Wiesbaden, from historic timber halls to Japanese temples. With a little imagination it might even resemble a grove of trees. From 48 trunk-like columns topped by woody crowns, stout timbers branch in all directions, knitting together in an intricate vault. Below, shoppers browse displays of fresh produce in sunlight that dapples through a glazed lantern. Above is a verdant 'canopy' – thousands of basil plants growing in a rooftop glasshouse. It's certainly an apt image for the greenest supermarket in Germany.
Designed by London- and Berlin-based ACME, the Wiesbaden store is a prototype. It is intended to become the standard for Germany's second-largest supermarket chain, which has 3700 outlets and builds 25 new ones every year. The 'Market of the Future' is the successor to the portal-framed 'Green Building', the retailer's standard store since 2007. After almost a decade, REWE decided to reassess by running a competition, inviting six architects with no previous experience of supermarket design.
Conventional supermarkets are energy-intensive – responsible for 3% of electricity consumption in the UK – but REWE had already cut that to a minimum. 'There was nothing left to say on energy optimisation: it is outstandingly good', says ACME director Friedrich Ludewig. 'They've insulated stores and sealed fridges so well that for the first time in 60 years they have cooling problems in the summer'. Looking at other potential improvements, ACME was concerned to make proposals that could be reproduced at scale. 'We needed to behave ourselves, and avoid what the Germans call a leuchtturmprojekt, or lighthouse project: something you do once and never again'. They opted for two major changes: reinventing the structure and introducing an urban farm, which competition entrants had been invited to consider in a general way.
Sceptics may roll their eyes at the thought, with some justification. The urban self-sufficiency envisaged by many speculative architectural projects is based on a delusion: we could never get close to feeding a city from within its confines. At worst those projects are a kind of greenwash, diverting attention from the agri-industrial systems on which cities rely. At best they are simply starting points for conversations about consumption, as in the pig-filled skyscrapers once posited by MVRDV as the only alternative to more vegetarianism. There are forms of urban agriculture that do make sense – high-value herbs and salads that perish more quickly when transported over large distances in chilled trucks – but most farms make poor businesses.
Here REWE is at an advantage, with a ready route to market. 'Most urban farms go bankrupt but the problem is not how to farm – that's well understood', says Ludewig, who visited projects in Europe and the US for research. Plants here are grown in racks, in a mix of sun and LED light, fertilised by the excrement of fish kept in tanks on site, which are also reared for food. 'The exciting bit was that we've got a supermarket which is really good at selling; if we could teach them to farm this should be a winner'.
Another advantage is scale, and ACME's proposal was not just for rooftop farms, but for an 'Urban Farming Network' which piggy-backs on REWE's existing infrastructure. Greenhouses should ideally be dedicated to a single crop, with light, air flow and humidity tailored to suit, so different stores within a region might grow peppers, rocket or thyme. Produce is carried to REWE's distribution warehouses in otherwise empty trucks that return each day after restocking the store. From there it is distributed throughout the region with other deliveries. At Wiesbaden, operator ECF Farmsystems is producing 800,000 pots of basil annually, supplying 480 stores.
The relation of the farm to the store will vary. The 1600m², two-storey Wiesbaden prototype suits low-density suburban neighbourhoods. In rural areas the farm might sit next door to the store. And in dense city-centre locations with high land values, five storeys of flats might be sandwiched between the market and rooftop glasshouse. (It might not always be a glasshouse; in cooler climes it's better to grow in a windowless, insulated shed under artificial light).
Most of these scenarios need a structure that can take significant loads. ACME and engineer Knippershelbig devised a low-tech modular system that could be built anywhere by local contractors using readily available materials. 'We didn't want to use 40m-long glulam beams imported from Austria, which have 18-week lead times and require road closures to bring to site', says Ludewig. 'It's more like timber from the local DIY store and a lot of screws. It's not the dumbest of dumb timber structures, but it's pretty straight-up'.
Glulam timber posts stand in a regular 8m by 8m grid, and support a ceiling constructed from stacked glulam timber beams topped by cross-laminated timber panels. Distinctive corbelled column heads inspired by traditional Japanese joinery are created by cross-stacking 12 layers of beams, screwed together at the crossing points and to the column. Another three layers tie the column head into the ceiling structure. The spreading capitals reduce the effective span between columns, creating the stiff deck required for activities above. Lateral bracing for the whole structure is provided by two concrete boxes containing back-of-house spaces. Some re-engineering might be required if more residential accommodation was added, but as things stand the structure is beefier than it needs to be. Redundancy provides flexibility in a building that the architects hope might last 100 years, and locks up some additional carbon. It's only a few tonnes, but every little helps, as other supermarkets like to say.
Development of the system was driven as much by spatial ambitions as structural ones. Introducing columns slightly reduces flexibility in store-planning but it creates a friendlier, more distinctive interior, helping to make a supermarket visit an enjoyable alternative to the convenience of online shopping. 'Our proposal was that the future of supermarkets is without the "super",' says Ludewig. 'One reason that nobody loves supermarkets is that they look like tennis halls – it's hard to love architecture that never comes to the ground'. The intimate scale chimes with a pronounced emphasis on locally produced food – another new initiative being trialled at Wiesbaden.
A sense of welcome is established from the off, as the roof oversails the concrete boxes that bookend the market hall, sheltering a strip of outdoor space where customers can queue for click-and-collect or charge e-bikes. The boxes – accommodating a bakery and storage as well as fish tanks – sport a gaudy overcoat of green render, with a pattern derived from ornamental concrete made by a factory that formerly occupied the site. While the chunky woodwork provides a consistent identity for all new markets, these patterns will be unique to each. 'To be local citizens, they should learn some of the local language', says Ludewig.
The glazed front facade is deeply recessed to make space for outdoor stalls, so the journey to the front door is a sensory delight. Inside, the bright, airy market hall has a distinctly upscale feel: rustic pendant lights dangle over a cornucopia of fresh food presented in wicker baskets and wooden trays. Photos of ruddy-faced farmers appear above displays of their produce, along with their addresses. At the sides, cheese and fish counters sit alongside a sushi bar and a show kitchen where chefs prepare take-away meals. (Remember this is the German equivalent of Sainsbury's, not Whole Foods). The glazed roof lantern provides glimpses into the farm, but a first-floor viewing gallery gives more. Other green measures are less evident, from intelligent cooling and heating to the use of 100% green electricity and harvested rainwater to irrigate the farm and clean the market. Outside, the car park features a sustainable drainage system and insect-friendly planting.
There, surrounded by customers' cars, one might contemplate the issue of transportation in sustainable retail – currently the subject of much debate between bricks-and-mortar operators and the champions of online shopping. Equations continue to change as both customers and distributors switch to cleaner vehicles, but the future will likely involve both. For now, REWE is gathering data on customer responses to the Wiesbaden market, and ACME is looking for a site for an urban store, and writing a construction manual for franchisees. The financial case for the Market of the Future seems promising – the prototype cost 10% more than a standard building, which should come down, and Wiesbaden hit its three-year turnover target after just three weeks. The environmental case is proved: the store has a platinum rating from the Council for Sustainable Building. Signs are good that this won't be a lighthouse project, but it is a beacon.
---
IN NUMBERS
13, 214m2
site area (2598m² market; 2268m² farm; 885m² pharmacy)
20.8%
REWE's food retail market share
700 tonnes
carbon stored in the timber structure
20,000
fish farmed and sold on site each year
Credits
Architect ACME
Client REWE
Structural engineer Knippershelbig
Urban farming consultant ECF Farmsystems
M&E engineer House of Engineers
Energy consultant e2 energieberatung
Fire consultant Krebs & Kiefer
Timber construction Holzbau Amann
Greenhouses Rabensteiner