2030 Climate Challenge criteria swing into action as RIBA adds one year's data on the project in use to its Awards entry requirements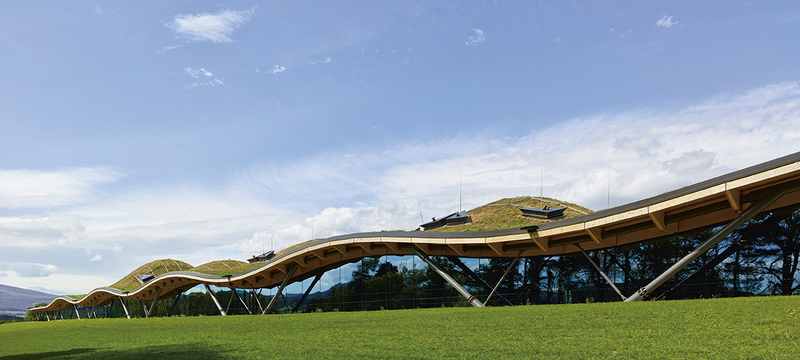 Making changes to one of the most prestigious architectural awards programmes in the world is not something that can be done wantonly, without consultation, discussion or support.
The RIBA Awards Group comprises nine men and 14 women from RIBA Award and Stirling Prize winning practices, as well as environmental, structural, accessibility and landscape design specialists. To chair this group, as I do, and to continue to count every one of its members as a colleague, continues to be both a challenging and very rewarding role which I am proud to hold. We are also ably supported by an effective RIBA Awards team, led now by Carmen Mateu, whose task annually is to help regional teams process their applications and co-ordinate the entire programme which, of course, results in the awarding of the Stirling Prize.
Over the past two years, our group has made several changes to the programme. We started by updating the criteria, developing sustainability data retrieval to align with the RIBA 2030 Climate Challenge and now, as promoted by our team, we have agreed to reset the clock for submissions in 2022. This means that all projects entered into the UK Awards will be required to have been in use for at least one year post practical completion.
This change has been a matter of discussion among RIBA Awards jurors for some years, and I am confident it will give us significantly more detail for projects to be assessed on. Not only will users have experienced the project for a full 12 months – and be able to provide more detailed feedback – but a full year of energy bills and sustainability data will be supplied, meaning we can ensure that the awards programme continues to better align with the standards set out in the RIBA 2030 Climate Challenge. Projects will also be assessed within their completed and settled context, be they urban or rural, and will be able to demonstrate flexibility in use or capability to delight occupants, visitors and passersby. Buildings that satisfy the criteria, demonstrate architectural innovation and clarity, are executed with great attention to detail and bring joy and wellbeing to everyone involved are usually RIBA award-winning.
Good buildings must be judged on an aggregate of success and we should promote an architecture which is long life, loose fit and low energy... research by the RIBA should be key to our activities
While debating and considering changes to the awards, in the last few weeks, we were reminded, by Alex Lifschutz, of Lifschutz Davidson Sandilands, of Alex Gordon's presidential inaugural address – published in the RIBAJ in December 1971. He pointed out that: 'The RIBA is in fact a voluntary association of architects who have come together to advance architecture, which is the one interest we all have in common.'
He went on to remind us that 'good buildings' must be judged on an aggregate of success and that we should promote an architecture which is 'long life, loose fit and low energy' and that research by the RIBA should be key to our activities. It is vital that all RIBA members remember this call to arms. It was prescient then and is very relevant today.
We are looking for projects that are not only inventive but will first and foremost stand the test of time as a piece of architecture.
Resetting the timetable for the RIBA UK Awards has some clear wins for all involved.
The 2021 RIBA UK Awards (including Regional, National and the RIBA Stirling Prize) will be selected only from the shortlists for the 2020 RIBA Regional, RIAS and RSAW Awards, thus avoiding the 'bumper crop' concern, of two years being amalgamated, raised by many members.
No projects will miss out - all those that would have entered for 2021 will now have the opportunity to enter for 2022.
Jurors will see and be able to assess projects that have weathered and settled into use and their context. From 2022 submissions may be any project completed before 1 January 2021 – with an extended backstop to 2017.
Jurors, in the future, will be able to consider user assessments as well as any maintenance costs in use and energy bills when judging a project.
The RIBA will benefit from more post occupancy data to further develop the sustainability criteria so that, in the future, the award criteria can meet 2030 Climate Challenge targets.
As I reflect on the potential for the future of the awards, I think that despite the huge efforts to try to make the RIBA Awards happen in 2020, this resetting of the timetable has given us further opportunity to improve our standards, the quality of all the projects we visit and the support of the people who occupy them. I am confident that these changes will make our world-leading programme even more robust.
While, sadly, my term as chair of the Awards Group will be over by then, I encourage all RIBA chartered architects to start preparing your buildings for submission in 2022, relish the challenge and get involved at a regional level in the awards process, promoting award-winning buildings and all the architects and their teams involved. Our awards demonstrate so well the value and talent of RIBA Chartered Architects, and that is something to celebrate in 2020.
---
Jo Bacon is RIBA Awards Group chair and managing partner at Allies and Morrison