Hayhurst & Co's riad-style atrium pins together Green House in north London with light, spaciousness and a green sustainable theme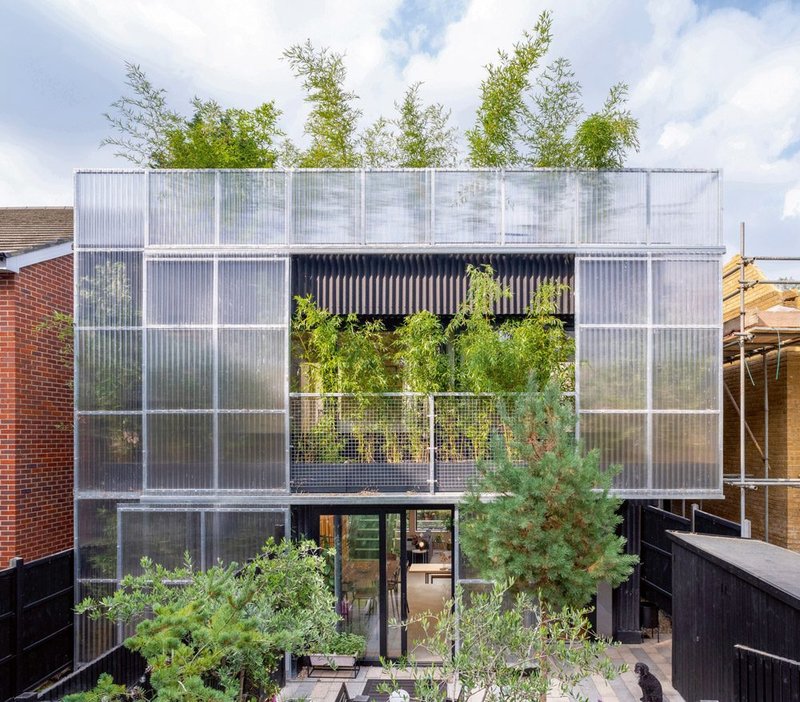 Credit: Kilian O'Sullivan
Green House, north London
Hayhurst & Co Architects for private client
Contract value: £559,000
GIA: 189m2
Cost per m2: £2,957
The small, unmade Tottenham lane on which the Green House sits would once have been surrounded by orchards, greenhouses and market gardens. Its design draws on that history, and subverts convention by putting an 'active' and translucent facade on the lane, with a living wall of bamboo visible through sliding panels of polycarbonate and galvanized steel. A more restrained rear elevation is clad in corrugated panels of recycled cellulose and black bitumen.
The two-storey single-family house, which replaced a taller and clumsily extended 1980s house in multiple occupation, is arranged around a double-height, top-lit atrium ringed by stairs and landings in green-painted steel. The architect likens it to a Moroccan riad. An open-plan ground floor connects gardens at the front and back, though richly coloured curtains subdivide the space.
Cross-laminated timber was selected for ease of construction and its insulating properties, as well as its suitability to create the desired 'agricultural' aesthetic. End grain is exposed, and door frames and architraves omitted. Without additional linings, the whole building's embodied carbon is 373KgCO2eq/m. And with high U-values, an air-source heat pump and rooftop photovoltaic panels, operational energy use is 29 kWh/m2/year, or 410 kgCO2/m2 over the building's life cycle – all well below the RIBA 2030 Climate Challenge targets.
Although the House of the Year jury had done its homework in advance of visiting, the impact of the house still came as a surprise. 'When you step inside, it is so much more than drawings and photos suggest,' it reported. 'Your eye is simultaneously drawn skywards through the lightwell at the heart of the plan – a beautiful calm space – and down and out across the main living space towards a verdant rear garden.' Jurors praised the blurring of boundaries between interior and exterior, sensitivity to neighbours, and rich spatial organisation. 'Although the house was designed to be efficient in response to site and budget,' said jury member Bev Dockray, "it felt luxurious, homely, deeply private and relaxing. An "extraordinary ordinary" house.'
Three questions for Claire Taggart, associate, Hayhurst & Co
What is your favourite feature of the house?
The central, top-lit, riad-style atrium connects all living spaces, upstairs and downstairs, and brings daylight into the heart of the house, where side-facing windows would not have been possible due to the proximity of neighbouring properties. The large roof glazing means the light constantly changes, and sunlight and moonlight cast ever-changing shadows across the CLT walls.
The central dining table can be separated from other living spaces, creating an awesome double-height dining room. The atrium assists in cooling the house on hot days through passive stack ventilation. Younger members of the family have also found unexpected uses of the space as a stage, a running track and a great place for hide-and-seek.
What was the greatest challenge?
The client's budget was limited so we had to prioritise where money was spent. The simple 'block' form of the house was chosen for its material and constructional efficiencies, as well as providing the most efficient form factor possible and minimising heat loss. The CLT structure could be left exposed internally, avoiding the need for additional costly and carbon-heavy linings.
In order to keep material costs down, a number of the materials used in the house have also been creatively 'hacked' from their original purpose. For example the external cladding is cellulose agricultural roofing sheets, pavers are polished-up reclaimed breeze blocks, and the upstairs flooring is recycled cork rubber, originally designed for industrial gaskets.
What lessons from the project could be applied elsewhere?
The CLT structure offered both cost surety and programme benefits, as it could be manufactured off-site at the same time as the groundworks were taking place, and the structure was erected in just 10 days on site. Having been built for less than £3k/m2, in eight months – on time and on budget – Green House provides a viable prototype for an affordable, practical and sustainable fossil fuel-free family home. The central top-lit riad-style atrium bringing daylight into the centre of the plan also means that it could be easily replicated as a row of terraced houses.
Credits
Contractor Rebuild London
Structural engineer Iain Wright Associates
Environmental / M&E engineer Mesh Energy