Made of Sand, Studio Weave's self-contained annexe, is both successful in its own right and enhances its host house – demonstrating the value of using an architect. Below, founder director Je Ahn looks at the key points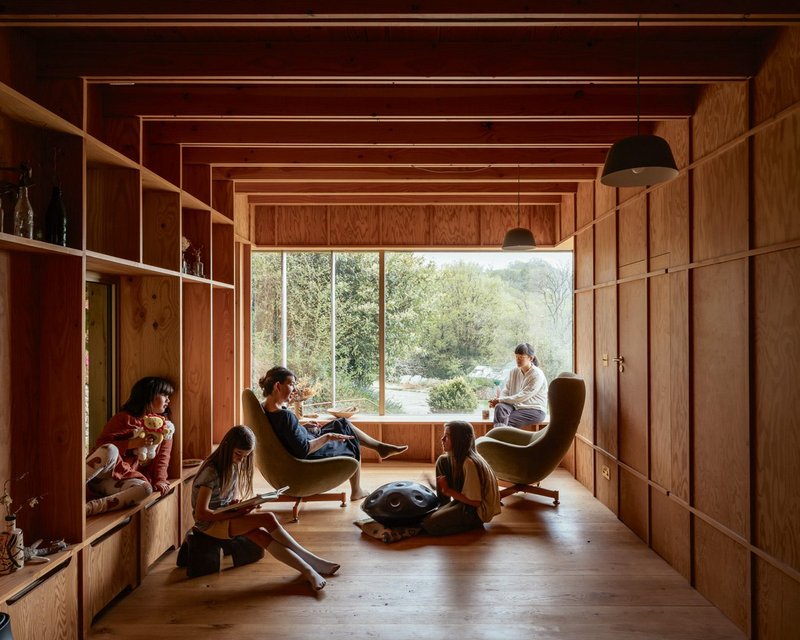 Credit: Jim Stephenson
Made of Sand, Devon
Studio Weave for private client
Contract value: Confidential
GIA: 69m2
Named in honour of a historic sandpit on which it stands, Made of Sand is a timber-framed self-contained annexe to a stone cottage in rural Devon that can be used by friends and family of the clients, or made available to artists as a creative retreat. Replacing a down-at-heel garage and workshop, the extension has an L-shaped plan. A single-storey kitchen is set behind the existing house, and the addition rises to two storeys against its gable end, with a bedroom on the ground floor and a living room above, whose large window frames a view of a meadow in front of the house and the Blackdown Hills beyond.
Facades are clad in Western red cedar that is silvering to match surrounding woodland, with slender upright and diagonal timbers that lend texture and express the structural arrangement within. Inside, the frame of Douglas fir remains on view throughout, with the spacing of beams also reflected in a web of battens over timber-lined walls. Heavily figured Douglas fir is also used to form integrated storage and window seats. The warm tones of the wood are enhanced by a material palette that includes brass, cob, handmade terracotta pamment tiles and a pinkish lime plaster to which some sand was added in a subtle acknowledgement of the site's former use.
'This project is a fantastic example of why you should employ an architect,' said the House of the Year jury. 'The extension is not only successful in its own right, but offers huge benefit to the host cottage, massively reducing heat loss through the existing fabric.' They found the building's explicit structural rigour and well-made details very attractive. 'Materials and craft play a key role in anchoring Made of Sand in its setting.'
Three questions for Je Ahn, founding director, Studio Weave
What is your favourite feature of the house?
The warmth and craftsmanship, but more importantly, how the new extension vastly improved the usability and flexibility of the existing cottage while increasing its thermal performance enormously.
What was the greatest challenge of the project?
Made of Sand was built during the pandemic, which meant inflation, shortage of material supplies and local contractors. Besides that, there was limited access along a narrow path. To overcome this, we adapted our design to suit the delivery limitations while tailoring details to the main contractor's strengths and what tools were available on site.
What lessons from the project could be applied elsewhere?
Always respect the existing; retrofit first and foremost; use your collaborators' strengths and be flexible.
Credits
Architect Studio Weave
Contractor Cob and Lime