Grafton Architects takes inaugural prize with Lima campus building – a 'modern day Machu Picchu'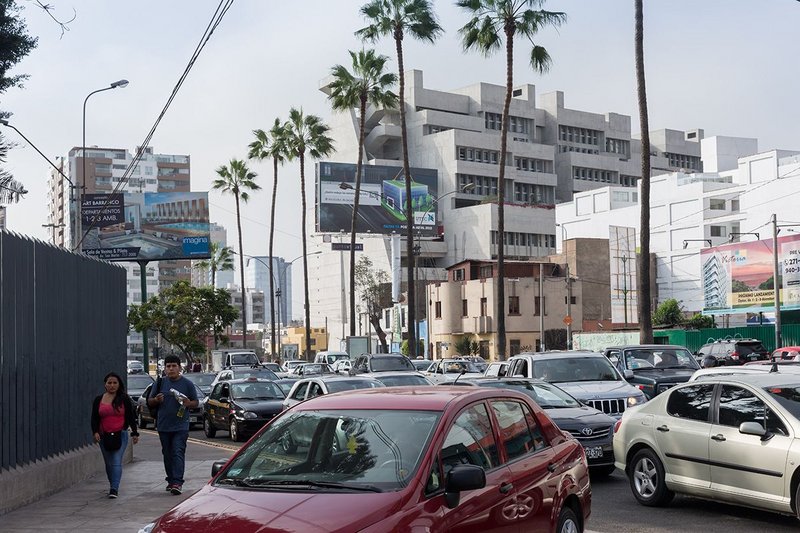 Universidad de Ingenieria y Tecnologia.

Credit: Iwan Baan
The winner of the RIBA's ambitious new International Award is the UTEC university campus in Lima, Peru, by Grafton Architects. This new campus building for Lima's specialist engineering university triumphed over a powerful six-strong shortlist that also included exceptional buildings from the Azores, Azerbaijan, Mexico, Norway, and France.
This is the first time that the RIBA has undertaken an award open to all qualified architects anywhere in the world – the previous Lubetkin Prize was open only to RIBA members building outside the European Union. So this represents the best of the best and – unlike plenty of other lesser awards out there which look only at photos – the 30 shortlisted entries are all properly visited by a jury member with an architect from the relevant region.
Dublin-based Grafton Architects has delivered what the International jury, chaired by Richard Rogers, describes as 'an exceptional example of civil architecture – a building designed with people at its heart. Grafton Architects have created a new way to think about a university, with a distinctive "vertical campus" structure responding to the temperate climatic conditions and referencing Peru's terrain and heritage.'
The craggy building perches on the edge of a ravine which marks the border of two residential districts. From afar it is almost like a fragment of some ancient colosseum, or as the judges say: 'Seen from across the ravine it is as bold and as pure a statement of the symbiosis between architecture and engineering as could be imagined: a piece of geology imposed upon its pivotal site, mirroring the organic curve of the landscape and accommodating itself in the city. To its close neighbours, it is a series of landscaped terraces with clefts, overhangs and grottos, a modern day Machu Picchu.'
The 'vertical campus' concept comprises open circulation and meeting spaces in a succession of platforms composing the visible frame of the building. This is the armature that then absorbs teaching rooms, laboratories and offices – some enclosed, some inserted into and suspended from the exposed concrete structure.
This shows a very distinct and mature design sensibility at work, revealing something of the same spatial and textural language as Grafton's otherwise very differently organised university building in Milan, the economics department of Luigi Bocconi University. Its Lima building, say the judges, is 'the culmination of years of experimentation by Grafton Architects'.
It clearly works well, to judge by the remarks of the university's chief executive Carlos Heeren, who says: 'It has had a real impact on the students and faculty. Its open spaces push their ideas to new limits, its solid structure makes them feel safe to explore and take risks, and its elegant lines remind us all that beauty can be found even in concrete…it reflects who we are, and we feel proud of it.'
RIBA president Jane Duncan says: 'The RIBA International Prize was created to celebrate civil architecture that empowers people and societies to innovate and progress. UTEC stood out from all other entries around the world, clearly demonstrating its understanding, engagement with and concern for those who are lucky enough to live near, visit, teach and learn in it.'
For their part, Grafton's founder directors Yvonne Farrell and Shelley McNamara also single out the important role played by the local architect they worked with in Lima, Shell Arquitectos. 'We would like to thank UTEC for their belief in architecture and in us,' they say.
The five other projects on the shortlist were:
Arquipelago Contemporary Arts Centre, Ribeira Grande, Portuguese Azores – by architect Menos é Mais with João Mendes Ribeiro Arquitecto.
Heydar Aliyev Centre, Baku, Azerbaijan – by Zaha Hadid Architects with DiA Holding.
Museo Jumex, Mexico City ­– by David Chipperfield Architects with Taller Abierto de Arquitectura y Urbanismo (TAAU).
Stormen Concert Hall, Theatre and Public Library, Norway – by DRDH Architects.
The Ring of Remembrance, International WWI Memorial of Notre-Dame-de-Lorette – by Agence d'architecture Philippe Prost (AAPP)
Farrell and McNamara will speak at the winner's lecture, chaired by Richard Rogers, at the RIBA in London on 13 December from 7-9.30pm. Book here.
There's more. As part of the RIBA's wider recognition of architecture internationally, there is also the new International Emerging Architect Award. This goes to John Lin and Joshua Bolchover of Rural Urban Framework, a non-profit organisation working with charities and non-governmental organisations in China. They win for their Angdong Hospital in Baojing County – a model rural healthcare building. Lin and Bolchover will be giving a talk at the RIBA in London on 24 November. Book here.
---