Young practice Aleph Zero and collaborator Rosenbaum reinvent the rural Brazilian vernacular in their boarding accommodation for rural teenagers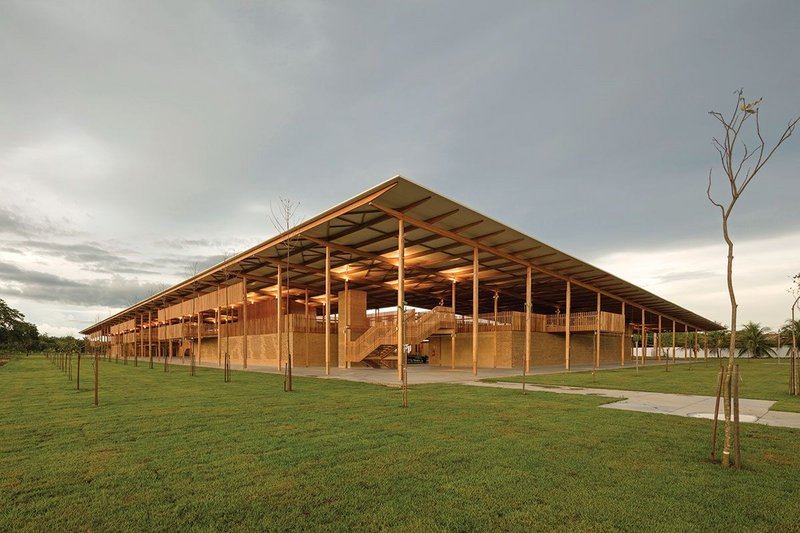 Local sundried bricks and CNC cut timber were used on the Children Village by Rosenbaum and Aleph Zero. Leonardo Finotti

Credit: Leonardo Finotti
The RIBA's International Prize has been awarded to the Children Village at Canuanã School in Brazil for its 'humble heroism'. The 20-strong longlist included buildings across 16 countries. These were whittled down to a very strong shortlist of four, including work by Royal Gold Medallists O'Donnell + Tuomey, so it is remarkable that it is the work of young Brazilian practice, Aleph Zero, in collaboration with Rosenbaum, that has won the second biannual prize. Aleph Zero has already won the International Emerging Architect award from the RIBA.
The buildings house children of Brazil's rural central region. Two boarding school buildings – one for girls, one for boys – break up the traditional dormitory into smaller brick units of six bunks and washing facilities. These in turn are clustered around planted courtyards cooled with shallow pools. The ground floor sleeping configuration is topped with larger spaces for relaxing with hammocks and spaces for TV watching and reading, some enclosed, some airily open. Oversailing this is a roof supported elegantly by glulam eucalyptus uprights.
The configuration was influenced by immersive discussions using the A Gente Transforma methodology, a method developed Aleph Zero's collaborator on the project, the more-established practice Rosenbaum. A Gente Transforma is described as using 'design to bare the Brazilian soul', with a focus on really getting into the community to draw on its spirituality and historic methods and working directly with people. From this process came the use of earth blocks, a customary way of building in these parts, made more efficient with modern techniques.
The grand jury described the 25,000m2 Children Village as 'reinventing the Brazilian vernacular'. Elizabeth Diller of DS&R, on behalf of the grand jury, said: 'Beyond being a standout work of architecture, Children Village embodies the generosity of the Bradesco Foundation's philanthropic mission to provide much-needed amenities to those who otherwise have limited access to schools. Aleph Zero and Rosenbaum have achieved a humble heroism, utilising a sophisticated approach to detailing and construction that belies the fact that the building's users are predominantly teenagers, age 13-18, in a remote area in Brazil. The architect's inventive rethinking of the region's traditional techniques and materials succeeds in building community and in proving that space matters in education.'
---