Riverside Museum, Glasgow 2010, by Keith Hunter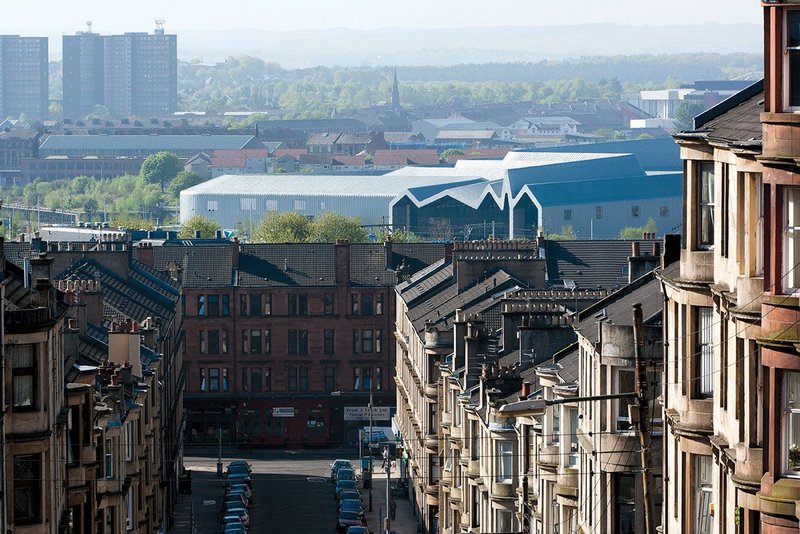 Riverside Museum, Glasgow 2010

Credit: Keith Hunter
North Gardner Street may not be the city's highest point but it is Glasgow's steepest hill, which accounts for the peculiarities of this view; if it weren't for the tenement rising to fill the right hand side of the frame it would seem as if two separate images had been spliced together.
This strange juxtaposition is what thrilled Keith Hunter, who admits that it's not so much the building as the composition that induced him to press the shutter.
And what he discovered through taking it is how Zaha Hadid's museum, which looks so alien on the north bank of the Clyde, seems so much part of its context when viewed at city scale. It's only from here, for instance, that the angular zig-zagging profile of its entrance canopy suddenly has formal legibility when seen against the roofline of the city's tenements. Likewise, the reasonableness of her choice of stark zinc cladding alongside the grey industrial roofs of Govan and Ibrox to the south. Note too Hunter's lining up of Ibrox church steeple with the canopy and the sunlit west side of Gardner St, creating an invisible crosshair to draw the viewer's eye directly to the centre of the image.
Not just line and light, there are historical juxtapositions too in the 70s towers of Pollokshields, counter pointing the original 'high-rise' tenements in the foreground. But there's a final irony that evades the reader, though not Hunter, who returned recently for a twilight shoot. This view no longer exists; lost to some bland student housing that obscured Hadid's nocturnal blips of light with a solid, orthogonal dark all of its own.