Robin Lee Architecture's utility buildings in Eddington wouldn't look out of place in a Capability Brown landscape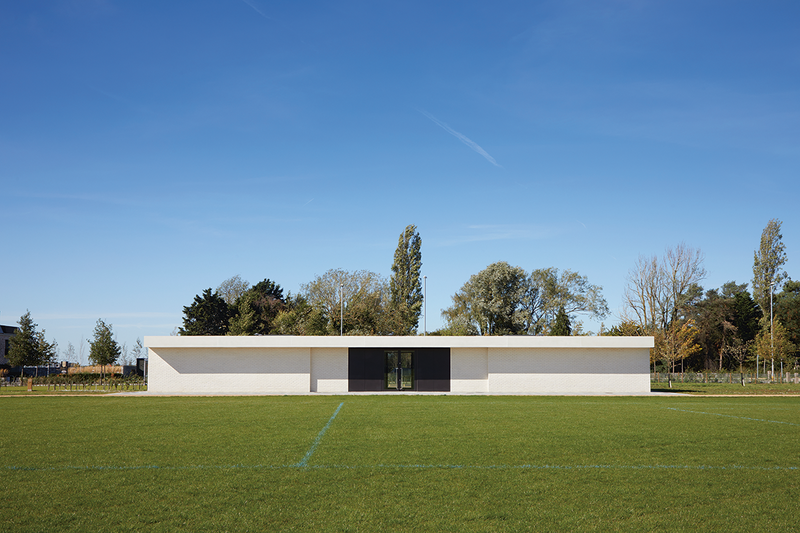 The sports pavilion sits on the edge of a large playing field with four changing rooms and eight WCs. Its facade is pushed and pulled to make it welcoming.

Credit: Jack Hobhouse
Look south from the Huntingdon Road in Cambridge, just before the city ends and the route turns into the A14, and you'll see a distant building set far back up a long wide avenue, beyond the green fields. It doesn't look like much from here; perhaps a recently painted large manor with gable ends or a contemporary country house half hidden by the trees. The landscape is flat but apart from a cluster of roof pitches 400m away, the other forms could be mounds of earth or natural features. How could they be anything else, set away from everything as they are? But why is there so much spacious infrastructure leading to them?
Squint a little more into the sunshine and either side of this generous approach you'll catch a glimpse in the nearer ground of two smaller gateway pieces – lighter and brighter than what's behind. The pair, though not symmetrical, welcome visitors to this verdant parkland.
This faraway place is of course no grand estate. It is, as the other approach from Madingley Road (behind the park and ride) more readily reveals, the new north west Cambridge city district of Eddington. So many competitions for the area have passed by architects' computer screens that you've likely heard about it but not necessarily been here – it's 5km from the train station and still a nascent place. There are already 930 homes and 680 student bedrooms but during the week Eddington is a bit ghostly, enlivened only by supermarket and school, and insulated from its nearest neighbours by a thick green belt of lovely wildflower meadow and groomed lawn.
Named after Arthur Eddington, an astrophysicist, the new suburb has been in conception since the 1980s when its owner, the University of Cambridge, realised that to compete for the best staff it would need to solve housing issues, particularly in the private rental sector which has for so long been expensive and poor value. Its ambition was to build its own staff accommodation as part of a mixed community including open market housing too.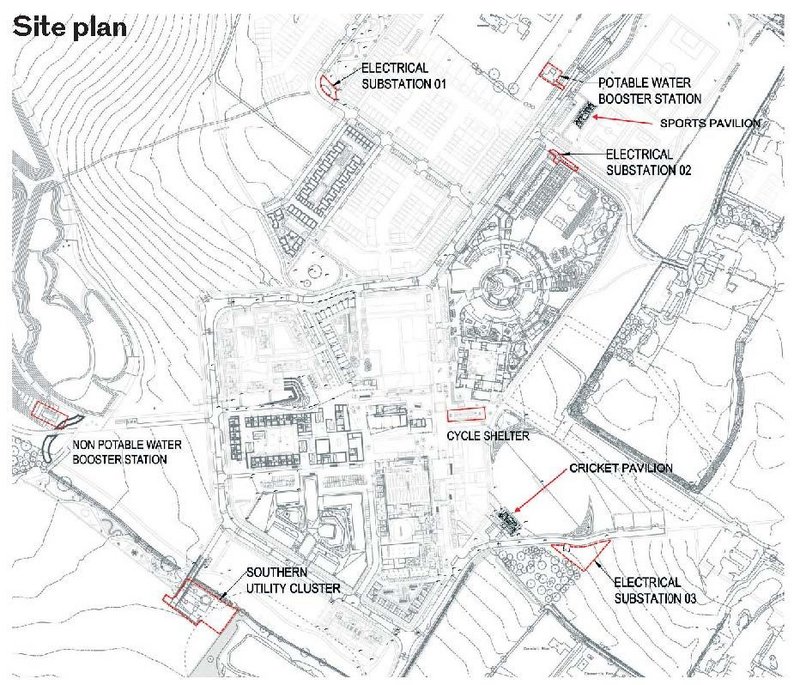 The university had owned the 150 hectare farmland site, which it used for research and food production, for more than a century. In 2009, to a masterplan by Aecom, permission was granted for 3,000 homes and 2,000 student rooms. Phase 1 is nearing an end – the first buildings were completed in 2015 – and just two plots for private houses and a hotel designed by dRMM remain.
Essentially, though, Eddington is a new bit of city developing in large phases in the same way as Cambridge's lesser known suburbs such as Arbury. From the beginning the university's goal was to create a varied and high-quality district that was all about the big architectural moves, and so it commissioned a roll call of some of Britain's most popular design-led architectural practices including Stanton Williams, Witherford Watson Mann, Mole, Marks Barfield and Dutch firm Mecanoo. As Gavin Coull, senior client representative for the North West Cambridge Development, explains, it wanted 'that different look from hiring different architects'. It went about the task by splitting the site into a dozen plots that firms could submit expressions of interest for – although the result is so far surprisingly tame and homogeneous. No render or exposed timber cladding was permitted, and everything has coincidentally popped up a dusty shade of brick.
Landscape was similarly split up. The market square went to Townshend Landscape Architects and the rest to Aecom's infrastructure department. However, within the latter a subcategory soon appeared for a group of essential but previously unconsidered utility buildings of which some would be located in that green buffer around the district. Rather than take on the multiple buildings itself, Aecom decided to bring in Robin Lee Architecture which had worked on a primary substation at the Olympic Park. 'Often these types of buildings are simple brick surrounds with silly roofs,' says Coull, but the idea was that these normally under-designed objects could become a 'virtue'.
Robin Lee's idea was to make them contribute to the landscape and sense of place; to help with wayfinding, creating an identity and legibility – though when Lee visited, the site was just fields and the size, number and locations of buildings were undetermined. All that was known was that there would be various types from electrical substations to sports changing facilities and pumping stations for the potable and non-potable water networks. In line with the sustainable approach outlined in the masterplan, the latter was to connect to a reuse system of rills, swales and filtering across the site. Consequently, Lee developed a palette of architectural components that could apply to all and give them a distinct but unifying appearance in the landscape.
Instead, the specifics evolved as Lee engaged with the different buildings' final owners such as UKPN and Cambridge Water. The palette of materials and elements had to be adapted to the their strict requirements, like the use of 9-inch bricks and concrete slab roofs for substations, as well as assimilating proprietary components like doors and locks. In this scenario, the challenge was to find the limits of each utility provider. For example, integrating the university's ecology agenda to include bird and bat homes in the buildings was not possible except on those that would remain university owned, such as the sports pavilions.
The rural nature of the setting, as well as planned vistas, encouraged Lee to consider the picturesque follies and structures of 18th century English landscape design promoted by Capability Brown. At places like Stowe and Castle Howard, the buildings are characterised by forms that can be understood at distance, across a landscape, and an articulated expression that reveals and accentuates the surrounding natural forms, physical depths, shadowing, views, clearings and contours.
Lee's ambition for the utility structures, which in most new developments are thrown up without design consideration, was similar – to create a family of buildings to promote Eddington's natural setting. Like Brown's, they have been given a classical placement in the landscape to frame avenues and float reflections on lagoons. In their architectural language and composition, they display classical characteristics too – columns, layering, symmetry, arcades – albeit reduced ornamentally and constructed of white pigmented precast concrete and pale brick, flush pointed, rather than stone. The handmade quality of the bricks adds a vein-like character to the surface. 'We knew there would be very few windows on any of the buildings,' says Lee, 'so it was a case of creating a language for blank walls and enclosures.'
Scattered in an uneven ring around the urban centre, there are three electrical substations, a potable water booster station, sports changing facility, cricket pavilion and non-potable water station as well as a centre for the university's Granta Backbone fibre network, another substation and a gas pressure reducing centre for district heating in what is called the southern utility cluster. While the other buildings in the series stand alone but in dialogue with each other in the landscape, this particular plot groups multiple types together via a meandering wall with volumes abutting the inside and outside of a gated courtyard, much in the manner of a Roman villa. Visible through the bespoke gates, the composition of gantries, tanks and sunken chambers contained by the compound wall is made to look artful by the clarity and brevity of the architecture.
Elsewhere, the non-potable water pumping station has a porticoed appearance framing panels of louvres for heat dissipation and picturesquely sits beside the artificial lake. Much of the machinery inside is sunk in the basement. The electrical substations have mono-pitch roofs adjusted alternately to complement and contrast their precise position and are carefully detailed with recessed guttering. The walls are perforated for ventilation too. The sports pavilions, on the other hand, are characterised by their horizontality and canopies that invite people in, unlike the other buildings which are not publicly accessible. The overhangs are also useful for spectators.
Overall, these utility buildings are quiet but surprisingly inventive and provide an arcadian beauty to Eddington as a whole. Although they are designed to be seen from a distance, up close and inside it's evident that they are carefully made too. While there is still much to be built here, they add charm and intrigue and for that reason are possibility more unifying to the new district than the range of architecture in the centre. They create a conversation about the new urban area's relationship to its setting. It's admirable that the University of Cambridge has seen the value of investing in these usually afterthought buildings because out of nowhere, they've become possibly the most urbanistically important and interesting architecture in it.
In numbers
321m2
sports facilities
16m2
electricity substations
201m2
water pumping stations
9m2
granta data station
80m2
gas pressure reducing station
Credits
Architect Robin Lee Architecture
Client University of Cambridge
Structural engineer Arcadis
M&E engineer Hulley & Kirkwood
Contract Design & Build
Facing bricks Wienerberger