How the treasures of St George's Garrison church are being saved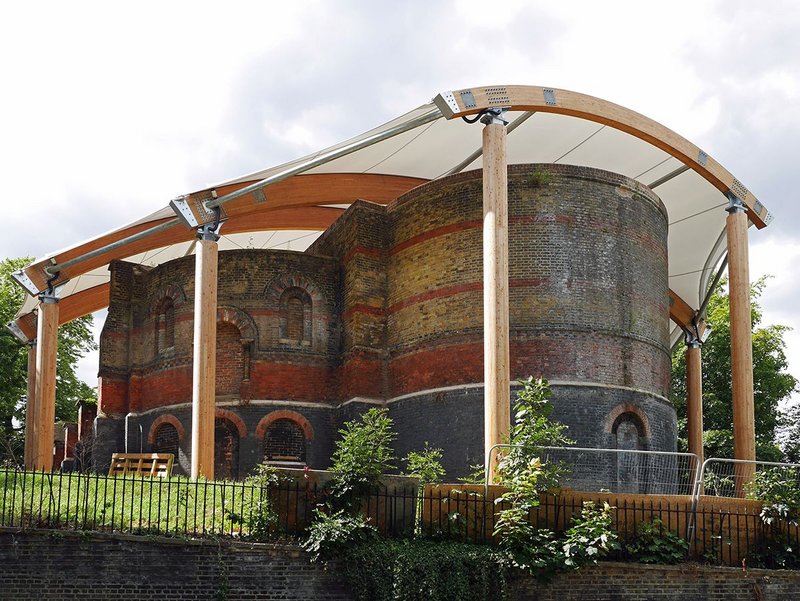 Surreal juxtaposition: Romanesque ruin meets lightweight roof.
As odd projects go, this is one of the odder: a new tensile-fabric roof over one end of a stabilised, part-restored, ruin. St George's Garrison Church in Woolwich has quite some artistic and military history. It still has an interesting interior, even though until recently it was open to the weather and is officially still on Heritage England's 'Long-term building at risk' register. But not for much longer.
The church was built in 1863 to serve the huge military garrison there – still present, though much reduced. Architect Thomas Wyatt designed an imposing Italianate building based on the taste of his client, secretary of state for war Lord Herbert. He wanted a church like the 1846 neo-Renaissance-Romanesque one his uncle had built at Wilton near Salisbury. Wyatt obliged – on a smaller budget, but he 'got the look'.
Damaged by a bomb in the First World War and repaired, it was blown apart by a V1 flying bomb in the second. This time they merely cleared out the rubble and turned it into a walled public garden, though it remained consecrated with its marble memorials to members of the Artillery Regiment who had won the Victoria Cross. Eventually decay threatened its surviving Antonio Salviati Venetian glass mosaics – including an excellent St. George and the Dragon – and the Heritage of London Trust Operations ­(HOLTOP) took it over in 2008 with the blessing of the Army. Restoration began in earnest in 2012 and the first phase, including the tensile roof, has just been completed.
At £681,000, it's a smallish project – £253,000 for the roof structure with its laminated-timber arches and beefy timber-clad vertical-cantilever columns, and nearly £133,000 for the painstaking mosaic restoration by a team overseen by specialist Kalypso Kampani working with building restoration expert Skillingtons: an especially tricky job given that some of the fragile mosaics had previously been removed and needed careful re-assembly. Heritage Lottery funding has been vital to this work.
The project has had a complex history of specialist consultants. APEC architects designed the new roof to Stage D, detailed design and installation was done by contractors Fabric Architecture. Thomas Ford and Partners took on the design co-ordination and contract administration from Stage D onwards. Foundation and connection details are by Morton Partnership.
Nor is it anything like finished, though for the time being it is protected and the mosaics saved. There are damp penetration problems to sort at the western end, and a survey is being funded by Heritage England into a second phase of conservation works – subsidence is apparent at the east end, above a sealed crypt. As pointed out by Paul Sharrock of Thomas Ford and Partners, which took on the design co-ordination and contract administration from Stage D onwards, there could be valuable architectural fragments down there, and it's not yet even known how much of Wyatt's nave floor remains beneath the tatty municipal garden. There is plenty of investigative and reinstatement work ahead, and a local trust is being set up to run and maintain it. This is a building that defiantly continues to exist as a repository of memory.
---