'Work with a courage and clarity that few can match'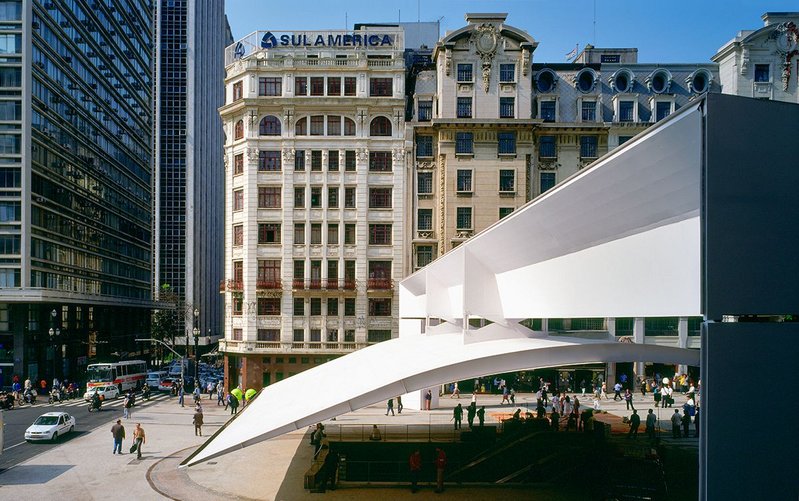 Steel canopy Patriach Plaza, São Paulo.

Credit: Nelson Kon
Paolo Mendes da Rocha has been announced as the 2017 RIBA Royal Gold Medallist. His work is best known on this side of the Atlantic for its concrete sculptural forms.
Neil Gillespie of Rieach and Hall, who proposed Paulo Mendes da Rocha as RIBA Royal Gold Medallist, sums up the importance and brilliance of his architecture: 'His work has a courage and clarity that few can match. His structures are daring and joyous, his use of concrete bold and innovative. His plans at a building scale or at a city scale are generous and expansive. He is passionate about people and society and how his buildings might serve them.'
It is perhaps appropriate that in the year of the Rio 2016 Olympics a Brazilian architect has been chosen; although the RIBA has not waited until now to celebrate Brazil's 20th century architectural giants. The 1998 RIBA Royal Gold Medal went to Oscar Niemeyer, a generation older than Mendes da Rocha but better known for his more organic forms and the monumental Brasilia.
Mendes da Rocha has worked across Brazil: including on the 1957 Athletic Club in São Paulo, the Brazilian Sculpture Museum MuBE (1988) and the football stadium Estádio Serra Dourada (1975) in the state of Goiás. He was one of the finalists in the Pompidou competition, won by Richard Rogers, and designed Brazil's pavilion at Expo '70 in Osaka, Japan, and Portugal's National Coach Museum (Lisbon, 2015). The RIBA Royal Gold Medal is the latest in a line of major international awards for Mendes da Rocha including the Pritzker Prize, Mies van der Rohe Prize and the Praemium Imperiale International. Earlier this year he received the Venice Biennale Golden Lion for Lifetime Achievement.
In other RIBA award news, 18 RIBA honorary fellows have been announced, most notably one giving long overdue recognition to Julian Robinson who has proved an active and engaged client as director of estates at the London School of Economics, following his previous work at Queen Mary University of London. Architectural photographer Iwan Baan was also recognised by the RIBA with an honorary fellowship. The RIBA international fellows mix up Vietnam, Ireland, Peru and Scandinavia to honour those who are at slightly earlier stages in their careers than 87 year old Mendes da Rocha.