The Salters' Company is savouring lower energy bills and greater lettings income thanks to dMFK's £12m refit and extension of its livery hall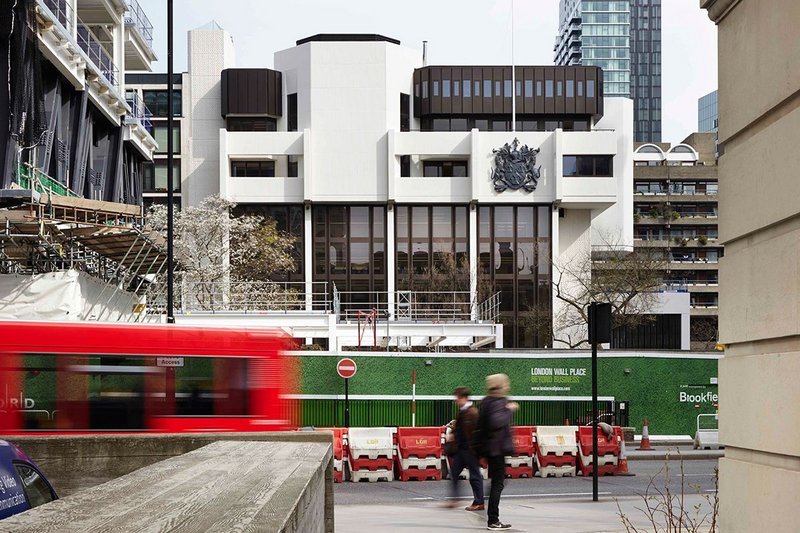 The result of an architectural competition in 1968 that featured Mies van der Rohe on its shortlist, Sir Basil Spence's winning entry for a new livery hall in the City of London would be the fourth built version for the Salters' Company, but the architect's last commission – Spence would die in 1976 and the building would go on to be completed by the John S Bonnington Partnership. Sitting just south of the Barbican complex, it cuts a strange figure; a concrete frame, with dark aluminium bronzed glazing and clad in stark blank-faced ribbed, knapped or bush hammered concrete, the Salters' Hall is most marked by its upper levels. Here, Spence decided to cantilever the slab out from the 5th floor and top off the composition with strange octagonal concrete towers. The building embodies Spence's signature style, reinterpreting classical language in modernist idiom to fuse a form of functional picturesque. But looking out to London's Roman wall, it's a hulking thing – and not just for its saline associations – considered by some as something of a Marmite design.
Perhaps this was partly why the Salters sought to remedy the image of the hall. With its charitable funding providing scholarships to a new generation of scientists, the Salters wanted to ensure the building maintained itself as a future revenue generator and presented an outward-looking face to the City and the public; they also wanted to haul their poorly performing 20th century building firmly into the 21st in terms of sustainability. They appointed de Metz Forbes Knight in 2011 to put forward a proposal to modernise the building and its beautiful ash-lined meeting hall, by noted 20th century British designer David Hicks. That process has just completed; and includes a new double height reception box structure appended to the building's eastern side, replacing a garage block.
Partner Julian de Metz explains that what the firm took on was a building that was failing on a daily basis: 'The cladding was leaking as well as the roof,' he says. 'Both were in need of replacement and air conditioning units and boilers were beyond their useful life. To make the refurbishment viable we came up with the idea of extending Spence's floor plates, filling in the under­croft and generating more tenant area to pay for the new works.' This modification strategy, along with that for building servicing, has not only increased the lettable area but improved performance from an EPC of bad D to B, earning it a BREEAM Excellent rating.
The original design proved interesting if problematic. De Metz says Spence decided to 'buck the trend' and reverse the traditional livery hall layout, elevating all the formal functions of hall, council chambers and masters' quarters to upper levels and placing administrative and rental offices on the lower. Novel perhaps, but it left the ground floor entrance from the undercroft dark and unwelcoming. While dMFK partner Ben Knight says the then City of London chief planner was keen on greater transparency between the Barbican complex and London Wall, he adds that the firm also wished somehow to pick up on the main building's solidity. 'Spence's design has a baronial character – it felt a bit like a Portcullis. We wanted to adopt a similar concrete language to give it weight, so went for a rudimentary table structure that had a classical proportion to it.'
This double-height structure touches the main building lightly on the east side with a glass slot that leaves Spence's concrete fluting untouched. It's this fluting that underwent metamorphosis as part of the formal treatment of the new extension, manifesting externally at high level in bronze painted PPC aluminium as a complex pattern of brises soleil, shading the glass and mitigating solar gain to the reception area. More shading is achieved internally at roof level with a grid of deep 1200mm beams that serve as a foil to whatever direct light makes it past the glass roof's heat reflecting copper mesh interlayer. This all attaches back to a 1700mm deep perimeter ring beam, adding structural stability. The resulting table top pavilion, fed by mid-level air supply vents set within an ash lined service riser against the east wall, is solid, yet light and elegant and has proved transformatory for the entrance sequence.
On the office levels above and behind, the architect's intervention has been more sleight of hand, drawing Spence's facade nearly 2m forward on the north and south and creating 260m2 of extra tenant area from the first to fourth floors – maintaining a modicum of overhang at upper levels as per the original design. As Knight explains, this took the form of steel cantilever beams clamped and bolted onto the edges of the existing concrete floor slabs, with a perpendicular beam connecting them back to existing columns. There's some sophistry in the creation of faux columns to match the existing, which were 'constructed in Metsec overlaid with cementitious board and insulation with a thick-coat textured render system' to emulate the finish. The new low-e glass specified by dMFK matched the original single glazing's bronze tint while offering far better thermal performance.
Gains in tenant area weren't just gleaned from pulling out and filling in floor plates, but from a radical rethink of the services strategy. Both tenant and ceremonial spaces had been served by large plant in the basement which was not fit for purpose. 'It was a combined variable air volume system,' explains Hoare Lea partner Chris Myers. 'This ran at constant temperature: only the volume of air would change according to the level of heating or cooling required.' A single system serving both ceremonial and office spaces, it was, says Knight, hugely inefficient, given the spaces' different conditioning requirements. It was also space hungry. 'The system needed lots of risers and when we upgraded we adopted a strategy that meant we could recover space for the office floors.'
Key here was the decision to connect to Citigen, the City of London's power generation and district heating and cooling system in Smithfield. This serves a number of Corporation properties, including the Barbican, via a network of insulated underground pipes. Myers was keen to take advantage of it, explaining: 'As an off-site low-carbon source of heating and cooling [both air and water], it offered opportunities to reduce the carbon footprint of the building. It completely changed the services strategy for the Salters' Hall.'
The consultant team decided to split the servicing requirement in two, recognising how tenant and landlord air handling demands were distinct. As a result, they went for a 'bottom up' approach for the offices and 'top down' for ceremonial spaces. 'Water is tempered in the plate heat exchanger room at basement level and pumped to four pipe fan coil units, mounted in the ceiling void, serving the office spaces', adds Myers. The connection to Citigen also freed up space at roof level previously occupied by central chiller plant but now housing new air handling units installed to provide conditioned air directly to the ceremonial rooms.
While the hall's original ducts couldn't be changed for fear of damaging David Hicks' delicate curved ash wall screens, the air handling strategy was reversed to provide displacement type ventilation better suited to large hall events. Crucially, the strategy to link into Citigen significantly reduced the building's carbon footprint and had a positive impact on its BREEAM rating, though Myers adds that space has still been allocated at basement and roof levels for plant in the event of the building needing to generate its own heat and cooling in the future.
With the roof remediated and converted to a warm one with 120mm of PIR external insulation, performance was raised to such a degree that it obviated the need to carry out any works to Spence's original concrete fabric, leaving its defensive white skin standing in counterpoint to dMFK's pavilion; part of its more transparent, ordered, energy efficient and profitable 21st century iteration.