Generous, unfussy, free flowing with a relaxed likeability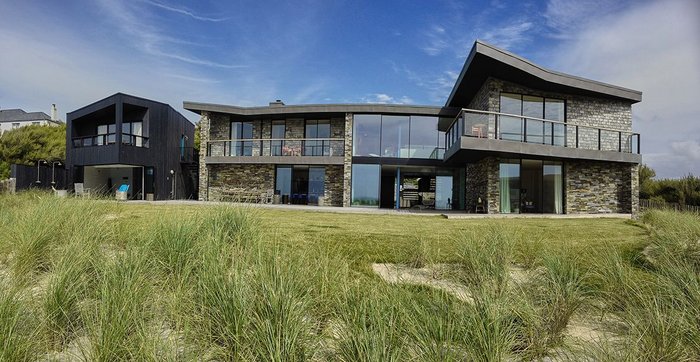 Arco2 Architecture for private client
Contract value: Undisclosed
GIA: 635m2
This home strives to be neighbourly, despite replacing a hotel on this staggering beachfront location. A tapering gap permits views to the shoreline between the main house and a guest and pool annexe. The secondary building is very successful in itself, a gap in the plan of its upper floor giving relief to the profile. This arrangement is a more convincing strategy for breaking down the scale than the horizontal strata of the house. Special mention should go to the simple and sensitive landscape strategy that subtly maintains privacy through topography.
· Credit: Mark Ashbee

· Credit: Mark Ashbee

· Credit: Mark Ashbee

· Credit: Mark Ashbee
The house is naturally focused on the coastal views, with secondary spaces to the rear. The opposing side is fully glazed and floods the interior with light from the west. The generous, unfussy and free flowing interior has a relaxed likeability. Highlights include a sunken seating area in the double height hinge of the plan, and a delightful reading space squeezed between bedrooms. Quite simply it made the jury happy.
See other winners of the RIBA Regional Awards 2016 – South West
---