Thomas Ford and Partners has reconfigured the disjointed Sheffield Cathedral into one warm, award-winning whole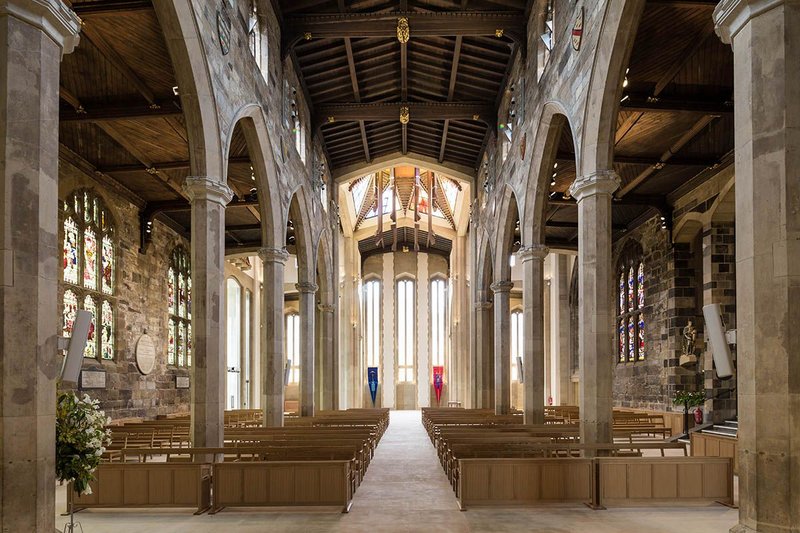 Looking back from the altar towards Bailey's western end and lantern. New floor, new moveable furniture by Thomas Ford and Partners.

Credit: Exposure Property Marketing
Sheffield Cathedral is one of those forever unfinished places that has acquired architectural status over time by accretion. Originally a parish church dating from 1430, on the site of older churches, it underwent the usual vigorous late Victorian restoration and additions. But that was not enough: by 1914 Sheffield was of a size to warrant a cathedral, and so the parish church duly found itself promoted. After bursts of piecemeal expansion in the 1930s and 1960s, the latest intervention – Yorkshire's Building of the Year in the RIBA regional awards – brings clarity, accessibility and (literally) warmth to what is a building with an intriguing architectural timeline. It is by Thomas Ford and Partners.
First, some history. This is a slightly bizarre place. The plan of the cathedral today is curious: it's almost square, but within that square lies a remarkable variety of buildings of various sizes and dates, which connect rather tortuously inside on various levels. This is mostly the legacy of Sir Charles Nicholson (1867-1949), hired in 1919 to turn the church into something that looked suitably grand as a cathedral. He beavered away on this, producing one scheme in 1921 – unbuilt because no money – and another, even more ambitious, in 1936. This was bombastic and bonkers: he proposed reorientating the church north-south, demolishing the existing nave in the process, and giving the place a second tower, nave and crocketed spire to match the original. The often-maligned Victorian restorers were by comparison shrinking violets.
Work began, with some ancillary buildings achieved in the late 1930s. However Nicholsen's new northern nave got no further than the foundations before the Second World War put a stop to it. Having turned 80, he bowed out in 1948 with the completion of the Chapel of the Holy Spirit, intended to be the end of his new northerly nave, the new 'ecclesiastical east'. Being down a slope, it is set much lower than the rest of the cathedral, which makes it feel isolated today. It is hard to imagine how the sequence of spaces connected in Nicholson's mind.
Nicholson was succeeded in the 1950s by Stephen Dykes-Bower and George Pace. Even these experienced and talented church architects could not resolve the incomplete design they inherited, given how little money they had. Both resigned in frustration. And so, when it came to be the turn of Arthur Bailey of Ansell and Bailey in the 1960s, he wisely ditched Nicholson's scheme, reorganised things a bit and replaced the late Victorian west end with a new crossing marked by a towered open porch and narthex (vestibule), in the same gritstone ashlar as the original. Inside he added a spectacular modernist-gothic crown-of-thorns lantern. Bailey's work is strange but good, outside and in – very 1960s historicist-modern – but you had to descend steps to get into the cathedral. Later alterations and additions were by Martin Purdy of APEC.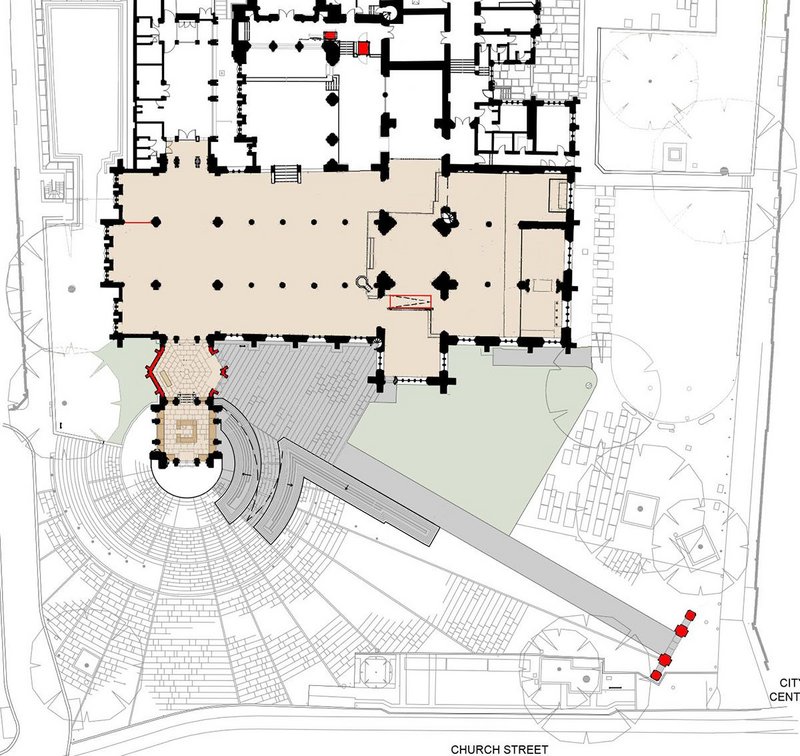 Floor plan showing new entrance and extent of interior works – new work is shown in red.
Those are just the edited highlights – the full story is considerably more complex than that. What's now been completed, as the cathedral's centenary 'Gateway' project, is the work that has won Thomas Ford and Partners its award. The firm is in the tradition of cathedral architects and look after several: Wakefield, Guildford and Birmingham are also in their care. There is nothing spectacular or bombastic here: much of the £3m cost of the project has gone into excavating some 1150m2 of the existing floor and relaying it, with underfloor heating, in such a way that a smooth easy wheelchair-accessible route is made right from south-western entrance to eastern altar.
But you can see the key architectural intervention from the outside. Bailey's open porch is now glazed in as the cathedral shop, while his rectilinear narthex – essentially a corridor link – was demolished to be replaced by a new hexagonal entrance, with large windows between new stone piers disguised by vertical stainless-steel brises-soleils. The central pier where this new facade angles back is a corner detailed pretty much as Mies would have done it.
'The levels were awkward, and certainly compromised Ansell & Bailey's entrance – descending into a building is never a good experience,' says Clive England of Thomas Ford and Partners. 'It was quite some time before I came to the inescapable conclusion that demolishing a highly visible part of the Grade 1 listed building was actually the solution which delivered everything that the brief and, arguably, the building required. Fortunately, everyone involved in the approval process agreed with me!'
Inside, beneath Bailey's lantern – despite all the new stackable light-oak benches and other furniture, plus a heritage centre to explain some of the history of the place – there seems to be slightly more floorspace than the cathedral quite knows what to do with. Perhaps they need more benches. Or maybe, when I called in, it was about to be rearranged for an event such as a christening. That's the thing about flexible space – it's flexible, so you don't have the same number of fixed points such as firmly-anchored pews to define the space.
Oh, and the warmth. On a cold day – I was shivering outside – this was definitely the warmest cathedral I have ever been into. That underfloor heating certainly works. If this is a blatant attempt to get more people into the Church, well, it worked for me, that day. And what I found was an accomplished, understated scheme: good architecture entirely without pretension.
---
IN NUMBERS
Thomas Ford and Partners for the Dean and Chapter of Sheffield Cathedral
Contract value: £2.87m
GIA: 1,200 m2
---