Allies & Morrison's Rambert building at Waterloo is one step ahead, infilling a space that is yet to be created with understated class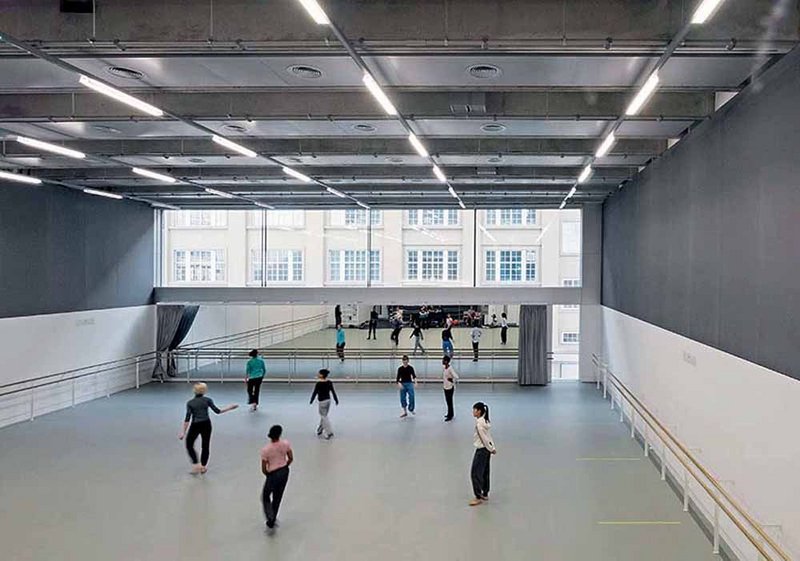 The main Rambert Studio runs the full width of the building at the rear.
Simon Russell Beale, playing Lear at the National, becomes steadily more stooped and crooked as the play progresses and his character's physical and mental infirmities increase. Beale needs physiotherapy to keep him limber in this demanding role, and luckily, there's a place just round the back of his theatre where he can get top-notch physio attention. It's called Rambert, and this famous contemporary dance company is the latest cultural arrival on London's South Bank, in a home designed by Allies & Morrison.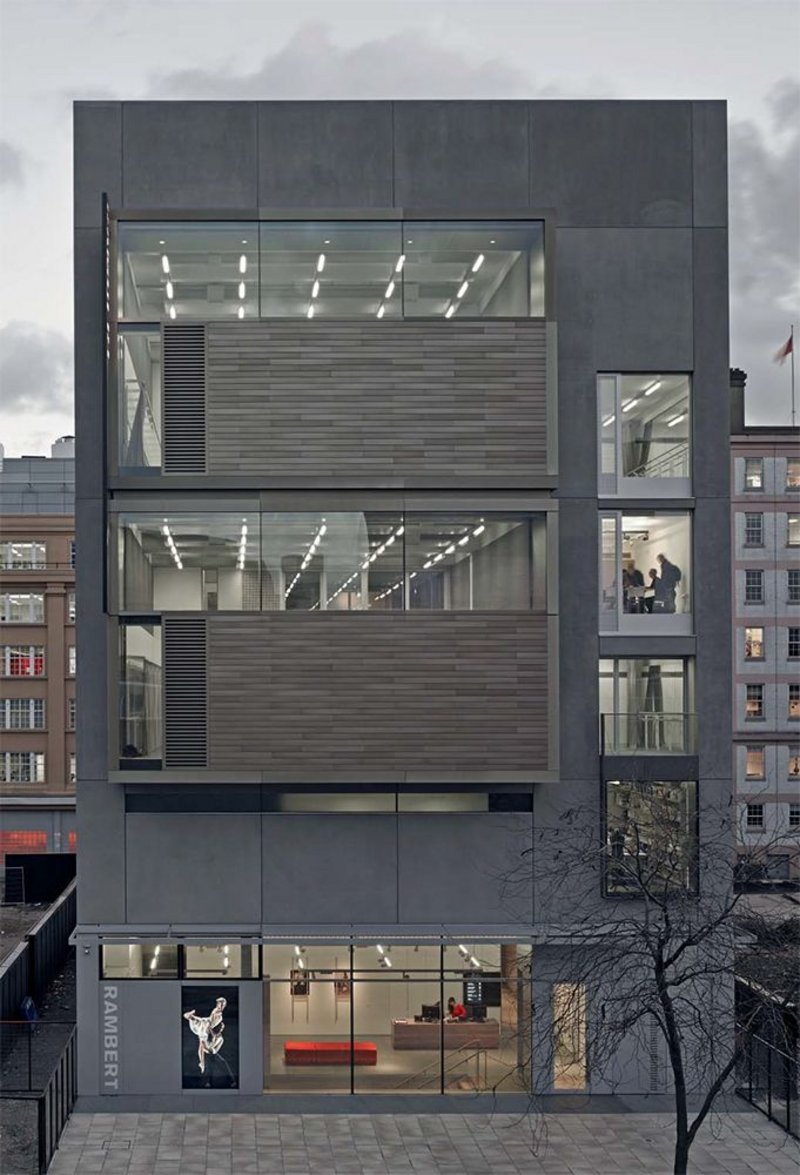 Facade of the building on Upper Ground makes a visual statement of the two smaller studios.
Not that this is a public auditorium, because Rambert is a national touring company, deliberately with no 'home' theatre. In London, it normally has a season at Sadler's Wells. This is its centre for rehearsal, recording (original contemporary music being intrinsic to the Rambert ethos), equipment storage and workshops, admin, public archive and the aforementioned physiotherapy rooms. Dance is an injury-prone art form, and Rambert takes the view that prevention is better than cure. And Beale's is not the only interest forthcoming from the National: creative synergies between dance and theatre are being mooted, now the two organisations are hugger-mugger.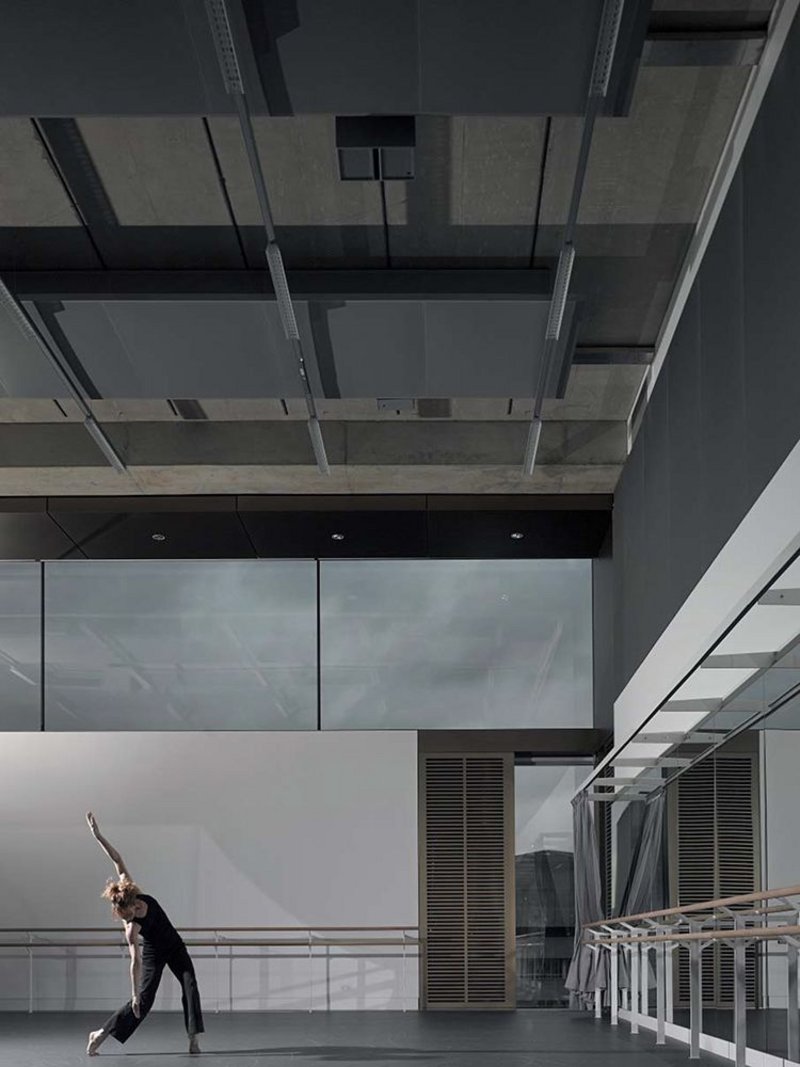 Function drives the form from the inside out.
Other organisations will be closer still, however. The Rambert building is ­presently curious in appearance – a deep plan with front and rear elevations but blank insulated-render flanks – because it is to be just one slice in a whole terrace of buildings laid out in a masterplan by Lifschutz Davidson Sandilands for Coin Street Community Builders on its last big plot of land. It will abut a leisure centre (which includes swimming pool) of the same height on its eastern side and a taller bookend office and retail building on the west, with a pocket park next to Waterloo Bridge. The next slice east beyond the leisure centre will be Lifschutz Davidson Sandiland's once-controversial Doon Street residential tower, rising to 43 storeys. But that's all in the future: for now, Rambert is the first to be built, and it stands in splendid isolation.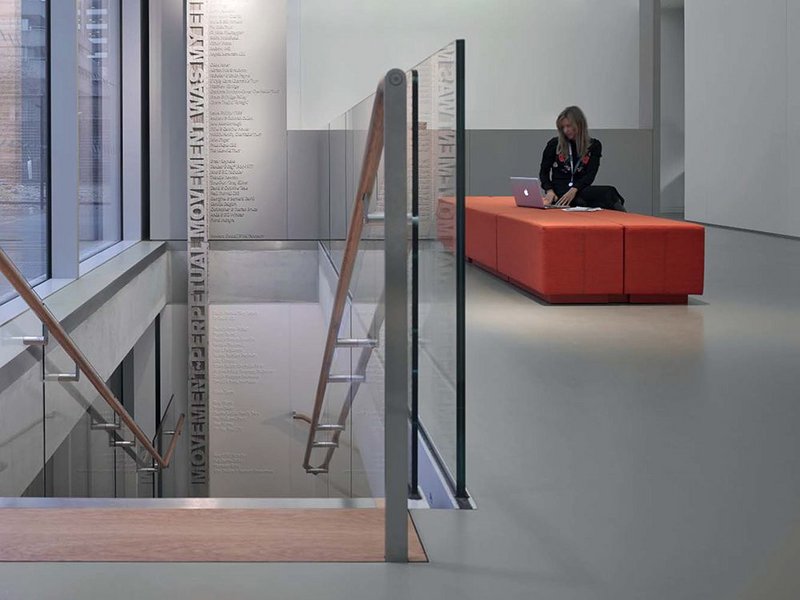 The foyer, kept very restrained, also leads down to the archive department.
This is a tough building which is essentially all 'back of house' including a lot of space to store the company's touring equipment. An articulated truck can park inside via the get-in at the rear. There is a public aspect to it, however: in return for the gift of the site from the landlord, Coin Street Community Builders (annual ground rent one peppercorn per year plus a pair of ballet shoes 'if required' ) Rambert has a community dance programme so you can come here to take part. You can also – by appointment – visit the company's archive in the basement, where as well as the rolling-rack storage there is a small permanent display.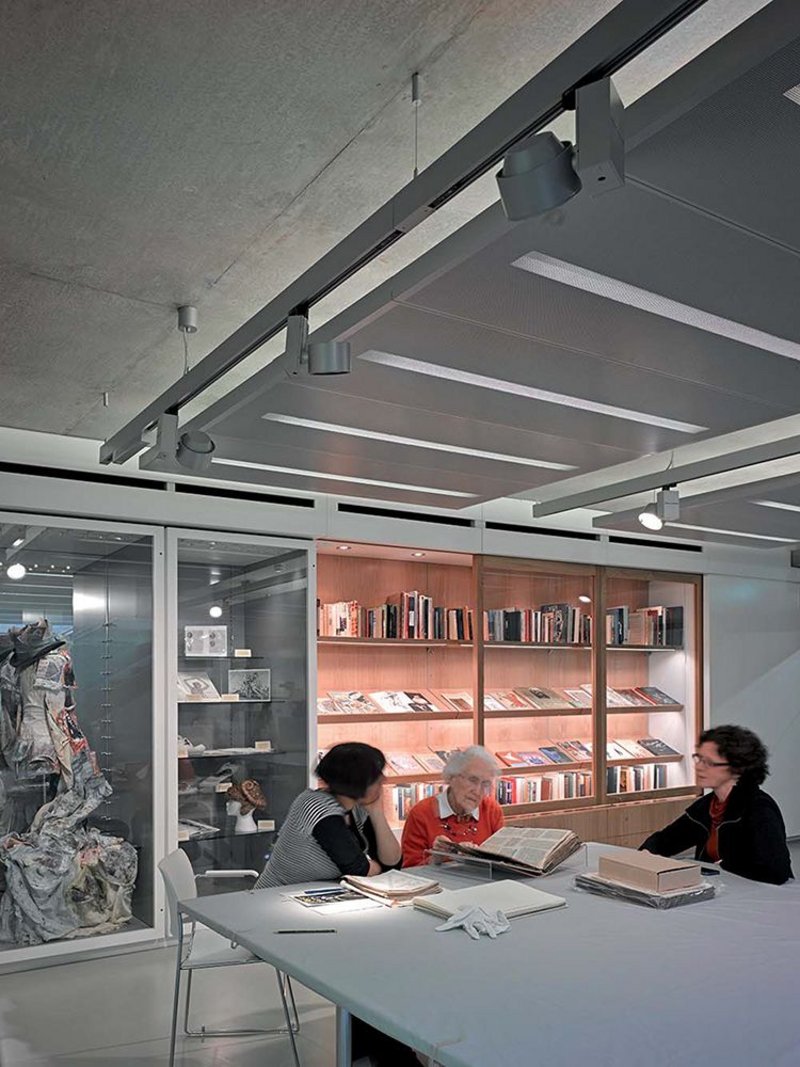 A permanent museum display forms the wall in front of basement archive storage.
This, then, is a curious typology: part industrial, part corporate, part performance arts, part museum, part fitness centre, all on a tight landlocked site. Its width was dictated by the dimensions of the ideal dance stage plus run-off space, which you encounter in the large Rambert Studio at the rear. Add the thickness of the walls with services, and that led to 18m overall. Clear spans are created – full width of the building in the main studio using double T-section precast concrete beams designed for hanging considerable weight of scenery if necessary. Scooped out of the box is a small open courtyard half way up the building which – apart from being something of a calm oasis in this busy part of town – is intrinsic to the building's natural-ventilation strategy. The heat sink effect of the exposed concrete is also important here. Only the main studio – because of the need for sound recording quality – is sealed and mechanically ventilated.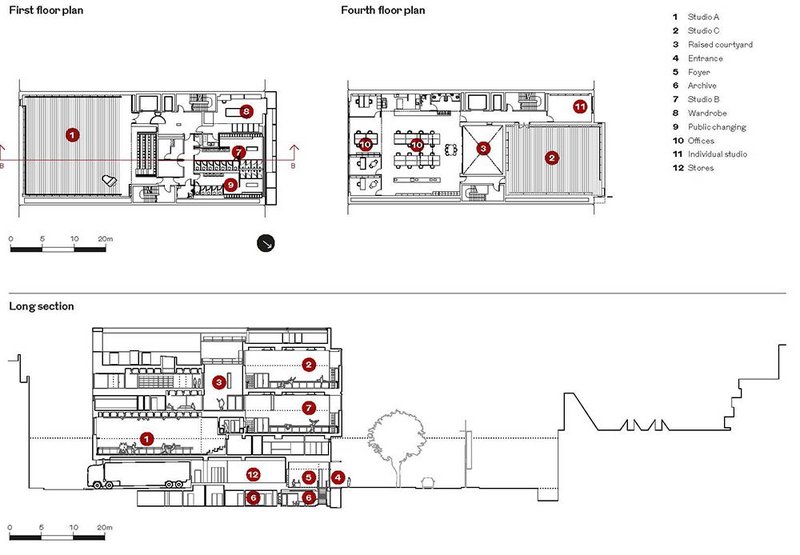 It's all a relatively straightforward business of half levels between front and back, with diagonal views between them. Subtly coloured polyurethane resin flooring (the type with a bit of give to it) is used in all the common areas, with vertically cantilevered glass balustrades on the stairs leading down from the main foyer, to keep transparency in the building. The main elevation on Upper Ground plays some simple but assured architectural tricks to articulate what is just the front of a rectilinear box. The two smaller dance studios are cantilevered forward, their faces clad in bronze anodised aluminium planks of varying reflectivity: the facade proper is of pale grey precast concrete panels. At the rear the same game is played – the cladding and fenestration arranged according to the internal uses – but using render.

This is designed to be a background building with a touch of class. Its logic is clear, its manners impeccable. Visually, it will recede as development arrives to either side of it. For now, it has a curiosity value as an infill building that arrived before its gap even existed. In the overall picture of the South Bank's cultural mix, Rambert's ­potential is intriguing.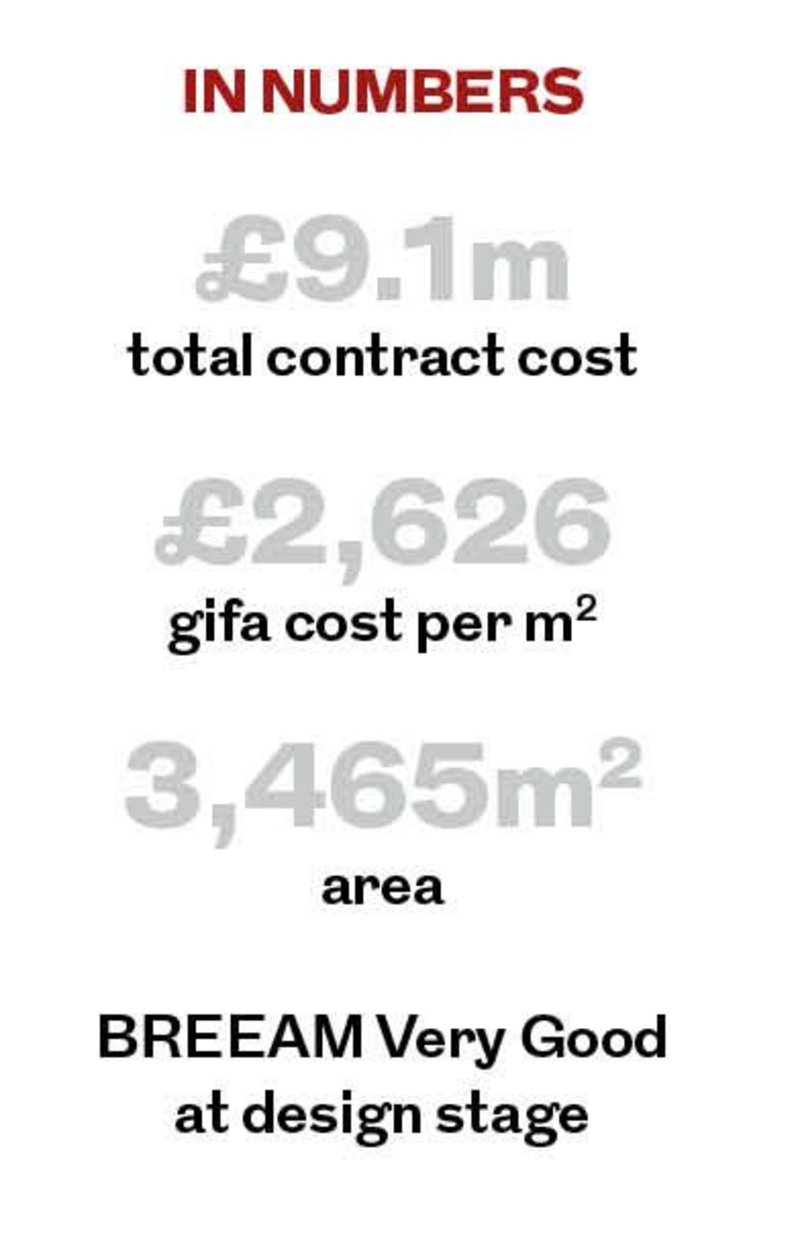 Credits
Architect Allies & Morrison
Client JCC Ventures
Project manager Davis Langdon
Main contractor BAM Construction
Structural engineer AKT II
M&E engineer Norman Disney & Young
Quantity surveyor ­Gardiner & Theobald
Lighting consultant Speirs & Major