Hopkins' 'radical re-appraisal' of the Smith Campus Center at Harvard adds communal space, daylight and greenery without compromising the brutalist original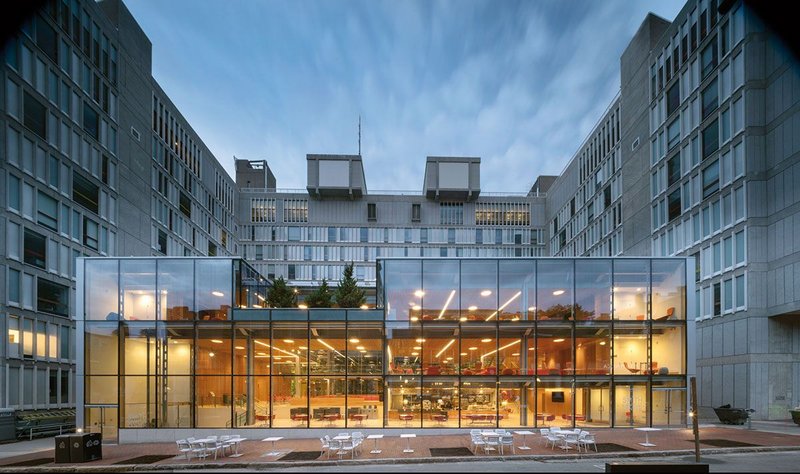 The clean lines, glass and steel of Hopkins' Harvard Commons pavilion contrasts with the original concrete brutalism.

Credit: Nic Lehoux.
Harvard University's first high rise was built in the 1960s on a focal plot on the campus, in Cambridge, Massachusetts, to a design by Josep Lluis Sert, a future AIA Gold Medallist and founder of the discipline of urban design.
The 10-storey, H-shaped concrete building, then known as the Holyoke Center, was more recently renamed the Smith Campus Center. It housed university offices and services, and over the years had its internal layout extensively modified.
The latest overhaul, by Hopkins Architects and local executive architect Bruner/Cott, is described as a 'radical reappraisal' that completely reconfigures the ground, second and 10th floors, while leaving levels three to nine, which contain offices, intact.
The brief was to open up the building to create new communal areas and reinstate its status as a 'front door' to Harvard, providing eateries, shops, event space, offices and social and study areas. Many facilities will be shared by students and the local community.
Sert was dean of Harvard's Graduate School of Design and head of the local planning department, which perhaps explains the building's extreme height. Although it is not historically protected, it belongs to a wider conservation district and the renovation had to pass several public hearings before being approved.
Andrew Barnett, senior partner at Hopkins, told RIBAJ: 'The Cambridge Historical Commission could see that we were working with Sert's architecture, rather than against it, and that our design had emerged out of an understanding of Sert. It wasn't something completely foreign and implanted.'
The design retains the original concrete column grid, but introduces new steel and glass structures and extensive planting ­including living walls and landscaped ­terraces. 'Our design makes it very clear where the new architecture begins and ends,' says Barnett.
Sert's building was like a chest of drawers with four pavilions that appeared to slide out at the base in two and three storey layers. The Holyoke pavilion on the east side was entirely demolished and replaced with a new pavilion supported on steel columns founded on strengthened versions of original concrete columns in the two-storey car park below. New floors are hung from the roof to avoid adding new columns in the car park, which was retained and extends across the entire footprint.
The Welcome Pavilion, to the north, was partially demolished to create a new main entrance with a double height glass lobby that extends out from under the existing second floor. This opens the building to a brick paved public plaza and views towards the historic Harvard Yard across the street.
Sert described his architecture as 'tentacular' and in a bold move his 1958 design for the building included a long central arcade, connected to central garden courtyard, which he envisaged would one day reach down to the Charles River, requiring demolition of the buildings in its path.
But this never happened. Although the arcade was built it was filled in over the years and there was an extension built over one end. Nor did the courtyard garden ever make it into the final design.
Hopkins returned to Sert's original concept in a drive to reintroduce light and landscape into the heart of the building. The concrete infill screens were removed and an open landscape 'vitrine' inserted between the arcade and new pavilion. Although inaccessible, the vitrine is open to the sky and planted with indigenous species that will change in colour and appearance throughout the year.
The arcade is lined with food vendors and seating and intersected by new glass and steel bridges. Irrigated living walls at each end delineate lobbies to the pavilions. Branching off it is Harvard Commons, a new triple-height skylit space surrounded by partial floors that offers various seating options.
'Now the arcade reads much more strongly,' says Barnett. 'Our landscape architect describes it as a place to pause rather than a place of passage. The spaces around it are connected so you can move from one pavilion to another; they were separated before.'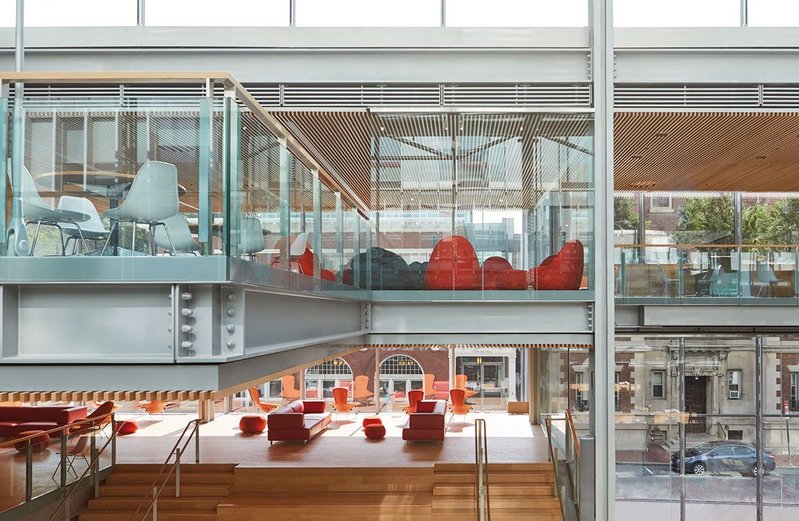 'Floating' floors and bridges eliminated the need for extra supporting columns in the basement car park.

Credit: Janie Airey
Similar ideas filter up to the second floor where collaboration and meeting rooms and quiet study areas look out onto a multi-layered outdoor terrace with wooden decking and lush planting. Level 10 was never intended to be part of the renovation, until designers saw its potential during an early tour of the site. 'The facade breaks down into of a series of pavilions at roof level, mimicking the lower floors, so it made sense to make interventions here too,' says Barnett. The cellular offices were knocked through to create a series of formal and informal meeting spaces with views over the river to Boston.
The existing building was generally complex to work through and understand, with poor tolerances in the concrete, thin waffle slabs and constrained floor to ceiling heights that limited the space for new services.
Additionally, seismic regulations required intricate movement joint details between new and old structures and existing columns had to be underpinned to improve load bearing capacity.
Crisp shadow gaps mostly separate new construction from older concrete, but the interface is also celebrated in certain locations, such as the vitrine, where massive steel brackets are fixed to board marked reinforced concrete columns.
Hopkins' respectful treatment smoothes the edges of Sert's grey brutalist landmark, helping to ensure that Harvard retains its position as one of the world's most prestigious universities.
Credits
Architect Hopkins Architects
Executive architect Bruner/Cott Architects
Structural engineer Arup
M&E Arup
Lighting and acoustics Arup
Landscape Michael Van Valkenburgh Associates
Cost consultant Faithful & Gould
Main contractor Consigli