Winner: Alumet Systems (UK). Entrant: Alumet Systems (UK)
SOM-designed Baltimore Tower at Canary Wharf, one of the major London residential sector installations recently tackled by Alumet.

Credit: Ben Veasey
Alumet scooped the specialist contractor award after impressing the judges with a number of major London residential projects including the 46-storey Baltimore Tower at Canary Wharf, the Merano residences in Vauxhall and Chambers Wharf in Bermondsey.
'All three were very challenging with a lack of space on all of them, and all running simultaneously,' says Alumet sustainability director Lee Summers.
Residential work in central London is a relatively new venture for Alumet after it opted to branch out from its traditional work in the healthcare, education and transport sectors. This move has secured more than £28 million of residential projects.
'It was a strategic move – an opportunity to further our geographical reach and get into London,' says Summers. 'We'd always stayed away from residential but we realised that this was where the work was. We assessed and adapted our processes to ensure we could deliver "new car" quality and went for it.'
Alumet has been rewarded with a doubling of workload over the last three years, from £15.4m in 2013/14 to an anticipated £34m in 2016/17.
The Skidmore, Owings and Merrill-designed Baltimore tower in particular caught the judge's eye. This involved Schueco AWS 65 adapted tilt-and-slide doors with a bespoke false mullion design. This included a new coupling joint, created by Alumet for the installation.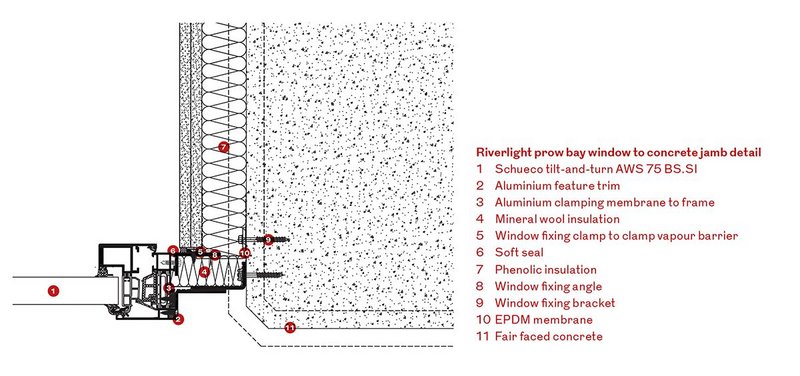 'The design achieved striking architecture with a standard proprietary system solution, procured with a specialist contractor who at the time would not normally have been associated with that type of project,' says judge Steve Mudie. 'Alumet started out as an installation company. They have now become a well respected specialist contractor in the industry.'
Merano, designed by Rogers Stirk Harbour + Partners, presented particular access challenges because of its extreme proximity to railway lines. Alumet gained RISQS (Railway Industry Supplier Qualification Scheme) accreditation to benchmark its own safety standards.
During the installation, it palletised all products by floor, placing them onto the floor plate via the tower crane as the concrete structure was built. Particular attention was paid to key interfaces with various rainscreen elements such as bronze anodised mesh panels and aluminium pressed metal.
Alumet has extensive experience of Schueco, specifying it on the company's own headquarters. This includes an innovation centre, where Alumet has recently developed a safety device for mast climbers.
'Alumet was notable in the number and scale of projects they entered,' says judge Paul Savidge, managing director of Wintech Facade Consultants. 'Wintech have worked with Alumet on a number of occasions where they have manufactured and installed some very challenging and high performance complex facades. They are a significant UK facade contractor on the ascent.'
Sensing a slow down in the high-end residential market, Alumet is looking towards the office and education sectors and work outside London in regions such as Manchester, Birmingham and Leeds.