Penoyre and Prasad's update gives renewed confidence to the library at the University of Portsmouth, adding a contemporary sense of light and space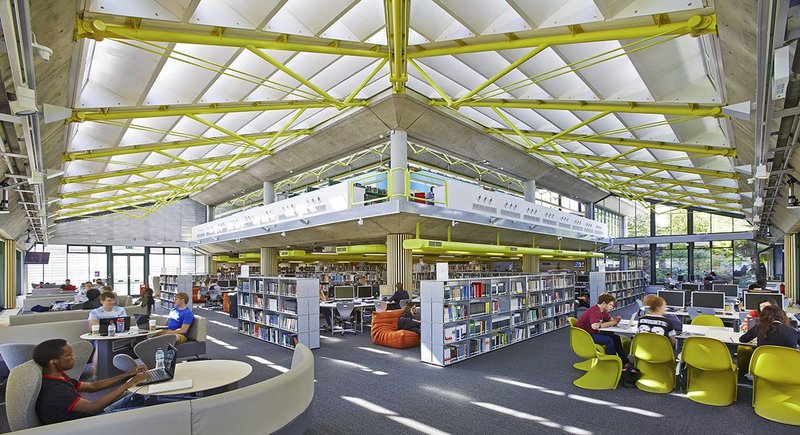 Light, bright and concrete
The jumpers have given way to hoodies, the desk and books to lounging and lap-tops. ABK's 1979 library, designed for the then Portsmouth Polytechnic, now University of Portsmouth, has been reworked by Penoyre and Prasad. So far, so easy to spot the difference.
This has been a misunderstood building for much of its life: the cascading rooflights hard to clean, and the concrete columns 'cheered up' with a coating of blue vinyl that matched the colour palette of the infilled balustrades on the mezzanine. Shelves reaching up into the space gave a sense of confinement. Back in 2007 Penoyre and Prasad extended the library into park next door to cope with the exponential rise in student numbers. Its fine concrete fins seem to have given the university more confidence in its existing ABK library – which sits somewhere between brutalism and the 'other tradition' of modern architecture, as Colin St John Wilson dubbed it.
And so the practice came to rework the reading rooms. Some of the concrete columns are returned to their original form, others clad in timber slats to allow power to be brought to where it is needed (just about everywhere). The lighting grid, previously slung at low level, has been banished to the edges of the double height reading spaces while lower shelves are pulled back from the perimeter, giving views and a sense of openness through the space. Fresh furniture picks up on the delicate yellow roof steel trusses. That's five differences to circle – you can probably find more.
---