Working among the stucco of St John's Wood, Walters & Cohen reinvented the Doric column for its building facade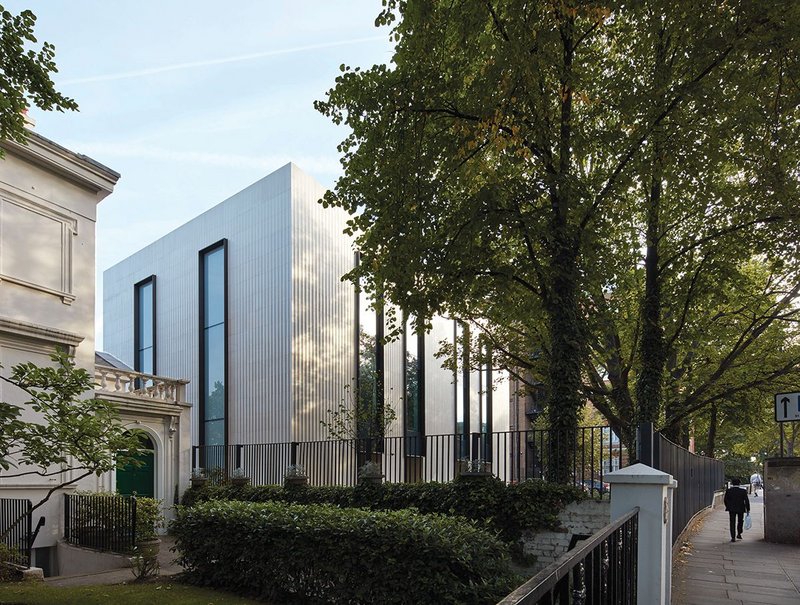 Looking east along Grove End Road, the ASL's new Arts block references the adjacent 19th century villa in an abstract way.

Credit: Dennis Gilbert
When architect Walters & Cohen was appointed to build an extension to the American School in London's St John's Wood, its feeling was not to repeat the past – in any form, as it turns out. The 1971 red-brick design by the Fitzroy Robinson Partnership might have been surprisingly modernist for this tree-lined suburb of grand white stucco homes, but it was also quite flawed. The low-level, expansive campus, while using a novel hexagonal form as an ordering device for classrooms, also suffered from a deep, largely internalised plan. The upshot, over time, was that the odd-shaped open plan classrooms proved inflexible for modern teaching and light levels were generally found wanting, especially for art and design subjects.
Their desire was to comprehensively address these past failings with an orthogonal, materially-innovative new arts block at the south end of the site facing the old school across a playground, that now ran above a subterranean pool complex and a rail tunnel. But they were to fall at the first hurdle. For while Westminster planners were fascinated by their and Arup's proposal for a facade formed mainly of composite crushed glass, which generated an effect of diaphanous, shoji-screen-like opacity, it also rang alarm bells for them. Though the local authority first suggested to the school that it run a competition for this prominent site, it was also resigned to the fact that in this affluent residential neighbourhood, material experimentation such as this was likely to attract the attention of local Nimbys, who had not only the will but the wherewithal to make it very hard to get through planning. For the architect, this realisation forced a design rethink that on the surface at least was as conservative as its original proposal was radical.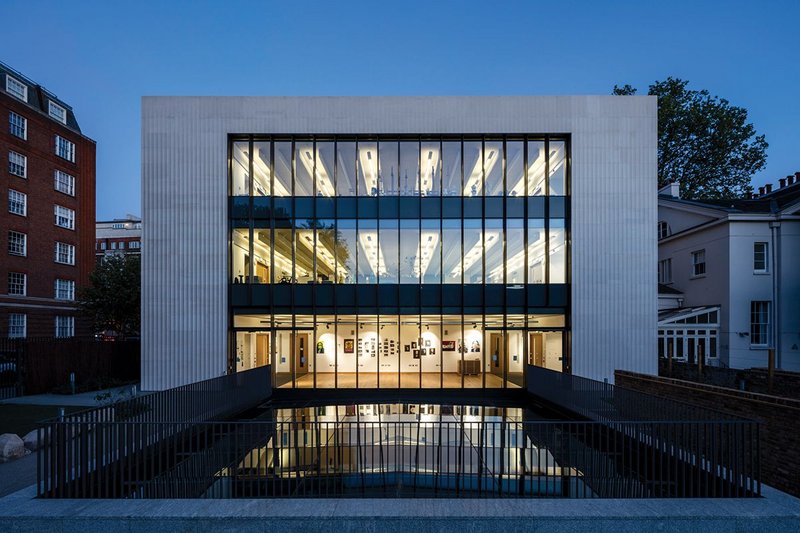 Sandwiched between service blocks and facing the original school, the north elevation of ASL's Arts block reveals its open plan nature.

Credit: Marcus Peel
Back to the classical
The fallback, explains Walters & Cohen associate Tim Hardy, was to seek recourse to the classical, stuccoed townhouses that those wealthy objectors were likely to be living in. 'We decided that the way forward was to pick up on the language of classical architecture but to do something contemporary in its interpretation,' explains Hardy. 'Our big concern was that in working with it we wanted to avoid the baggage that came with its use; basically, while we wanted a civic expression, we didn't want it to look like a turn of the century bank.'
Inspired by the adjacent white stucco neo-classical villa, the firm picked up on its formal rhythms but used a design wholly based on the flutes cut into Doric columns. It was helped by the likes of Vitruvius and Alberti, who had conveniently conducted their own studies of classical antiquity; so armed with the established context and 12m height of the new building, it didn't take long for the firm to settle on a flute width of 180mm, in accord with the scale of the design. 'In effect, what we were doing was taking a classical Doric column and rolling it out flat to respond to the module of our building.' But, as he elucidates, it wasn't quite that simple. Having given up on stucco sprayed sculpted rigid insulation affixed to concrete panels, the design team resorted to old school approaches, opting for 115mm thick panels of self-supporting buff Portuguese limestone, offset from the concrete structure.
Working out how to cut flutes into the stone panels led the architect to Belfast-based specialist stone worker S McConnell and Sons, whose CNC-cutting experience on the Lady Diana Memorial fountain in Hyde Park and architect Ian McChesney's lozenge-shaped granite benches at Argent's Granary Square in Kings Cross, stood them in good stead here. Hardy says it was through conversations with the fabricator and the realisation that every stone could be cut however it chose that led Walters & Cohen to make the flutes 'fade' gradually as they ran up. For him, it changed the design concept fundamentally, 'making the whole look less severe and more playful,' adding: 'It then became a matter of the degree to which the fluting dissolved as it ascended.'
Hardy explains that the firm made a deliberate decision to eschew traditional classical referencing; reversing the concept of the classical rusticated base with increased delicacy of orders and ornamentation on ascending. He says that instead they wanted the greatest tactility of the stone to be expressed at ground level, becoming less 'wrought' and more solid as it rose to parapet level.
When to fade
The manner in which the 180mm wide flutes should diminish from 20mm depth at ground level to 0mm at parapet became the subject of numerous studies. Results showed linear reduction lost the flutes too early, so the firm went for a non-linear approach, keeping a constant 20mm from ground to 2.5m height, reducing to 15mm as far as 7.4m height, falling to 6mm to 10.8m height and dissolving to zero at the 12.4m parapet.
In effect, we were taking a classical Doric column and rolling it out flat
For fabricator McConnell's Alan McConnell, this presented many challenges. The architect had modelled in 2D Vectorworks and SketchUp but all this information now needed to be input to the bespoke 3D engineering software from which the cutting schedule for each 1200mm by 600mm stone panel could be programmed. Cutting required pinpoint accuracy to take the stone from its 20mm depth to zero, with cutting blades running 24 hours a day to incise each of the 1,200m2 building's flutes along its length, the depth changing at every point along its section.
'The machinery and blades needed to be in perfect condition,' says McConnell. 'We had to make metal templates of the top and bottom of each stone panel to ensure flute sizes were going to align on consecutive panels.' File sizes for the 3D model were huge, he recalls. 'Towards the top we were working with cutting radii of 1.8km.'
Cutting the corners
Cutting schedules for panels also had to be overlaid on the fluting layout to check that vertical joints were centred as much as possible in the middle of any channel rather then towards its arris. Interfaces at the building corners were particularly challenging, with flutes meeting at ground level to form a 25mm arrow-head detail in plan which morphed into a standard 90º flat interface at the top. If all this wasn't taxing enough for the skills of McConnell's CAD technician, every single cut stone panel had to be hand finished to sand away minute striations formed by adjacent blade runs to form the flute.
Every single cut stone panel had to be hand finished to sand away minute striations
Whether all this technical expertise and finessing of the stone translates into the finished facade is a matter of subjective opinion. For Walters & Cohen's Hardy, the building rewards repeated viewings, with the flutes capturing sunlight across their surface in different and subtle ways (see header image/above). But Alan McConnell concedes the subtlety might be lost, feeling that 'to the common eye you might not realise the work and the challenge of it', and I'm minded to agree with the fabricator. With all classical references removed, such as a frieze plinth or congé or any form of entasis, it's as if the facade had become an exercise in reductio ad absurdum, the fluting abstracted to the point where it too ceases to reference anything classical at all. Although this could be read as 'post modern', Walters & Cohen's own iteration of the 'decorated shed' – a design of minimalist solidity rather than challenging nuance.
But for Hardy the process has revealed methodologies for stone cutting that, freed from the pre-empted planning constraints of a site like this, could trigger amazing proposals from the firm or possibly herald a new age of ornamentation generally. As a designer, it's also reminded him of the pivotal role of the craftsman: 'The reason we could do want we wanted here is that there was a technician who understood the technology in the same way a traditional mason understood a hammer and a chisel.'