Winner: Reid Building, Glasgow School of Art. Entrant: Dane Architectural Systems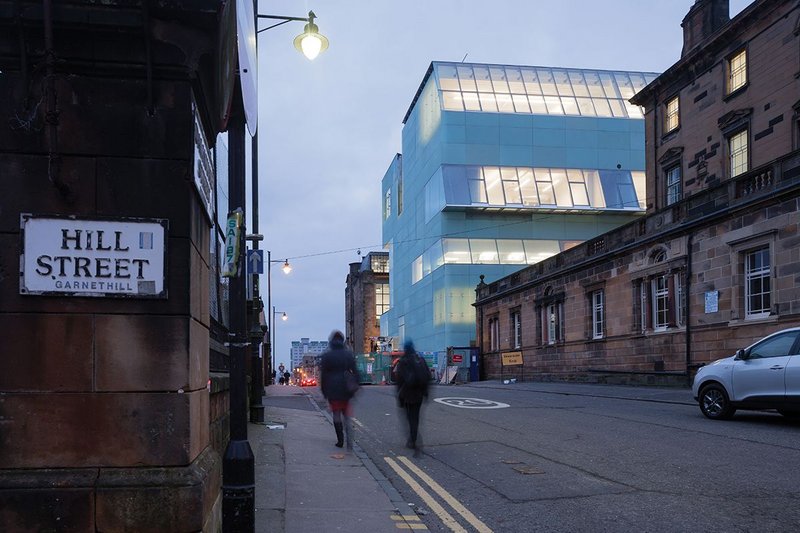 The Reid Building extensively features Schueco Jansen's VISS steel system.

Credit: Iwan Baan
With its translucent, almost ghostly appearance, Steven Holl's Reid Building for the Glasgow School of Art couldn't be much more of a contrast to the sandstone of Charles Rennie Mackintosh's renowned building opposite.
Extensive glazing, achieved primarily using Schueco Jansen VISS steel profile system, was a key part of the five-storey building's design, with the American architect aiming to bring as much natural light as possible into the studios inside.
'It was quite a complex job,' said Dave Hardie of Dane Architectural Systems, adding that the weight of mullions up to 12m long led to considerable logistical challenges.
The brief was for an industrial look with large, flush glazing panels used alongside a matte white, laminated glass cladding system with associated stainless steel brackets. One of the most distinctive installations was the 'glass shelf', a 7m high array on the top of the north facade. This was achieved using a stick system with prefabricated mullions that were craned into position and glazed in situ. The system was adapted by Dane with bespoke toggle plates to give the flush finish specified by the architect. Double-glazed units weighing up to 700kg were developed with a light grey edge seal to mask the 20mm silicon weather seal between the units.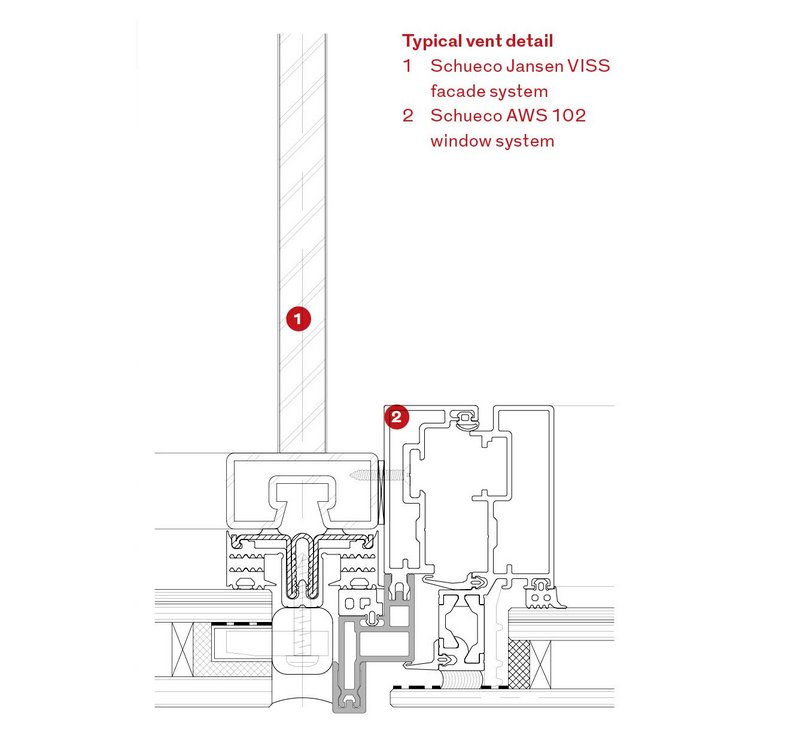 On the south facade, the Schueco Jansen VISS system forms a set-back glazed screen, with 12m long mullions unsupported in one span. The contrast with the surrounding context is particularly apparent on the west elevation, where the Schueco Jansen VISS system forms a crisp glazed corner as the new building wraps around and above the retained stone Assembly building.
One of the more unusual applications of Schueco's systems was to create what the architect termed 'driven voids' – cylindrical shafts through the building which terminate as roof lights wrapped in stainless steel rainscreen. Here, Schueco AWS 70.HI forms structurally glazed, automated opening vents that are controlled by the building management system.
The facade and roof lights underwent stringent weather and impact testing at the Vinci Technology Centre UK before installation.
Judges appreciated the difficulty of achieving such a 'brave' facade, both technically and in such a sensitive location, and liked the translucent quality that the building had when illuminated at night.
'You're on a hiding to nothing opposite Mackintosh,' said judge Paul Monaghan. 'But this is head and shoulders above the rest.'
---
Client: Glasgow School of Art
Architect: Steven Holl & JM Architects
Facade consultant: Arup Facades
Main contractor: Sir Robert McAlpine
Specialist contractor: Dane Architectural Systems
---