Driven by a desire to create true neighbourliness, Apparata's A House for Artists flouts all the usual housing conventions with style and future promise
Since A House for Artists was completed almost two years ago, a stream of visitors has travelled to east London to examine its 12 light-filled flats and chiselled carapace of raw concrete. First journalists, then assorted planners and developers, and most recently, awards juries. The attention is personally gratifying for architects Nicholas Lobo Brennan and Astrid Smitham, of course, especially as this is the first major project by their practice, Apparata. But more welcome still is the validation it – and its place on this year's Stirling Prize shortlist – confers on a building conceived to challenge norms of British housing.
'We see endless repetition of the same basic diagram,' says Lobo Brennan. 'Our aim was to create a healthier, more neighbourly model that could be repeated. Commissioners of housing are risk-averse so it's important to demonstrate that an alternative is gathering legitimacy.'
The opportunity for this prototypical project came in 2016, with a design competition run by the local council, Barking & Dagenham, and arts charity Create. They proposed an apartment block for cash-strapped artists who would have rents set below market rate in exchange for some work that benefits local people through an on-site 'community hall'.
Many of the failings that Apparata diagnosed in contemporary housing stem from circulation. Double-loading flats on strip-lit corridors discourages neighbourly mixing, and precludes cross-ventilation. And in flats meeting minimum space standards, the area claimed by entrance halls results in cramped, inflexible floorplans.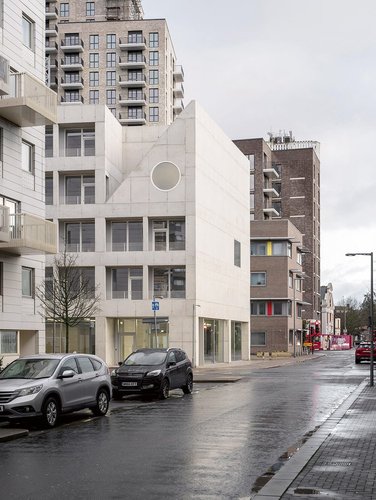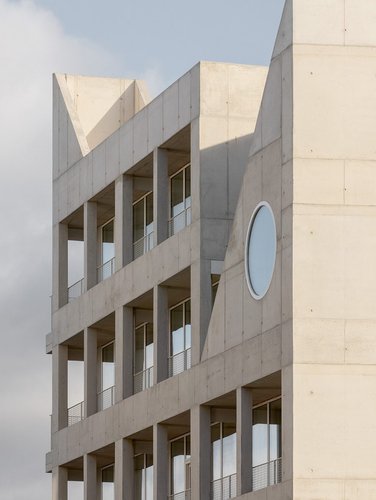 A House for Artists does away with corridors and halls, which meant rethinking customary approaches to fire safety. Three dual-aspect flats on each floor have open-air escape routes along shared access decks at the front and back. The exposed in-situ cast concrete frame (with 50% GGBS) is incombustible, and gives the building reassuring solidity. It's also economical and the building scores surprisingly well overall for embodied carbon. A water-repellent coating prevents the staining that bedevilled 1960s buildings. Even on damp days the facades remain a pale, chalky grey.
Set among newish apartment blocks in Barking's William Street Quarter, Apparata's building stands out. The austerity of bare concrete is relieved by playful details. With square and circular cut-outs in the facades and a quirky triangular cleft in the roofline, it might have been modelled with a child's set of Froebel Blocks. Monumental but friendly. 'It's meant to read as a public building', says Smitham. That's helped by the prominence of the ground-floor community hall. Glass walls are intended to entice hesitant visitors. Concrete flooring runs inside to out, so the robust room seems almost an extension of the street.
At the rear, external stairs to the flats offer fresh air, views and pleasant spots to stop for a chat. Decks on the south side are 2.1m wide, giving space for plants and furniture while allowing ample room to pass. As hoped, residents treat them as an extension to their homes.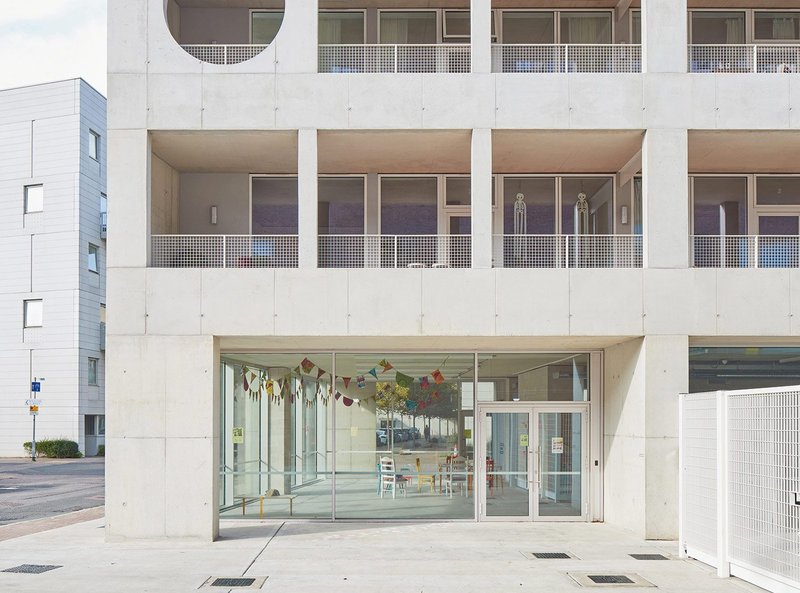 Test events are being used to develop a programme for the hall.
There are laundry racks, bikes and shoes left by front doors. 'Deck access has a bad reputation', says Smitham, 'but having a big shared balcony is lovely.' It helps that space is shared by a kind of intentional community, but a few tweaks and the model could work anywhere, Apparata suggests.
The deep overhangs provide summer shading to the mostly glass walls, while low winter sun on both sides means the flats are bright year-round. The openness is striking. Despite some early concerns about lack of privacy, decks have little passing traffic so few residents have installed blinds. And while the no-frills construction gave interiors a rather stark look at completion, any doubts should be allayed by the comfortable homes the residents have made.
Inside, the absence of lobbies makes unusually spacious living rooms, which appear even larger as 2.8m-high concrete ceilings extend past the windows and over the balcony. Space gives freedom to live as you choose and to adapt to changes in circumstance. An extra room can be created – for boomerang kids, elderly parents or perhaps working – to one side of the entrance and still leave the same living area as a typical newbuild flat. 'Everyone needs more from a home than somewhere to put a bed', says Lobo Brennan.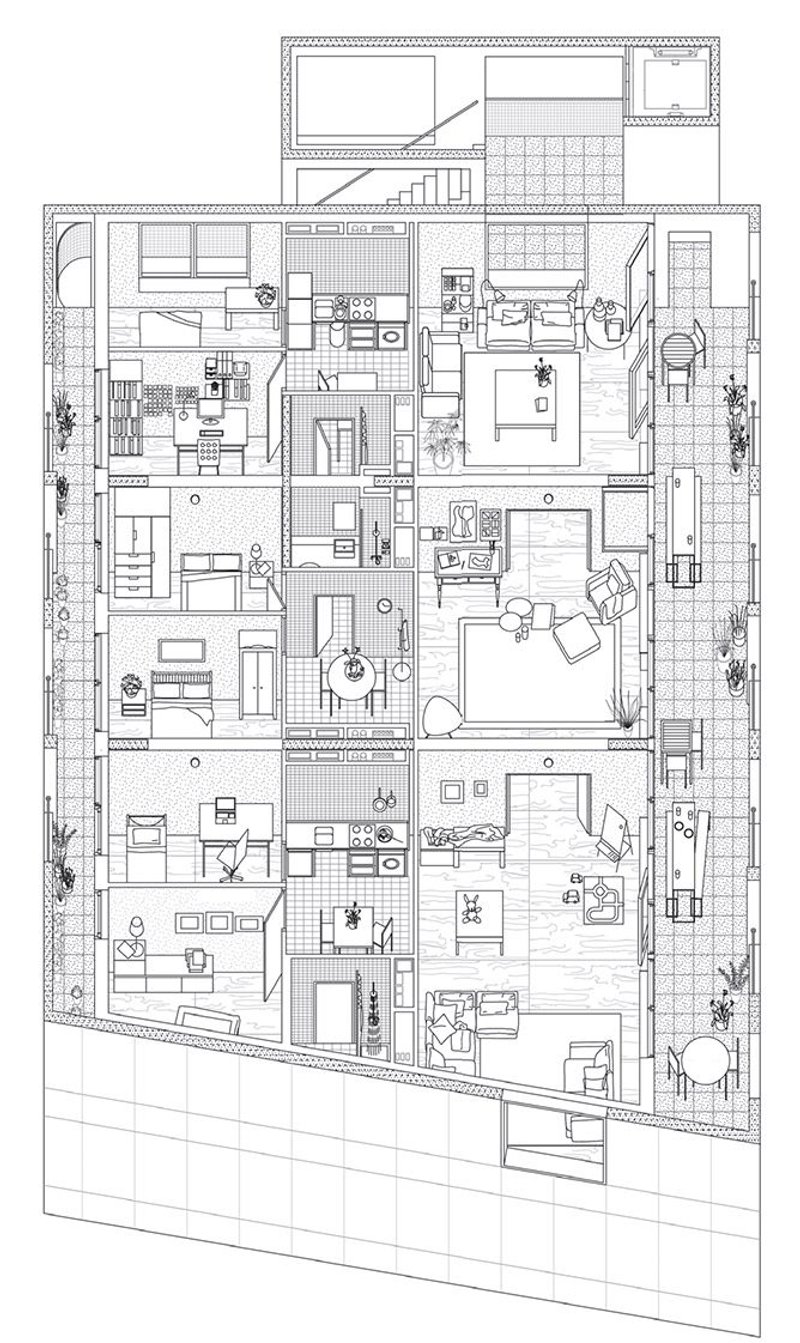 Projection illustrating co-living option.
Flexibility is integral to the design at every scale. On one floor, double doors in the party walls between flats could enable shared childcare or co-living, or accommodate a large family. 'Conversion wouldn't cost the council anything,' says Smitham. And with largely column-free floorplates, the whole building could easily be converted to other uses.
Most alterations within flats could be DIY jobs. Mobile steel kitchens can be relocated. Stud partitions are free of sockets, and services are easily accessible below raised plywood floors. And in case it's not apparent, Apparata has made a handbook. 'Homes shouldn't be a mystery', says Smitham.
Some tenants have replaced supplied kitchens for more conventional fitted varieties. None has yet needed to add or subtract rooms. It will take some time for the architects' thesis to be proved in full, but the building's success is already clear. Residents talk of comfort, security and being uplifted by considered details, of a sense of generosity – not feeling 'squeezed' for the first time – and its positive effects on mental health and happiness.
There's plenty more to indicate Apparata is onto something. The caretaker says A House for Artists is a 'dream' to maintain. In the last heatwave, interior temperatures stayed below 26º without cooling. 'We've shown things can be better,' says Lobo Brennan. 'It's not more difficult or expensive; it just needs a decision'. Backing the ideas of a talented young practice took courage on the part of the developers. Now others can copy with confidence.
Feel the difference
A view from a resident (name withheld by request) at A House for Artists
I applied to live here six years ago, attracted by the opportunity to be part of a community of artists. I got to know neighbours quite quickly, which is partly down to the design. Unlike blocks where you rush to your flat without talking to anyone, circulation spaces here encourage hanging out or just saying hello. The relatively small scale of the building helps too.
It doesn't look like most housing. Friends and family who visit are shocked – in a good way. In general, the lower your income, the smaller your windows. To have massive shopfront windows in social housing should be celebrated. Because of the overhang they give a very nice quality of light. Everyone who comes in immediately feels at peace.
The flats seem bigger than they are because of the high ceilings and generosity of the living room. I like the way they all look slightly different because people are able to arrange furniture in different ways. I love the concrete, too; it gives character and I can hang plants from the ceiling, and easily remove them without ripping off plaster.
It's not utopia. For that, things would have to change in housing policy. Leases are renewed annually; we don't have the security of traditional council tenancies. But it is a beautiful building that should encourage more people to question how housing is provided in this country.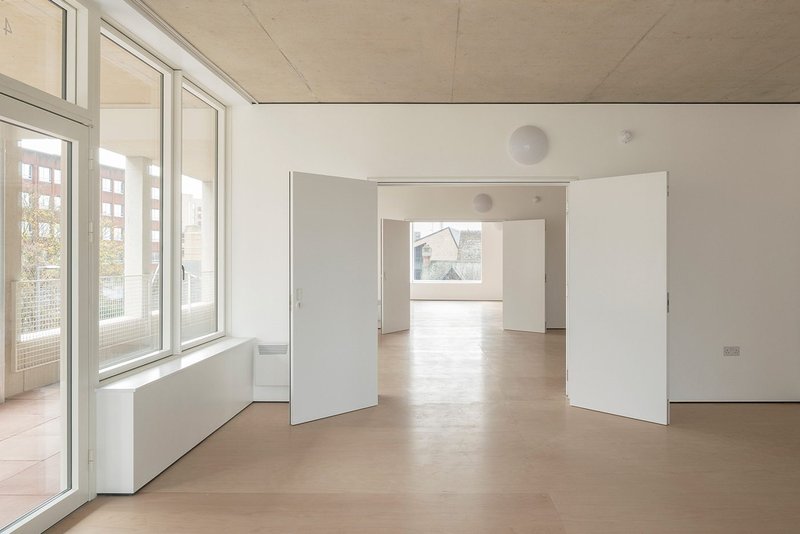 Flats on one floor could support co-living.

Credit: Ståle Eriksen
Sustainability data
Predicted on-site renewable energy generation (kWh/yr) 4
Predicted potable water use (litres per person per day) 105
Actual annual gas usage (kWh/m²/yr) 0
Actual annual electricity usage (kWh/m²/yr) 81.9
Whole building embodied / whole-life carbon (KgCO₂eq/m²) 482.3
RICS modules A1-A5,B1-B5, C1-C Stage 5 assessment
In numbers
Gross internal floor area 1553m²
Net internal floor area £4.1m
Contract value 1139m²
Cost per m² £2640
Unit sizes 59-86m²
Airtightness at 50Pa 3m³/hr/m²
Credits
Architect Apparata
Client London Borough of Barking & Dagenham; co-commissioned by Create London; delivered by Be First
Fire Menzies Consultants
Contractor J Murphy & Sons
Engineering Expedition Engineering
M&E consultant Max Fordham
QS Artelia