Mæ's welcoming John Morden Centre is both the heart of a home for seniors in need, and part of a more ambitious community plan
What price a good later life? Chancellor Jeremy Hunt's £2bn 'boost' to social care funding in 2023-24 pales into insignificance when compared to the annual £7bn viewed as necessary in 2020 when Hunt was chair of the Health and Social Care Committee. With local councils calculating the 'Fair Cost' paid to social care providers, care homes – already struggling with staff employment and retention – are running with little or no profit margins. Half of those using their services, meanwhile, don't qualify for government funding and are forced to pay for their care, some having to sell their homes to do it. Morden College helps the elderly facing hardship; the new centre helps enrich that life and enables the college to start opening up its services to more people.
Charity AgeUK's latest report, State of Older People's Health and Care, released in July, exposes the scale of the challenge for older people in today's social care system. We are living an average 20 years longer than we did 75 years ago – an encouraging statistic that masks a picture of increasingly complex health needs. By 2030, there will be 2 million older people without children, meaning a greater dependence on a formal care system that is ill-prepared to receive them.
In this context, the existence of Morden College, set up by 17th century wealthy merchant John Morden to offer a home to destitute, 'decayed' seamen – and, with its endowment, still serving an elderly community facing physical and financial issues – seems incredibly, to be answering a very modern need.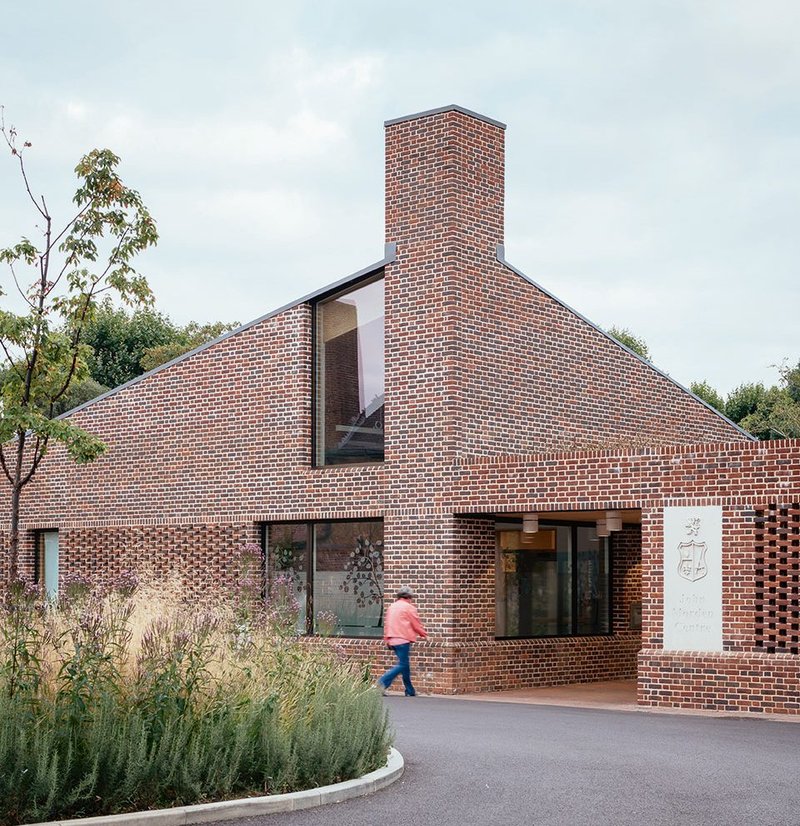 There's something of Alvar Aalto to John Morden Centre's architecture.

Credit: Jim Stephenson
Its beautiful, Wren-inspired quadrangle, with accommodation, chapel and old dining hall, might be lacking ensuite bathrooms, have non-accessible doors and the odd step, but even the 30 or so able-bodied residents of its cloistered courtyard know which side their bread's buttered.
Morden College is, after all, a community of 300 people, spread over two sites; all in financial need, who have proved themselves in an interview process to secure a place here. You get the feeling that no historical trip hazard is going to stop any resident from living their best life.
The Stirling Prize shortlisted John Morden Centre facilitates that life even more, acting as the new social heart of Morden College, born out of a dusty corner of the site previously occupied by old Nissen huts alongside its 1960s octagonal Merchant's Hall social space. CEO David Rutherford-Jones, having seen the impact of the Maggie's Cancer Centres on its community, sold an idea to the trustees. At its simplest, this was 'a space that might contribute to how users might feel about their day, or their life… one that's beautiful and tactile, with good functionality – uplifting.'
Of the architects invited to put forward a proposal, Rutherford says 'Mæ were the only ones who got the brief from the outset.' With its timber-structured, brick-faced structure, the practice gave the college the facilities it needed – a health centre for residents, social spaces, refectory, art and crafts room, shop and hairdresser – and reinterpreted the formal language of the grade I listed college to do it. Not just the obvious things, like matching the reddish-brown warmth of the original brick, but also picking up on the language of chimneys to create the stack effect for its passive ventilation. Or its garden-facing glazed corridor that brings all the social spaces together as it wends its way around an old tree, with seating built into the wall along its length, so if it's a slow journey for someone, it's one done with time and dignity.
A Sandhurst man, Rutherford-Jones knows you lose battles to win wars. He concedes that keeping the old Merchants Hall was a bargaining chip in the two-year cost discussions with the trustees. He thinks Mæ could have pulled off something quite special with a new hall but 'trustees were seeing a lot of zeroes', and the idea was dropped to ensure the centre went ahead. But Mæ still linked its new building to it with real aplomb, working with joiners to upgrade it so the spaces talked to each other. He might be right, but a climate imperative is acknowledged in its retention and there's a resonant poetry in the idea that just because it's old doesn't mean it can't be useful.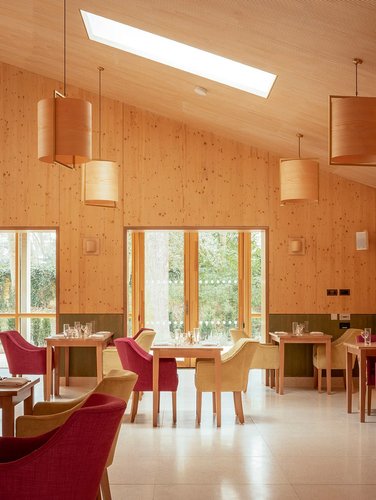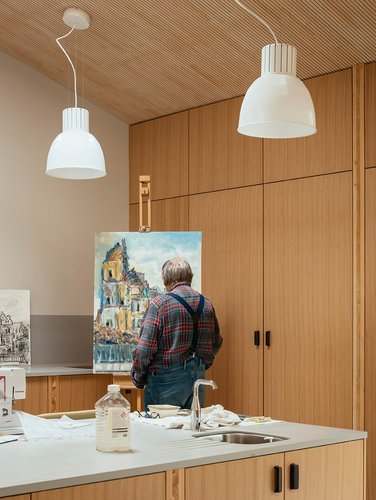 Rutherford-Jones is not stopping here. John Morden Centre is part of his bigger outreach plan for the charity. Already mooted is an idea to fund people in the local community to upgrade their homes and to be suitable for living in foras long as possible, aligning with AgeUK's own 'Home First' view and that prevention of accidents is far better than any care that might follow a fall, for example. 'Residential care for most people should be a last resort,' he says. 'We want to work with older local people to help keep them safe, independent and happy.' And if they choose, the centre will be their touchpoint to Morden College and its services, its residents and future friends.
In light of this new mission and times, I wonder how the founder John Morden would have instructed his master builder; would he still have agreed to that internalised collegiate form? I'd like to think it would be something radically different. A building turned inside-out perhaps, its timber structure exposed this time, cloister flipped around, looking instead to landscape and city; a little like… oh, the John Morden Centre.
Mæ gave the college the facilities it needed and reinterpreted the language of the college to do it
Art room: a victim of its own success
A view from David Rutherford-Jones, CEO, Morden College
John Morden was a visionary who founded this charity in 1695 to ensure that old people were looked after well, and he's still challenging us to think in a granular way about what it means to live well in old age; the new centre is part of that idea.
When I came here a decade ago Morden College was a lovely place but it was inward looking and felt as if it needed modernising; the new centre has done that for us. Alex Ely got the brief spot-on, creating a space that is contemporary in its feel but with all the beauty and tactility of the quadrangle that residents know so well.
The health centre was the 'business' end of the brief but other spaces – the café, art room and hair salon – work better than I could have hoped. Residents love it and the place buzzes with activity. It's a victim of its own success, with pressure on the art room especially; so much so that I'm wondering how we might squeeze in another craft space in the future. I might need to get back to Alex about that.
In numbers
Gross internal area 911m²
Building design life 150 years
Contract cost Confidential
Contract type Design & build
Sustainability data
Predicted on-site renewable energy generation (kWh/yr) 5.75
Predicted potable water use (litres per person per day) 50
Actual annual gas usage (kWh/m²/yr) 80.6
Actual annual electricity usage (kWh/m²/yr) 78.54
Upfront carbon (KgCO₂eq/m²) 442
RIBA Stage 5 assessment, RICS modules A1-A5 1
Credits
Client Morden College
Architect Mæ
Contractor Clive Graham Associates
Structural engineer Michael Hadi Associates
Environmental / M&E engineer BOOM
Interior design Scott-Masson Interior design
Quantity surveyor/cost consultant Calford Seaden
Project management Calford Seaden
Landscape architect J&L Gibbons
Planning consultant Stanway Little