Sergison Bates has inserted a compact but magical group of nine dwellings around verdant courtyards, tucked between garden walls in south London
It's often said that great architecture needs constraints. Well, Sergison Bates certainly had them at the Stirling-shortlisted Lavender Hill Courtyard, a small housing scheme in south London, and they have provided the stimulus for a building of rare ingenuity and imagination. Replacing an old workshop on a small backland site, hemmed in by the garden walls of terraced houses on three sides, it has almost no outlook. Instead, the architect has structured the nine homes around an array of 'inner worlds' that are rich in spatial and material character, yet pervaded by an almost palpable sense of calm.
Accessed from a quiet street via a dead-end mews, the building occupies the entire plot, rising to three storeys at the front and two behind. At its heart is a compact courtyard garden, through which all residents pass en route to their homes. Shared space is important to foster a communal atmosphere in a densely planned building where people live cheek by jowl, says project director Stephen Bates, but so too are private outdoor spaces that make mingling a matter of choice. Three flats on one side of the garden are set behind a cloister and a loggia above, while six houses are arranged around deep internal voids, with patios on the ground floor overlooked by secluded terraces on the floor above.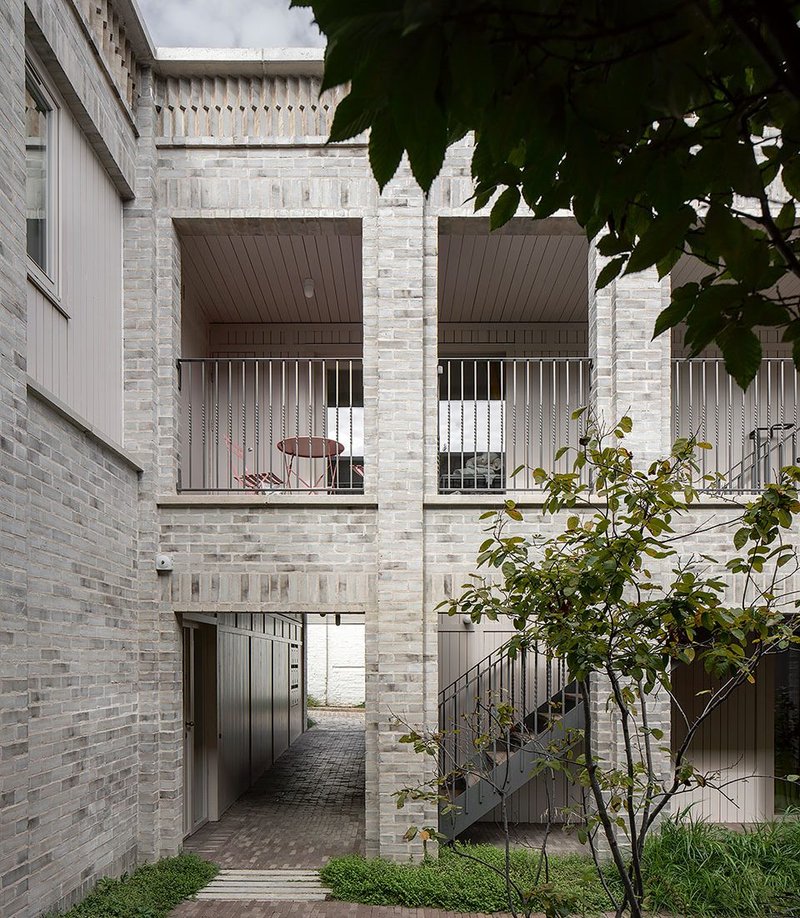 A deep loggia shades flats from the southern sun.

Credit: Johan Dehlin
For first-time visitors, the nature of the building emerges slowly. From the gated entrance to the mews, it has a curious ambiguity. Pale grey brick facades are ribbed with thick buttresses, like a traditional garden wall. Other details suggest the combination of pragmatism and ornament found in Victorian warehouses – an oblique allusion to the site's history. Bricks are turned on end and rotated through 45º to make a rough-textured cornice and soldier courses, revealing subtly different colours on either face. Windows framed by timber boarding shuffle about between brick piers, as though altered with changes of use over time.
Such idiosyncrasies and the building's apparent weight are a deliberate riposte to the thinness and factory-made regularity of much contemporary architecture. 'There is beauty in walls that look like they were made by human beings, not machines,' says Bates. 'We always seek that perfect imperfection.' The quality of construction is evident in everything touched by hand or eye – testament to the commitment both of the architect and its client Marston Properties, a local developer that builds to rent and has a long-term interest in how well buildings age.
Quality of construction is evident in everything – testament to the commitment of architect and client
A low doorway in the middle of the facade opens onto a dark, timber-lined passage. At the far end, in sunlight, is a splash of bright green. The floor slopes gently, impelling you forward, through the cloister and out into the garden. It's a magic moment. Despite its diminutive proportions – just 6m by 12.5m – the space has a powerful effect, and bursts with life. Six multi-stemmed fruit trees make a little copse, whose canopy helps to veil views between windows on all sides, through which the private courts within can be glimpsed. A dense under-storey of planting fills the courtyard from edge to edge, and creeps over the edges of wheelchair-accessible clay brick paths so that they appear narrower, and less obviously 'designed'. The architect hoped that informality would encourage tenants to assume that they could tend the patch around their own front doors, which indeed they have.
Here the surrounding streets vanish entirely from sight and from earshot. Stillness is broken only by the murmur of residents' conversation and breezes in the leaves. It is reminiscent of the cloistered precincts of ancient colleges and almshouses and of the secret walled gardens that recur in literature, from the Roman de la Rose to HG Wells' Door in the Wall – enchanted places that signify pleasure and dreamlike escape from ordinary cares.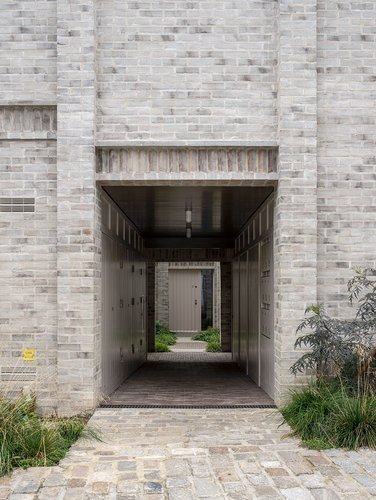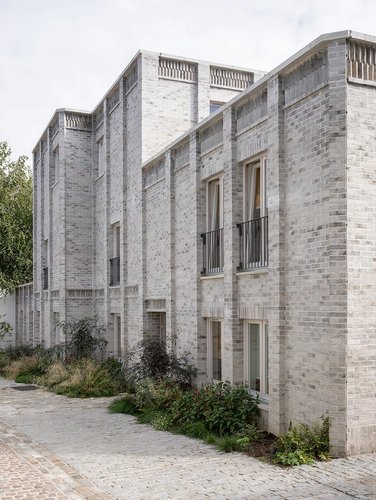 Sensation is also heightened by subtleties in the architecture, from the depth of thresholds to the round patinated brass doorknobs that are satisfyingly heavy in the hand, and set a little higher than might be expected. Just enough to be noticeable. 'The quiet transformation of "simple" things that are often taken for granted can dignify the activities of everyday life', says Bates, 'and draw people's attention to their own presence in the world.'
Interiors are equally rich. No two rooms are exactly alike. Physical models were essential in establishing that each would work, along with indefatigable 'pacing' through every space in the architects' minds.
On the ground floor, terracotta tiles lend an almost rustic feel and establish continuity between bedrooms and the adjacent patios. Timber stairs rise to oak-boarded living areas on the first floor. Rough-sawn softwood roof joists are painted white but otherwise left exposed. Again, there's a resemblance to old warehouses – another ambiguity that Bates enjoys. 'We like buildings whose purpose isn't obvious,' he says. 'It grants a certain freedom in the way you feel it can be used.'
With long, layered views through open-plan spaces that wrap around glass-walled terraces, and out to big skies, rooftops and the garden, there's no sense that the constraints of the site have compromised residents' homes. As London seeks to densify by developing similar sites that abound across the city, the skilful handling of overlooking and proximity at Lavender Hill Courtyard will no doubt become a standard reference point. Its example should be heeded more widely still.
Stillness is broken only by the murmur of residents' conversation and breezes in the leaves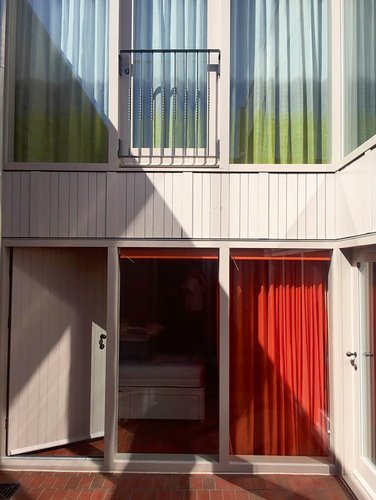 A jigsaw with plenty of space
A view from Caroline Marston, chairman, Marston Properties
Marston Properties, established in 1895, has built homes to rent since the 1930s. The knowledge that our financial return would be long-term made this project commercially viable.
Although the development is slightly smaller than the existing building, neighbours assumed it would be bigger and we had a battle to get planning consent.
Sergison Bates goes to great lengths to get detail right. We had some tussles over specification, but I've known Stephen for many years and trust him. I'm glad that we chose not to compromise on the Danish brick, for example.
We had to work from neighbours' gardens to build the boundary wall, imposing tight timeframes. The contractor, Uprise, was selected for its craftsmanship and experience on similar sites, as well as price.
The project is a real jigsaw puzzle, and while you might expect lots of dead-ends and big walls without windows, it's the opposite: openness and layered views throughout. Rents are at the top end locally, but residents have been amazed by what they get, especially the outside spaces. One told me they want to stay forever. Unfortunately, recent cost rises means that we are not currently looking for similar opportunities, but I'd love to come back to it.
Sustainability data
Predicted on-site renewable energy generation (kWh/yr) 11
Predicted potable water use (litres per person per day) 125
Actual annual gas usage (kWh/m²/yr) 66.95
Actual annual electricity usage (kWh/m²/yr) 18.92
Whole building embodied/whole-life carbon (KgCO2eq/m²) 357
RIBA Stage 7 assessment, RICS modules A1-5, B1-5, C1-4 (excl external works)
In numbers
Gifa 795m2
Construction cost (tender price) £2.94m
Site area 0.1ha
Unit sizes 65-109m²
Credits
Architect Sergison Bates Architects
Client Marston Properties
Contractor Uprise Construction
Cost consultant and project manager Marick Real Estate
Structural engineer Symmetrie
MEP and sustainability Mendick Waring
Landscape designer Miria Harris