If you're designing a school of architecture, why not make the building itself a lesson? Marc Mimram takes a bow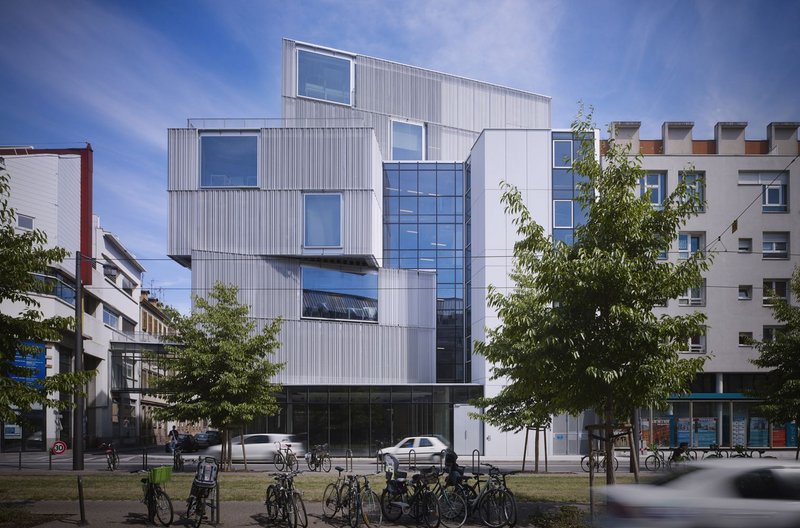 The Rubik's cube-like ENSAS building is a stone's throw from Strasbourg's main station.

Credit: Marc Mimram, J Lanoo
Schools of architecture in France are normally on the edges of cities, so when local architect Marc Mimram had the opportunity to design a new school slap bang in the centre of Strasbourg, just a stone's throw from the main railway station, he saw a rare opportunity to create something notable that could itself help students understand the composition of buildings in the urban landscape.
La Fabrique, which translates as the ­factory, is the €16m first phase of the Ecole Nationale Supérieure d'Architecture de Strasbourg (Strasbourg School of Architecture), built for client the Ministry of Culture and Communication. The second phase ­involves refurbishment of the adjacent building, Le Garage, due for completion in December, to which it will link via a footbridge.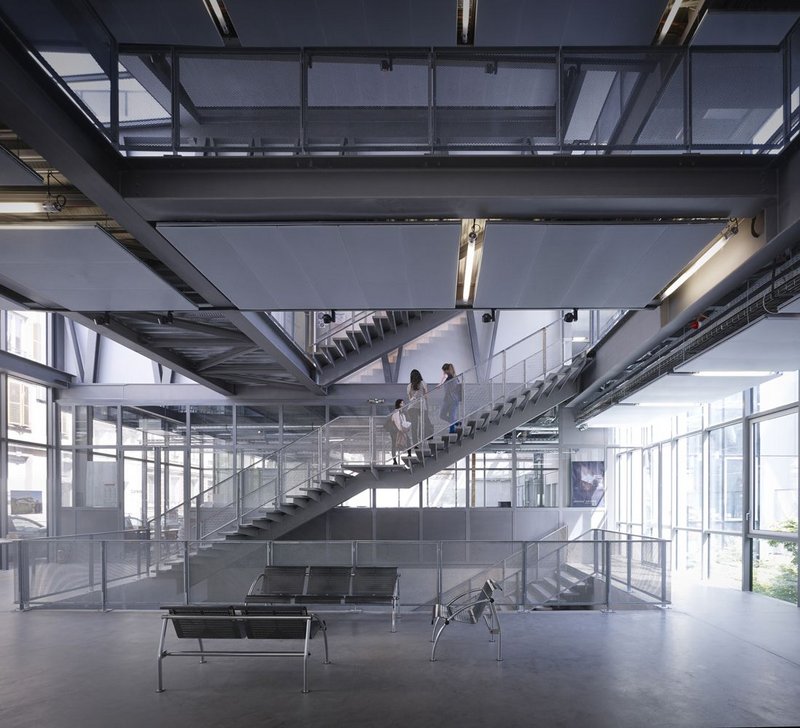 Inside the new building is light and spacious.

Credit: Marc Mimram, J Lanoo
Mimram's 4,500m2 building resembles a stack of two-storey glass and metal boxes that are rotated relative to each other, like a Rubik's Cube. The three blocks house classroom and studio spaces and are subtly twisted so that their picture windows face prominent city landmarks – part of the architect's plan to connect architecture with the city. These blocks are raised up on just eight slender columns to leave the ground floor entirely open and transparent, creating space for an exhibition area and a meeting place for students and the public. Two auditoria are accommodated in the basement.
La Fabrique's highly angular facade is softened by panels of wrinkled aluminium mesh, installed over glazed walls to create an opaque tissue-like effect, which is enhanced when the building is lit inside at night. The mesh panels are also broken up by large floor to ceiling picture windows on each level.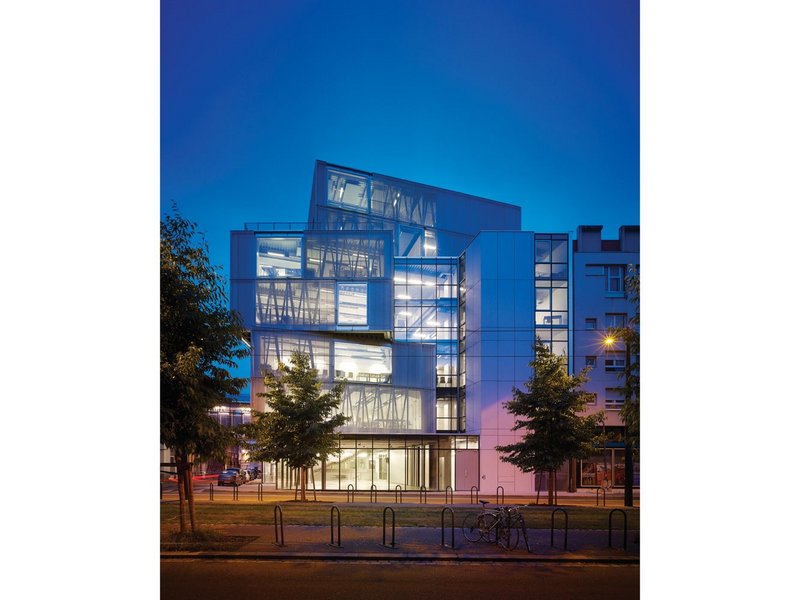 The trick revealed: by night Mimram's steel skeleton is revealed in silhouette.

Credit: Marc Mimram, J Lanoo
'Being a professor of architecture myself, I thought when I designed the building that the best lesson for students would be to give them as direct a relationship with the city as possible, provide great views, and make the structure as transparent as I could,' says Mimram, who is the brains behind the Hassan II Bridge in Morocco, which won the 2013 Aga Khan Prize for architecture. 'However, I wanted to avoid a "glass box" – now a redundant architectural concept – or a bland rectangular building with small windows, which French building regulations are increasingly pushing architects towards.'
As a civil engineer and an architect, Mimram's other ambition was to express as much of the structural steel frame as ­possible to help students understand how the load bearing system resolves forces.
'I'm wary of the current trend for incorporating insulation in the outside layer of the building fabric, so that structure is concealed. Conversely, the idea of exposing structure on the outside, made famous by architects like Sir Richard Rogers, is unsound for thermal energy conservation due to cold bridging,' says Mimram. His alternative was to keep the steel structure inside, partially-visible behind the double glazing and mesh curtain, but when lit from inside at night, the entire facade is rendered transparent, its steel skeleton revealed in silhouette.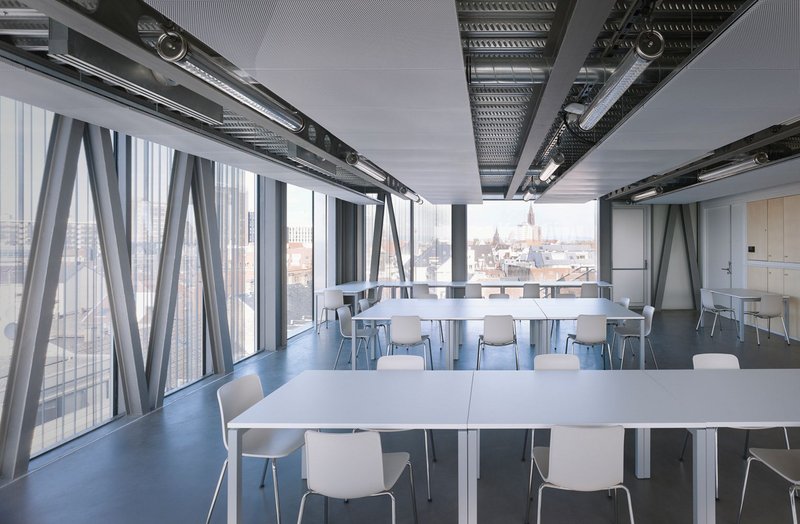 The hybrid steel Vierendeel structure changes depending on loading demands and the desire for views.

Credit: Marc Mimram, J Lanoo
The steel structure is partially-visible behind the double glazing and mesh curtain, but when lit from inside at night, the entire facade is rendered transparent, its steel skeleton revealed in silhouette
The building's rotated form helped maximise the available volume within the compact site, and was in part dictated by the peculiarities of French planning constraints. The two lower blocks cantilever out towards the street, while the top block steps back. This also enabled the creation of triangular external roof terraces, used for teaching, another effort to connect students to their surroundings. In addition, it allowed a large staircase to be accommodated at the heart of the building where students can display work for crits, with a specially-designed rail at the top for hanging models.
The extensive use of metal structure is a reference to the site's industrial past and Strasbourg's 19th century architecture. Mimram also wanted to explore the relationship between structure and envelope, which has been a cornerstone of architectural practice since the Gothic age, and was first expressed in metal structure in the 19th century.
The steel frame is a hybrid, alternating between an ordinary and a Vierendeel truss, with no diagonal beams, on each floor. Vierendeel trusses create openings for the large picture windows and the two types are aligned in different directions on each floor, giving the frame a semi-random appearance.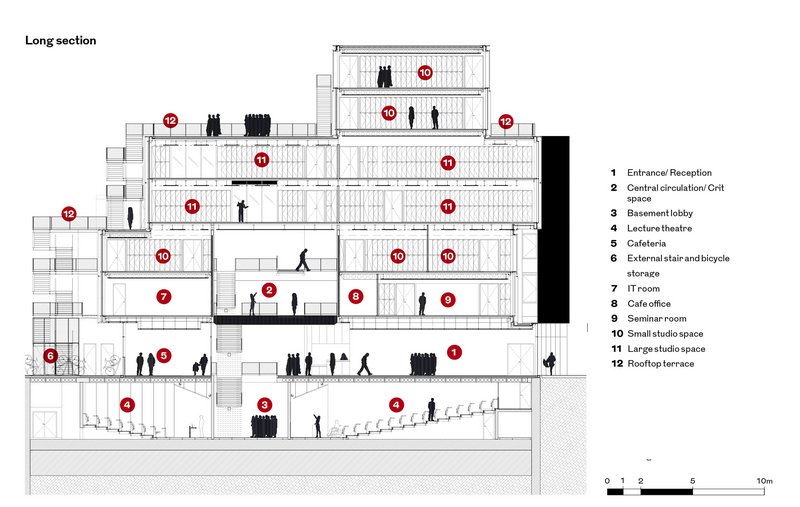 Long section.
'The location of vertical and diagonal beams was calculated using a special calibration to ensure each steel member is as thin as possible,' says Mimram. 'Although the frame is not super efficient in terms of structure, it is very effective at creating the specific views of the city we wanted, and providing a structural lesson for students.'
The aluminium mesh curtain is designed to mimic a soft fabric curtain and appears to move with the changing light on the north and west main elevations, an idea inspired by Mimram's father who was a tailor. To achieve this effect, different irregularities and undulations were introduced into the strands of mesh in each panel, which were manufactured by a specialist in Italy.
La Fabrique is entirely naturally ventilated and certain mesh panels were designed to slide sideways to allow the windows to be opened from inside. The mesh is also aligned to reduce solar gain, and cut down glare where students are working at computers.
Natural ventilation forms part of the building's environmental strategy, which includes the use of geothermal energy for heating, and super-insulated triple glazing to achieve an overall carbon footprint of 4kgCo2/m3.
'French regulations require low energy consumption for public buildings and we expect to achieve between 50 and 70kWh/m2, which is quite respectable. We are checking to see if performance in use meets with design expectations and so far it is looking good,' says Mimram. If the figures stack up, the building could provide valuable tool for teaching environmental sustainability, as well as structure, to the next generation of aspiring French architects.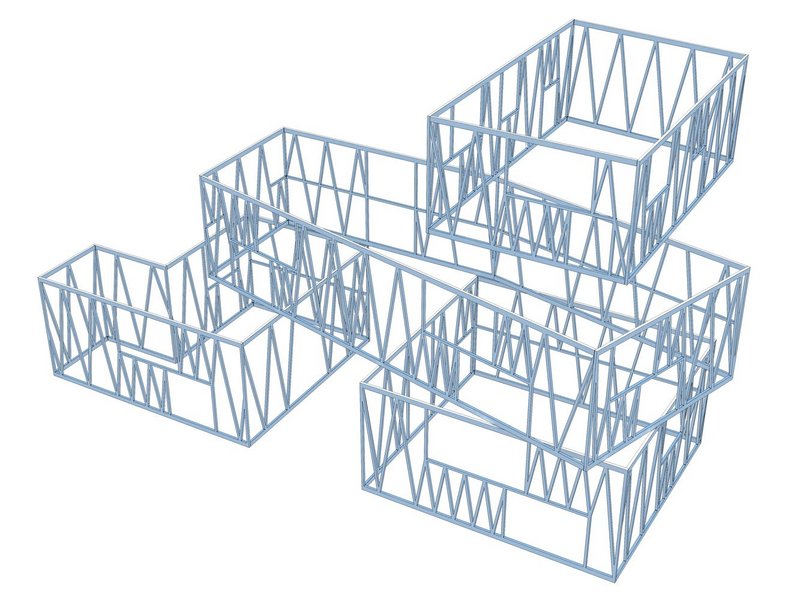 Structural model.