Timekeeper's Square and Carpino Place, by Buttress, are starting to stitch Salford landmarks together again
Walking into Salford over the bridge from Manchester Piccadilly station, it is easy to notice how quickly the pace and atmosphere of the urban realm changes. The trendy bars, glassy offices, trams and pedestrian grain dissipate to be replaced by wide roads for fast-moving cars, generic 1980s buildings that could be residential or commercial and vast empty plots, not even hoarded off.
Despite this, all the former signals of a city centre are there – a neo-classical town hall from 1827, a grand Victorian 'Education Office' from an era when learning was on the up, a royal-stamped hospital and a gothic cathedral – in an enfeebled form. The desertion and disconnectedness of these monuments make it feel like a city-sized game of chess – only the major pieces are left.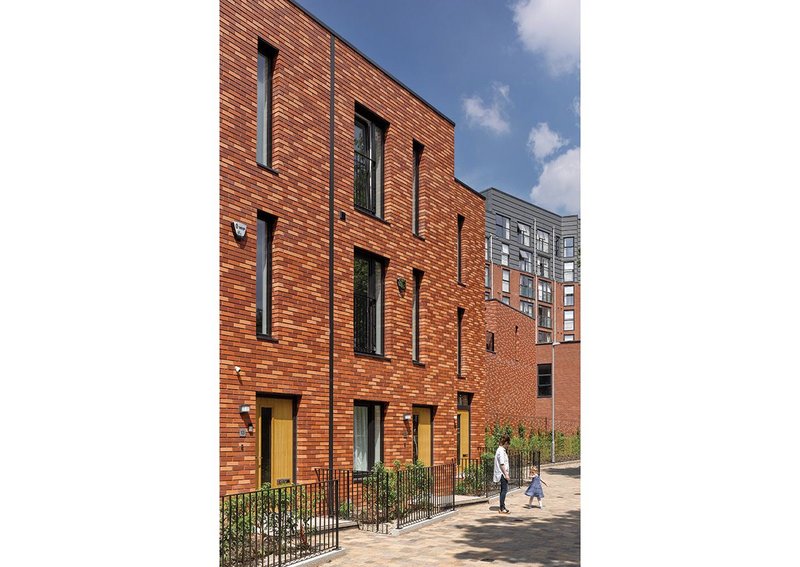 View of Carpino Place down South William Street.
Timekeeper's Square, designed by Manchester firm Buttress, on a former 1960s slum clearance site is, however, the second of a number of new schemes in a masterplan drawn up by Glenn Howells Architects nearly a decade ago, intended to stitch these wavering landmarks back together.
The project sits north of Chapel Street, slightly adjacent to the main thoroughfare, behind the former Manchester and Salford Saving Bank (now a partially boarded up accountant's office), and between Ellison Hadfield's cathedral and Robert Smirke's magnificent Georgian St Phillips Church. It has been developed by the English Cities Fund to create a place young families would be prepared to move to from the centre of Manchester for more space and garden, while remaining close to the bright lights.
As a result, the scheme is arranged to work with the existing heritage to encourage community. A new public square packed full of artwork is the central focus, vistas between landmarks connect, and most of the homes, of which all are houses, lead from the garden gate into a private communal car and cycle parking courtyard (where people can meet putting out the bins, or over the fence).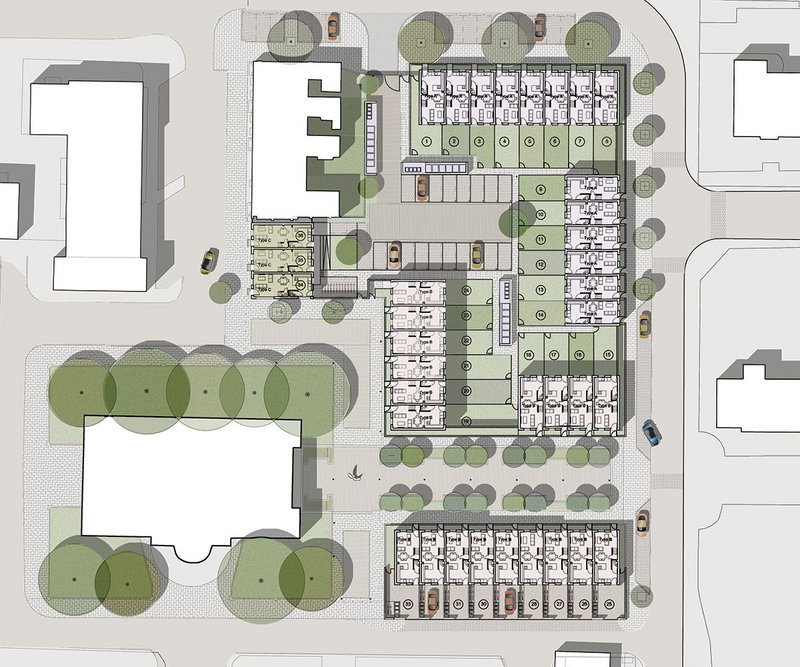 Site Plan
In numbers - Timekeeper's Square
3,327m² - gross internal floor area
£5.6m - construction cost
£1,683 - construction cost per m²
In numbers - Carpino Place
2,268m2 - gross internal floor area
£4.5m - project value
£1,984 - construction cost per m2
---
The scheme promotes a very traditional high-quality typology and layout with York stone paving and black railings inspired by the church, but with contemporary coloured grey Weinerberger 'Smoked Branco' brick. The brick reinforces the communal identity and makes it feel distinct at an urban scale, though it could have been a tad more yellow. Of the 36 homes, every block has variation of type; from 2-4 beds over 2-4 storeys. Larger houses, just three at the back of the site, connect to a listed Georgian red brick terrace. Front gardens, kitchens facing the street and gable-end windows are prioritised for defensible space purposes – a feature pushed by the council because the area can still be rough. Nevertheless, gutters have been recessed, and window transoms and surrounds concealed to create minimal facades. There is nothing extravagant in the architecture, but the passion is in the detail, consistency and thoughtfulness regarding a scheme to help repair its setting and imbue a calmer character. Indeed, Timekeeper's was so successful in creating a pleasant place that the houses sold out off plan before foundations were laid, and English Cities Fund acquired a supplementary site to the south of Chapel Street, beyond the original Salford masterplan area, to do it all again.
Named Carpino Place, this twin development replicates the Timekeeper's Square template almost exactly in smooth red, orange and purple brick. This slightly gaudy colouring derives from its harsher urban context along an arterial road, Glenn Howells' plot 1 Vimto scheme next door and the Islington Mill behind.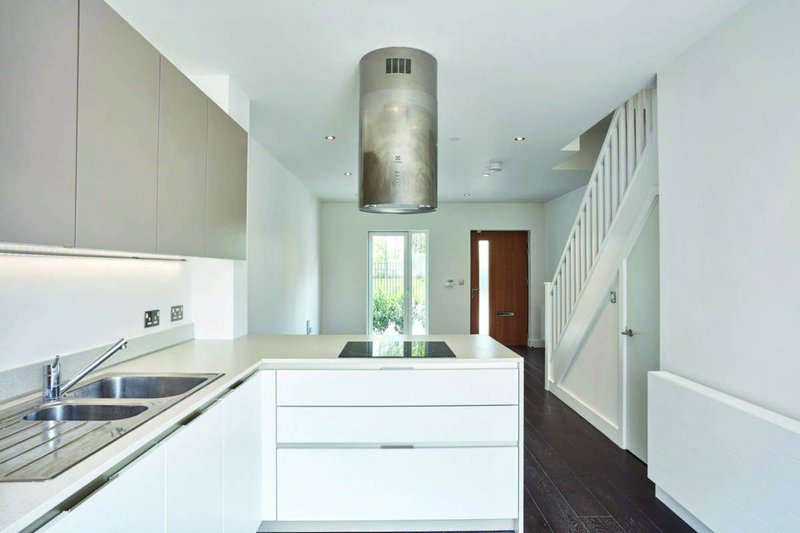 Typical kitchen and living space.
Laid out on a smaller 2500m² plot and completed three months ago, 22 houses form a perimeter around a new central parking courtyard, with iron and timber fencing details all kept the same. The development has pedestrianised South William Street too, planting on both sides to give a leafier, friendlier, more secluded and slower feel, yet metres away from the traffic – even if the street works are tarmac rather than stone.
The only discernible differences between Carpino and Timekeeper's are the roofs, which are pitched, and the windows. Juliette railings are removed, and the single French door at the front ground floor exchanged for ordinary casement, while one on the upper storey is now narrow. Although the former seem sensible and barely noticeable, the latter surprisingly disrupts the overall composition of the houses so they come off a bit plainer and more ordinary. But these adjustments don't feel like bad compromises given the necessity to meet a £1984/m² budget. What does matter is that the developer's confidence (and perhaps the contractor's) may have run away too much after such initial success. Lessons learned reportedly led to a quicker construction, but some aspects of the work are scrappy – bricks, for example, are laid jaggedly.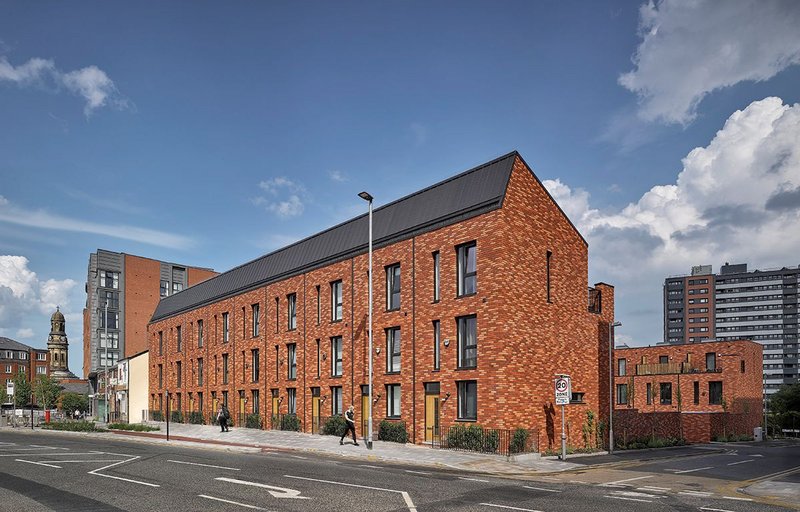 Carpino Place facing Oldfield Road. High inflation between the projects meant that although construction costs at Carpino were higher, the finishes are lower quality.
In all, however, these are two incredible schemes and it is a joy to see Salford being pieced back together at last. The quality of Carpino Place is not quite up to scratch but its placemaking is, and it is possible to imagine different communities sensing themselves at home both there and at Timekeeper's, yet still identifying as part of a larger, re-established and forward-moving whole. I'm looking forward to what's next.
---
Credits
Architect Buttress
Client The English Cities Fund
Main contractor John Turner Construction Group
Structural engineer Integra Consulting
M&E engineer Hannan Associates
QS & CDM advisor Appleyard and Trew
Landscape architect Hyland Edgar Driver
Bricks Wienerbeger
Kitchens Project Kitchens