Architects Gustav Düsing and Max Hacke's debut building, at Braunschweig Technical University in Germany, merges exterior and interior while being highly flexible in its configuration
When one thinks of a 'study pavilion', one tends to picture cramped spaces meant for individuals; small booths in which students sit in silence, absorbing and processing the information they encounter in their studies. One imagines a space in which students are shielded from distractions from the outside world; where, after a while, the air gets stuffy. The study pavilion designed by young and emerging architects Gustav Düsing and Max Hacke, however, explicitly contrasts such associations.
Their pavilion at Technical University (TU) Braunschweig, a city with a population of 250,000, two and a half hours from Berlin by train, is light, open, airy and almost disappears within the landscape due to its delicate structure and glass facade. It is Düsing and Hacke's first built project and it addresses important questions regarding design and construction at a time defined by climate change and rapidly changing urban environments. Increasing digitalisation raises questions regarding how to best use urban space if people no longer frequent cities to go shopping, to the movies or to work.
With the building sector responsible for 39 per cent of global CO2 emissions, questioning building anew is inevitable. One possible answer is to only renovate and remodel existing buildings. In Berlin, some architects are demanding a 'demolition moratorium', arguing to first use what already exists. Another approach is to use sustainable materials, such as wood. However, integrating sustainability into architecture should not translate into every new-build being made of timber just to tick the box and not have to think about it further. Düsing and Hacke's Study Pavilion is an alternative way to envision a sustainable future.
The pavilion is predominantly made of steel and glass, yet everything is bolted together rather than welded. It means that should the university ever decide it doesn't need the pavilion anymore, students decide they would benefit from a different layout, or the space is needed for something new altogether, the building can be dismantled and bolted back together elsewhere in a completely new form that is best suited to serve its new requirements.
However, it would not even need to remain intact in its entirety. Instead, parts of it could find new lives independent of one another. In that sense, this pavilion is extremely sustainable. It has the ability to respond to, and meet the potentially changing needs of the students by taking the campus's fast-changing structure into account. In addition, it can easily adapt and change, which is likely to be an important quality in the future, confronting the many challenging scenarios awaiting us. The open-space concept makes it possible to shape the building according to individual needs. Sound-absorbing curtains come in useful when wanting to concentrate and study in silence but, at the same time, there are also open rooms where students can congregate and work together, have discussions or simply hang out and spend time.
The building can be described as generous while also being eco-minimalist at the same time. Nothing is wasted, everything has a function, and yet it contains a sense of lightness and elegance not often found in educational architecture. The community rooms are 6m tall, creating an atmosphere that makes the pavilion appear even bigger. The two-storey areas have suspended wooden ceilings that are still 3m high. Each piece of furniture is movable and can be adapted, allowing for versatile use of the building.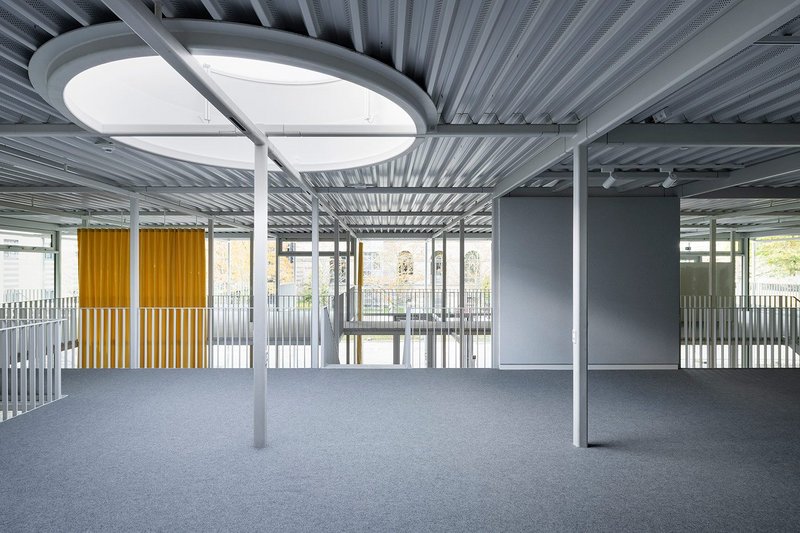 The first floor level. The roof literally rests on the structural grid, creating its own particularly honest aesthetic.

Credit: Lemmart
The pavilion is more than 1,200m2. At times the 3m x 3m support grids of white painted steel make it feel like being in a forest. The perimeter roof provides shade in the summer while also covering the platforms and stairs from wind and rain. However, the building's internal logic does not distinguish between interior and exterior. Students can move tables onto one of the outside platforms, allowing them to work next to the idyllic river running alongside the building. Suspending the division between interior and exterior may not be a new idea, yet seldom have architects thought it through this thoroughly.
Düsing and Hacke broke with the convention of having only one or two entrance points, instead opting for eight. These provide students with a sense of privacy as they allow people to exit and enter without others noticing. This could be read as rejecting the concept of total transparency but the multiple entrances open up the building, not only in a literal sense but also for those for whom access to education may be more difficult or those who suffer from threshold anxiety. This is what makes the pavilion such an excellent location to study and develop ideas – even more so considering that the next generation of architects will be trained there. It is this dichotomy between transparency and privacy – one of the defining topics of our time – that makes the pavilion so interesting. Rather than hiding education in a space behind thick walls that are difficult to enter, it makes it visible. It feels like everyone is welcome to this 'education machine', which was comparatively cheap at a cost of €5.2 million.
If architecture is a manifestation of beliefs and values built into the future, then this building lays the foundation for an education that is accessible to everyone. In recent times, it seems German architects have forgotten the power they hold to shape societies and create equal access. While this is certainly within the realm of political decision-making, architecture could play an important role if it defined itself as a player in this field. Looking at the young architects entering the stage gives hope of a revival.
The pavilion's cleanliness, glass facades and white steel columns may feel slightly reminiscent of Sou Fujimoto's 2013 Serpentine Pavilion. That structure functioned as a meeting place, yet looked like a computer-generated rendering that had frozen while trying to load. Conversely, the pavilion in Braunschweig appears as though the image has finally fully loaded; it reveals a different, exciting and new approach in both thought and building with regard to questions of sustainability and accessibility.
The lightness inherent in much Japanese architecture is something that design in Germany tends to lack – particularly in the case of education buildings. Progressive thinking seems to be restricted to the students' studious minds, rather than be reflected in the architectural structures surrounding them. Technische Universität Braunschweig proves they can be done differently and without sky-rocketing costs.
It will be interesting to visit Braunschweig next summer to see first-hand the ways in which students are making use of the endless possibilities that Düsing and Hacke envisioned for them. Hopefully, it will be a vibrant educational organism in full swing, able to adapt to all scenarios the future may hold. If there was one place to start imagining a better future, it would probably look exactly like Düsing and Hacke's Study Pavilion.
Year completed 2022
Client Technical University Braunschweig
Size 1,200m2
Construction Demountable steel/wood hybrid
Architects Gustav Düsing and Max Hacke
Structural engineer Knippers Helbig
Cost €5.2 million