The colours and textures of Strawberry Hill's domestic interiors have been painstakingly recreated, with resplendent results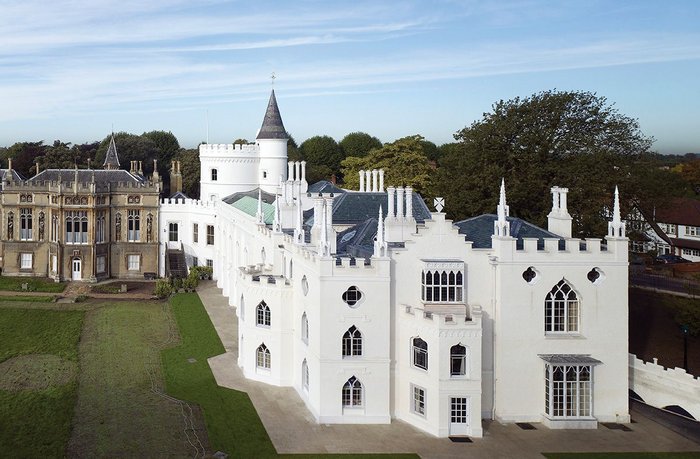 Early one morning in June 1764 the architect, writer and collector Horace Walpole awoke feverish from a vivid dream in which he'd seen a giant armoured fist hovering on the staircase of his home, the famous Gothic Revival villa, Strawberry Hill in Twickenham, south-west London.
The menacing vision inspired him to write the Castle of Otranto, now recognised as the first gothic novel, which with its knights, villains and haunted corridors would change the course of art and literature, influencing works from Mary Shelley's Frankenstein to JK Rowling's Harry Potter, and even the PlayStation 4 game Bloodborne.
Today I'm standing in the very same bedchamber where Walpole had that dream, one of five domestic rooms now open to the public for the first time in over 200 years after a £1.2 million restoration thanks largely to the Heritage Lottery Fund, and I get a sense of what might have given him the willies.
The room has a spectacular view of what was, in the 18th century, a remote and untouched section of the River Thames; the walls are covered in an ornate, rather psychedelic, 'flocked' wallpaper with a raised pattern of golden yarn on a blue background; and the room leads onto a gloomy stairwell featuring wallpaper based on a tomb in Worcester Cathedral and eerie sculptures of antelopes holding shields.
Equally impressive is the amount of painstaking work that has gone into faithfully reinstating these and many other original features as part of this second phase restoration of Walpole's country pile, Britain's finest example of Georgian Gothic Revival architecture.
Fireplace in Mr Walpole's Bedchamber

· Credit: Kilian O'Sullivan

The breakfast room is one of the more intimate spaces now open to view.

· Credit: Kilian O'Sullivan

Holbein Chamber in first stages of renovation

View into Mr Walpole's Bedchamber from Plaid Bedchamber.

· Credit: Kilian O'Sullivan

Door handle detail.

· Credit: Kilian O'Sullivan

Restored chimney-piece in the Holbein Chamber.

· Credit: Kilian O'Sullivan

Antelope in hall at Strawberry Hill.

· Credit: Kilian O'Sullivan

Detail of ceiling in Mr Walpole's Bedchamber.

· Credit: Kilian O'Sullivan
Headed by architect Inskip + Jenkins, the project authentically reinstates the architectural detail and decoration of the private rooms, which feature wallpaper fabricated at one of the few handmade paper makers in the British Isles, Griffen Mill in Ireland, and printed using wooden blocks hand carved in the US. Sophisticated microscopy techniques were used to analyse paint colours which were then recreated using real pigments such as cochineal, a scarlet dye from a tropical parasite, and pure blue verditer, a copper salt made to imitate lapis lazuli.
'Everything was made specifically for this project, with a huge emphasis on traditional craft and craftsmanship,' says Kevin Rogers, associate at Inskip + Jenkins. 'Revealing the 1790s wallpainting was a small nightmare in terms of time and technique. The most taxing and challenging element was the chemistry behind the colour.
'There is a certain amount that archives will reveal and scientific analysis pushes it further forward, but ultimately the reconstruction of the colours could only be achieved through careful trial and retrial.
It's no coincidence trade guilds are described as the protectors of the "art and mystery" of a trade.'
Strawberry Hill was conceived as an architectural conjuring trick, a miniature Gothic castle built around the bones of Walpole's country house using techniques such as papier-mâché, wood and plaster moulded and painted to look like carved stone.
The property fell into disrepair in the mid-1990s and was placed on the English Heritage at Risk Register. Its fortunes changed in 2008 when a local group, the Strawberry Hill Trust, succeeded in securing £8.9 million from the Heritage Lottery Fund and other donors to complete a major restoration of 20 rooms, many of them grand public spaces, and the exterior, with its battlements, spires and gargoyles. These were opened to the public in 2010.
View into the Red Bedchamber with its handmade wallpaper.

· Credit: Kilian O'Sullivan

Wallpaper on the stairwell is based on a tomb in Worcester Cathedral.

· Credit: Kilian O'Sullivan

Door in Plaid Bedchamber.

· Credit: Kilian O'Sullivan

Hall at Strawberry Hill.

· Credit: Kilian O'Sullivan

Strawberry Hill at twilight.

Mr Walpole's Bedchamber before renovation.

Detail of fireplace and wallpaper in Mr Walpole's Bedchamber.

· Credit: Kilian O'Sullivan

Mr Walpole's Bedchamber.

· Credit: Richard Holttum
The second phase restoration began in 2013, funded by a £821,000 grant from the HLF plus money from other trusts and foundations. This focused on the building's most intimate rooms, nestled around the staircase on the first and second floors, where Walpole lived, wrote and entertained. They reveal the fashionable patterns and colours of London from 1700 to the 1750s, and the influence of 18th century Italian taste as seen through the eyes of the English Grand Tourist.
'The private rooms have modern, extravagant patterns, and contrasting colours, very much influenced by imported textiles and pictures bought by Walpole in 1739-41 when touring Italy,' says Rogers. 'They provide a sharp contrast to the public rooms, such as the gallery and the tribune, which are more formal, gothicised spaces.'
Fortunately for the restoration team, Strawberry Hill is one of the most comprehensively documented houses in the country. Walpole wrote a book on his alterations for visitors to the house and described them in thousands of letters. Inskip + Jenkins's own detailed archaeological investigations uncovered evidence of the original paint colours and fragments of wallpaper found around doorways or hidden inside cupboards.
The most theatrical of the restored spaces is the Holbein Chamber, created to show off Walpole's collection of Holbein drawings of the Tudor Court, which features an elaborate restored Gothic chimney-piece and arched fretwork screen, modelled after the high altar in Rouen Cathedral in France, and a ceiling with a star and quatrefoil design.
The walls are 'bishop' purple and made from a handmade blue paper, by Griffen Mill, that acts as an undercoat, covered with a combination of blue verditer and real red cochineal dye. 'This very thin surface wash creates an extraordinary impression of different pigments and colours when seen in natural light, like subtle clouds of carmine floating on the wall,' says Rogers.
The most taxing element was the chemistry behind the colour. It's no coincidence trade guilds are described as the protectors of the 'art and mystery' of a trade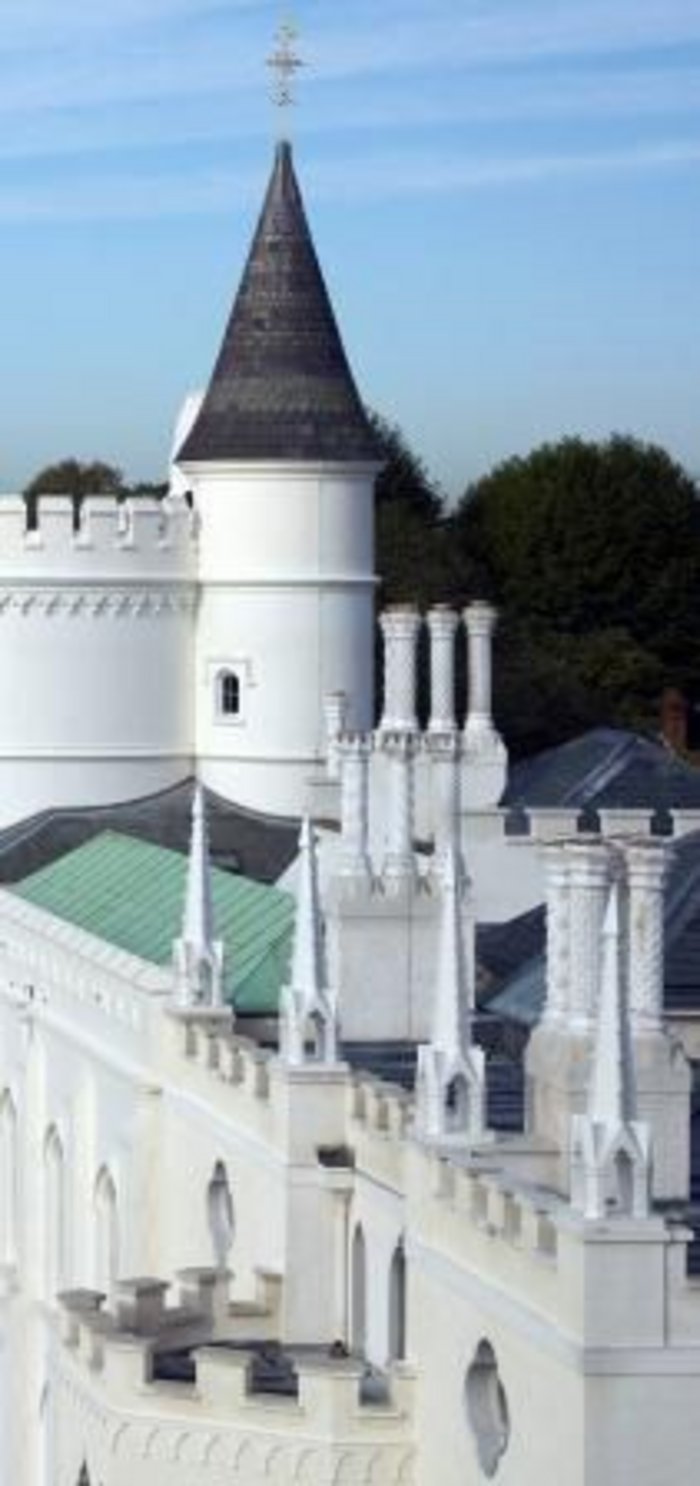 In Mr Walpole's Bedchamber, and several of the other rooms, the timber framing of the rooms was hung with a fine linen lined with sheets of handmade paper, covered with flocked wallpaper as a finishing layer. The bedchamber paper was printed by specialist block printer Adelphi Paper Hangings using 18th century techniques, the raised gold flocking created using specially selected yarn to simulate the texture and lustre of the original and coloured using traditional vegetable dyes. Walpole's bedchamber connects via an arched doorway to the Plaid Bedchamber, where a light and sparse diaper pattern features sprigs of coral, reprinted in Prussian Blue on a chalk background. The simple pattern uses a single 'half block', a mid-18th century approach to pattern-making designed to economise on block making.
'In the 18th century the rooms would have functioned as a repository for a great collection or art and artifacts that populated the walls and spaces,' says Rogers. 'It's likely that the wallpapers would have had a certain amount of flaws because the decoration was considered secondary to the treasures inside; now the house is empty the decorations have become primary, so what we produced had much less tolerance for error.'
The restoration of the main staircase was carried out just after phase one and acts as a unifying force that physically and visually links the private rooms. The space is a feat of architectural composition, rising up on 11 different levels to an entirely asymmetrical and counter-rational design. It embodies Walpole's concept of mediaeval 'gloomth', a deliberate use of darkness and shadow to create a sense of unease and mystery, also used in some of the halls.
Reinstating the original Worcester Cathedral-inspired wall painting on the staircase was painstaking work as all the original patterns had been destroyed. Careful study and meticulous examination of the walls revealed enough fragments of the 18th century drawings to create a full scheme.
'This was by far the greatest achievement in terms of physical restoration,' says Rogers. 'The process of hand-painting the many reams of paper and applying it to the walls took an incredible two and a half years. The 450 coffers on the ceiling soffit alone took six months, each one hand painted on a separate piece of paper and laid overlapping from top to bottom, like shingles on a roof.'
It's a Herculean effort, worthy of a knight in a gothic tale, and now the restoration is complete we can experience again in 2015 what Walpole described as his 'little plaything, the prettiest bauble you ever saw'.
---