An unusually interesting block of luxury flats has a surprising ingredient
Hardly ever do I want to go and see another development of speculative luxury apartments. What's the point? You know what they are going to look like, you know they will be overpriced, you know that the show flat will boast twigs in tall vases and unfeasibly large numbers of cushions in harsh fabrics. You know that, no matter how high the asking price, they will have those nasty little skirting-boards that are an article of faith for such developers. You know that most of them will be bought as investments by people who will never live there. So why am I in Cambridge looking at Parkside Place, which is indeed a place beside a park?
Because this one is a bit different. For one thing, it is designed by Glenn Howells Architects, a practice with a sound track record in this typology. For another, it contains no less than 40% of social housing in the mix and is pretty tenure-blind: you can't easily play that game of singling out the 'affordable' bits at a glance. Thirdly, it doesn't look all brittle and Cabe-ish. No fruitgum-coloured acrylic bal­cony fronts: on the contrary it is of massive, precast masonry construction, monochrome buff yellow with bronze aluminium trimmings. Fourthly, in this low-rise city it ­contains a bit of a tower. And finally: it includes a working fire station.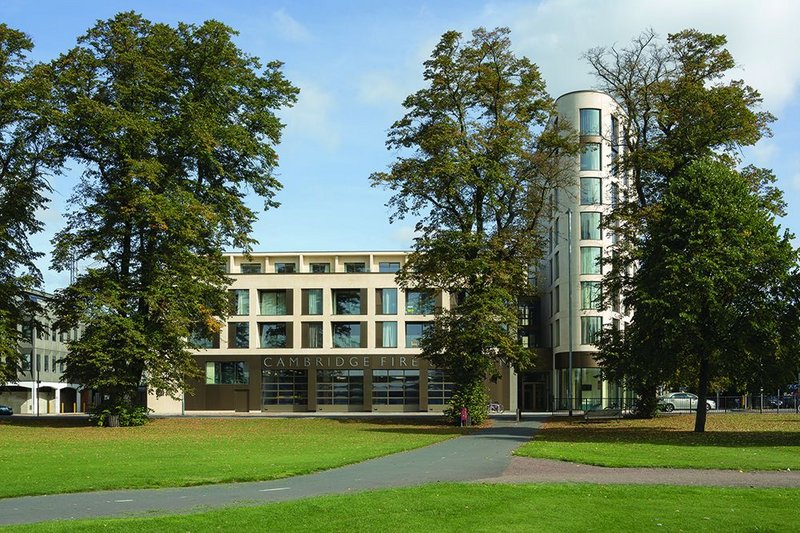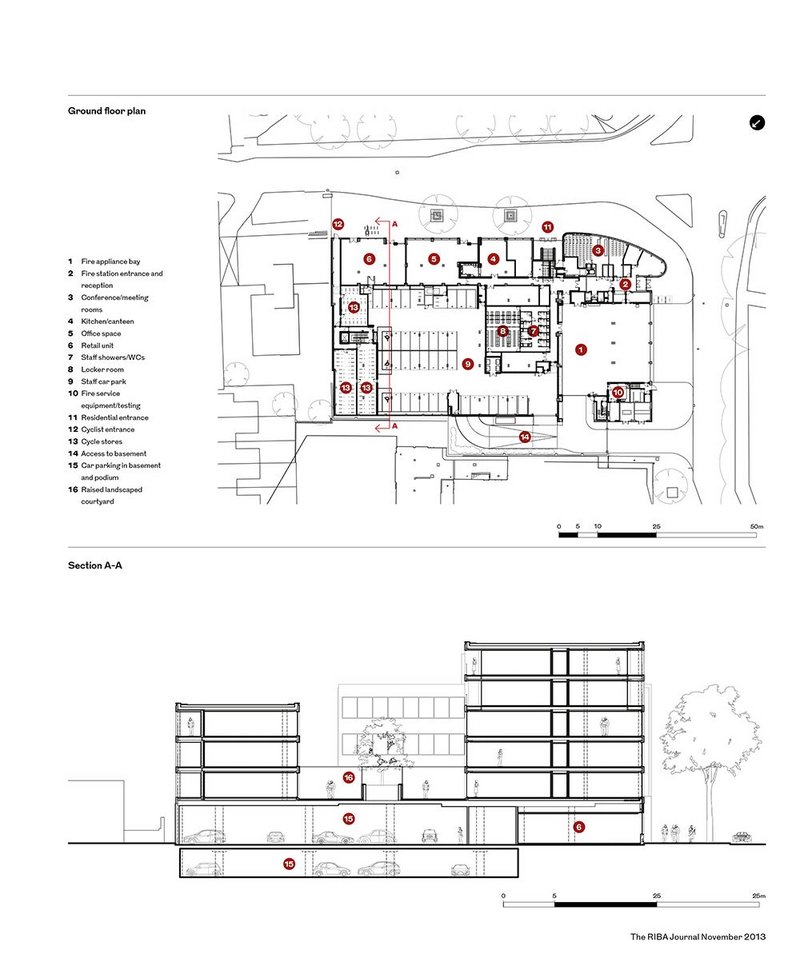 That's right – a working fire station. A broad portal with a row of rapid-opening doors, behind which four bright red ­appliances lurk; both portal and doors are bronze-finished to fit in with the rest of the scheme. This is the city's main fire station, and is used as a meetings venue by the county fire service, so the ground floor of the development contains a surprising amount of administration and conference space. No poles to slide down, though – it being all on one level. The fit-out here is basic, and smells a bit like a hospital, but the ceilings are very high since they follow through from the height of the garage. A shop unit, earmarked as a café, completes the mix.
The reason for this odd example of mixed-use is that the site was previously home to the 1960s fire station, including a training area which has now moved out of the centre. This freed up space for development, but replacing the working station was a given. So now you find an arrangement of four blocks of varying height, set on a podium containing both the fire station and covered parking for residents, on top of which is a courtyard with planted areas. There are also separate bike stores. You must climb granite steps to podium level, through a gateway by a commissioned artist made of tall metal pieces in fire-engine red – like stepping through flames. Slightly odd that the only patch of red is here rather than on the fire station itself, but there you go.
The most obvious block is the slender oval tower, rising to a dizzy seven floors above podium level and apparently the tallest of its kind in Cambridge. This marks one corner of the 10ha patch of parkland known as Parker's Piece. Existing taller buildings, including a church, at the other corners justified this planning move and it works well. Glazing is flat along the sides and – like the precast panels – curved round the tight radii of the ends.
This is a very busy traffic junction, and the walls and glazing had to be acoustically high-performing. Howells has long worked with pre-cast components on projects both residential and cultural. Here the sections are faced with a reconstituted stone chosen to harmonise with the predominantly Ketton stone of the city. Howells worked with Thorp Precast on this: a total of 650 panels were made from just 30 moulds, the largest being two storeys high, though moulded grooves give a smaller visual module. Panel size was limited by the lifting capacity of the crane to be used, says project architect Sandeep Shambi.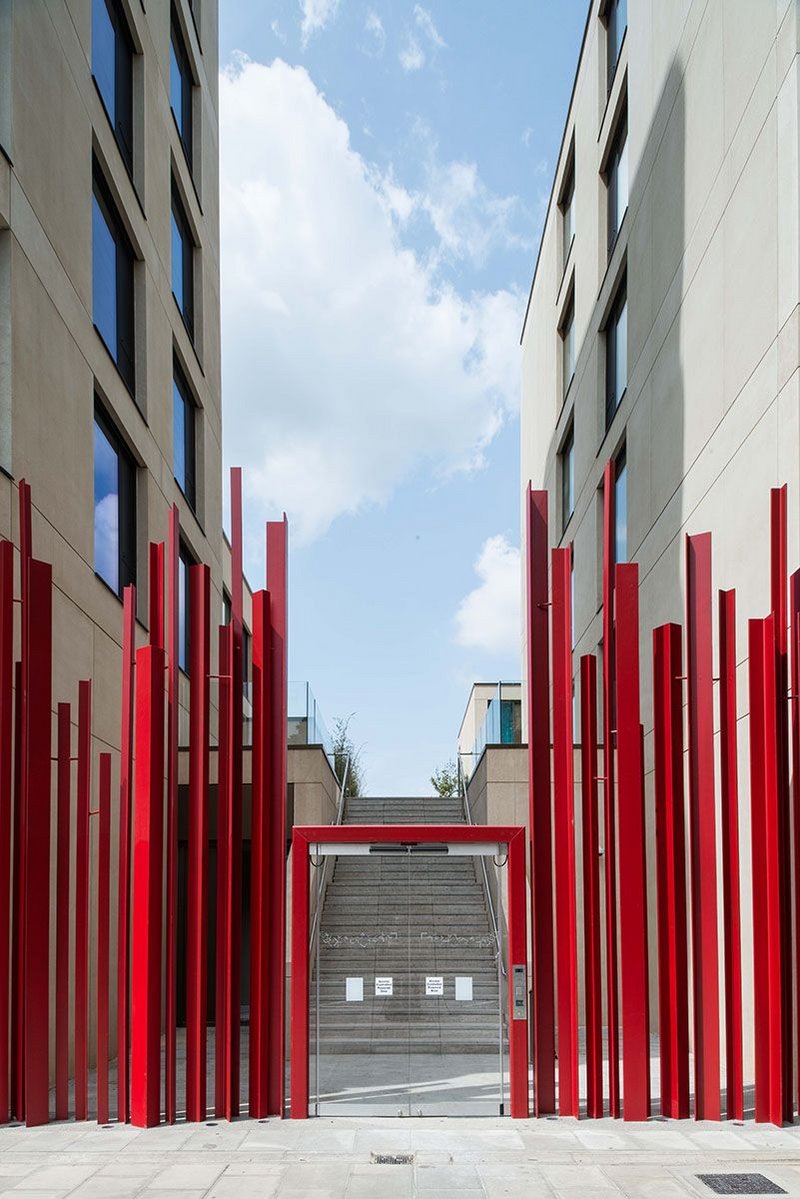 Access for residents takes you through red painted steel 'flames' via steps or lift to podium level.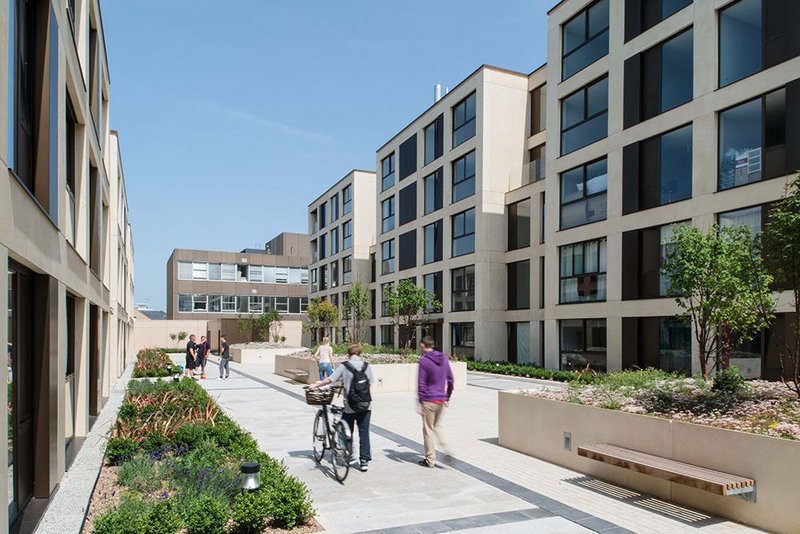 Beneath the landscaped podium is car parking for residents and fire station staff.
The tower aside, it's all very Miesian-modern post-and-beam, including a successful range of deck-access flats to the rear. Inside, however, you're mostly in a world of hotel-like internal corridors. Since there's quite a lot of looking down on flat roofs, I'm surprised they didn't go for green roofs rather than beach pebbles: however the scheme attains Code 4. Apartment sizes range from one to three bed, including some duplexes and a penthouse on the tower. Since the flats all sold off-plan long ago, I was not able to see inside one: photos show familiar minimal-modern interiors with floor-to ceiling windows, oak floors and, yes, those ubiquitous little skirting boards. No developer likes a shadow gap. On the other hand developers Grosvenor – who took over the original 2004 scheme by GHA from ­Stoford Developments – reduced the number of units to allow more generous spaces and a greater variation of sizes. Automatically-opening windows to circulation areas as part of a natural ventilation strategy feature some very intrusive actuators: in contrast, penetrations of the facades have been avoided by a neat bronze vent detail designed into the window heads.
Spec apartments are, in the end, always unsurprising: they are a currency, they just have to be big enough and well enough finished. Thank goodness for the social element here. Parkside Place is at its most successful urbanistically. It slots into its place in the city with assurance. It seems of an appropriate scale and form on the corner of this large open space. As for the fire station – that's nice. It's incorporated without apology and gives the whole place a shot of energy.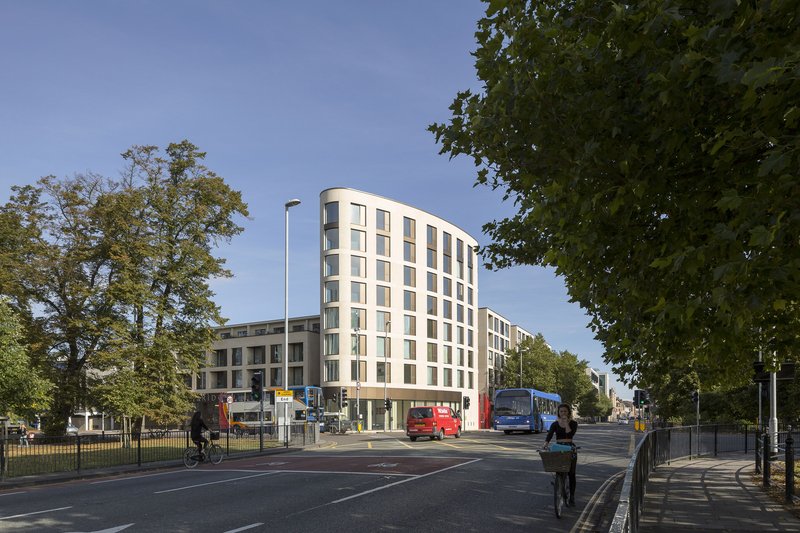 On this busy corner of Cambridge, Parkside Place acts as an urban anchor.
Credits
Client Grosvenor
Architect and interiors Glenn Howells Architects
Structural engineer WSP
M&E engineer Hoare Lee
QS EC Harris
Contractor Willmott Dixon Housing