Rose and Richard Upton wanted quite different things when they extended their traditional oast-house home in Kent. Learning to trust their architect, Duggan Morris, produced a house to satisfy them both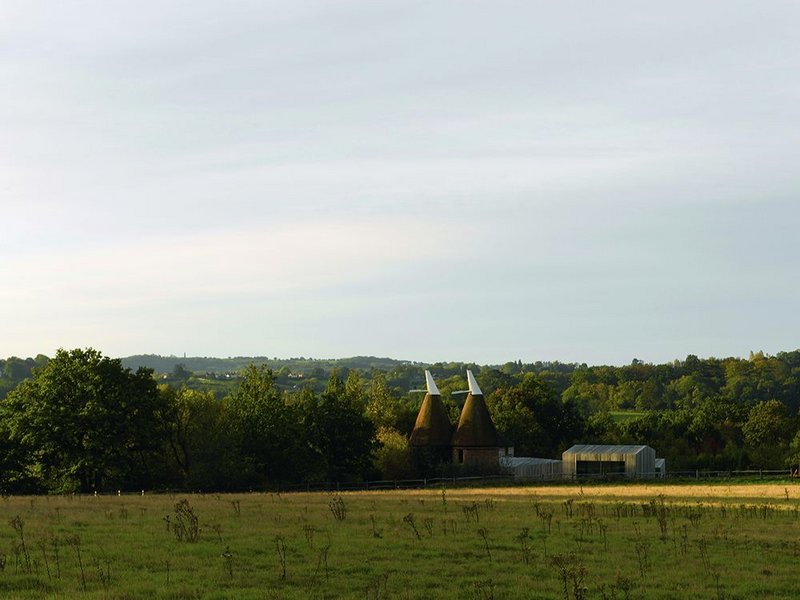 Fitting into the East Sussex landscape: a cluster of 'agricultural' buildings and two old oast houses.
'If joe and mary had to write a psychological profile of me and Rose I'm sure they could,' says Richard Upton. Joe Morris and Mary Duggan designed the Manser Medal-shortlisted Old Bearhurst for Upton. They turned it from oast houses and a pretty little cottage to a modern, folded, faceted country house with everything bar a swimming pool. And oast houses too.
It sounds a little brash and that's how Upton can come across too. With a tan under his suit collar his enthusiasm can sound like developer's sales patter. He started residential developer Mount Anvil with just £2 before going on to set up the Cathedral Group, which puts together property deals with local authorities and ambitious designs from its office in London Bridge. But an hour's train ride away in East Sussex he emerges as quite a different character. I was expecting to see a sports car at the station but instead he picks me up in an olive wood and CorTen Land Rover, handbuilt in France by an engineer-artist, François Hameury, who he clearly reveres.
So let's rewrite that description of the house. This is a seriously designed home that draws out the best of the old, much-altered house, while embedding elegantly thought-through spaces into the landscape. It is perfect for fun, family living. And yes, caters for one or two interests and aspirations such as collecting cars and keeping fit.
The plan is simple. Its beauty is not. It is in the different ways one can read it: sightlines into the playroom, the relationships between cooking, talking and eating, the light and dark rooms, the old and the new character, the three courtyards that take on characters of their own. Back to the plan: the old house becomes a cosy lounge room downstairs incorporating the base of one of the oast houses. Climbing up the staircase in the other you reach a circular children's bedroom and a larger main bedroom – both rising into timbered roofs. At the opposite end of the house are two storeys with garage, gym and laundry dug into the land and guest bedrooms above looking out over meadow one way and garden the other. Joining the two sections is a living space, or 'day room', arranged around a central courtyard. In it, kitchen, snug and playroom flow smoothly along with the concrete floor. The wood-lined study sits to the side. This is for Rose Upton's freelance TV reporting prep and novel writing.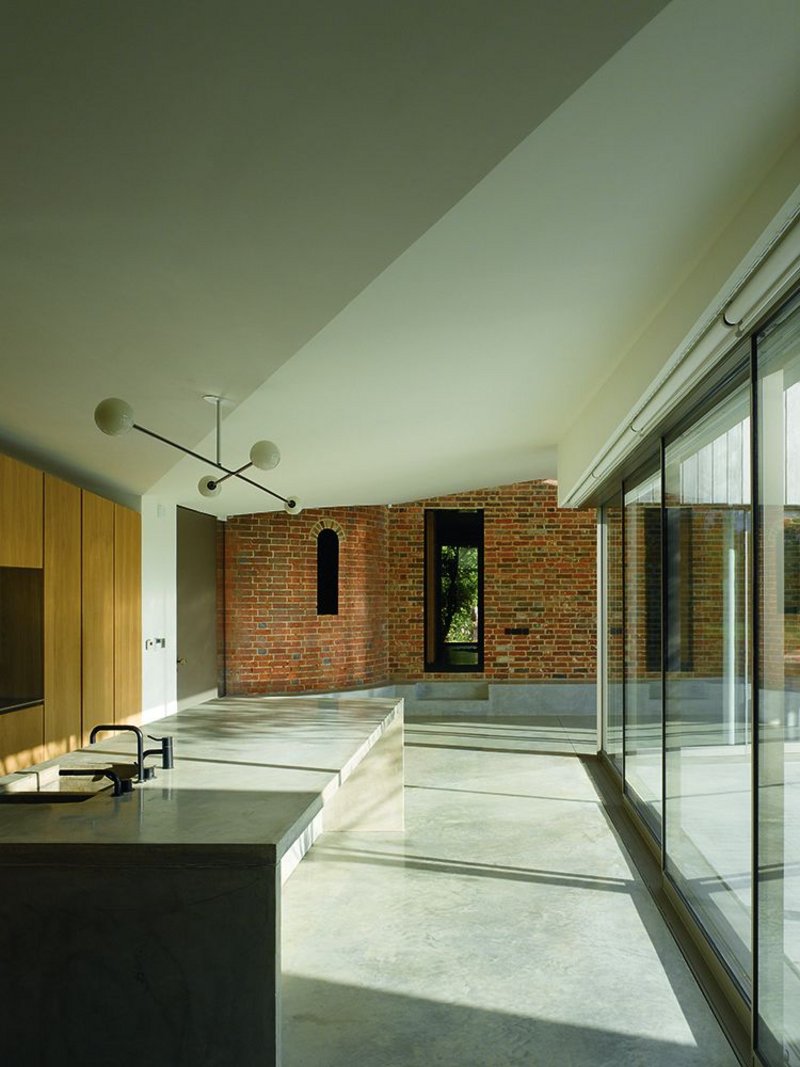 'Kitchen' in the day room. Beyond, the concrete datum hints at how it has been dug into the ground in deference to the old barn and oast houses with their brick walls. The main entrance is to the far left.
Rose and Richard Upton had been living in Old Bearhurst for seven years before they finally decided, with a second child on the way, it was time to extend their home rather than move or stick with the existing two bedrooms and a box room. 'It was the biggest risk ever,' says Upton. 'Rose and I have quite independent views. She liked the cottage with its leaded lights and mock inglenooks. She liked its richness. I like contrast and composition. And Mary and Joe were obviously not going to do a pastiche barn thing.' But he was convinced Duggan Morris was right for the house, having followed a recommendation from Morris' old boss Paul Monaghan at AHMM – who Upton respects for his thoughtful human approach.
'The first drawings read like a horror story to Rose,' says Upton. He himself admits they were 'clunky and boxy'. But when Duggan and Morris came down for dinner, their leading questions revealed the way the Uptons live and work together and how they were likely to be with their children. 'We asked for some things that in hindsight were totally impossible. And they were just ignored. We asked for things too early, we wanted to apply architecture to it, this window, that floor. We were excited,' Upton explains. Once there was a level of trust he saw the magic of the design emerge along with some of the best of the things they had asked for. 'It was a big leap of faith,' he says. The sunset lighting up the sitting room (he wouldn't have known the sun path); the delicate cherry in the central courtyard; the angular pipe and bulbs light above the kitchen counter rather than an ornate historic piece. Rose for her part persuaded Duggan Morris that rough sawn oak weather boarding was the right way to clad the old building rather than wrapping it in the engineered timber of the new. So with the brick base, patio and planting it retains its rather lovely cottagey feel.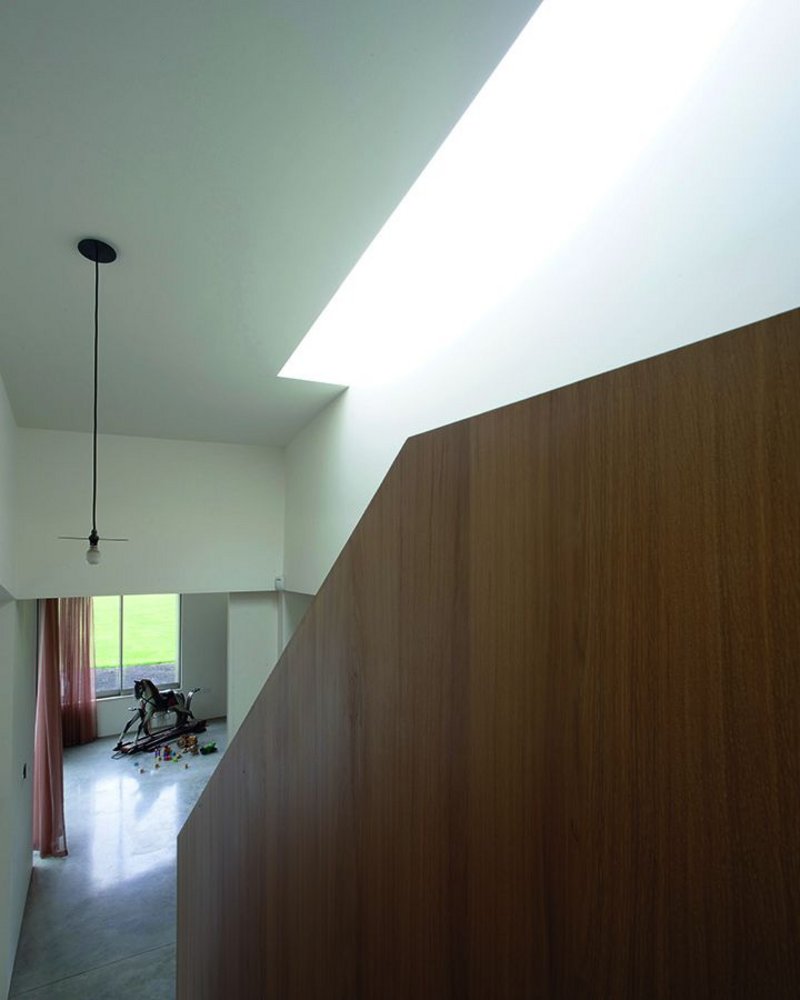 This staircase is treated as a piece of furniture inserted into the building – rather like its neighbouring kitchen cupboards where this effect is highlighted by back lighting above.
The Uptons also brought in Jeremy Pitts who designs with huge pieces of timber. The snug is built around a table with the cracks in the English elm chosen deliberately and held together with butterfly keys in dark timber. In the children's room a generous, handsome, slightly rustic bunk bed nuzzles into the curve of the walls. This is a room of thoughtfulness thanks to Pitts and the Uptons, a hand-cranked lift joins upper and lower beds while a camera obscura projects the sunrise onto the wall.
Duggan Morris' own house and its Manser Medal winning Hampstead Lane House were rigorous, and lived in by rigorous architects, there was neither the inclination nor the space for anything too esoteric or whimsical. Old Bearhurst has Duggan Morris trademarks – like the kitchen as wall and solid counter – but in this house a complex rusted sculpture by Hameury sits at the centre of the stair. Fragments collected in Cambodia become part of the house along the cross cutting axis: a head of an ancient Angkor king just visible through a knot of wisteria, an intricately carved door installed a black metal doorframe that cuts into the wall of the old barn, the copy of a 12th century stone carving; and then views beyond to a pond opening up. Sitting in front of the huge fire hood in the lounge room you see through the back of the fireplace into the snug and beyond, over the fire, into the courtyard and playroom. These axes, the sun path, the views through the windows of the very different spaces, the Ashdown brick wall meeting glass alongside the inverted butterfly pitch between old and new; each stretches the spaces and house beyond their bounds, lengthening and foreshortening. It is intangible, rare and a source of daily delight. Photographs cannot capture it.
It was not just an everyday project for Duggan Morris. 'We had to turn over every stone, explore and invent to make them want to love this project,' says Morris when I ask him what the hardest part was. 'Richard was always after something amazing,' he says. 'He was more creative and risk-taking than many clients.' It may seem an easy thing to spend £1.3 million on a home if you have it. But early on, Upton took Duggan Morris to task for its traditional multi-disciplinary design team as being unaffordable in recession. The house's budget was Upton's capital in a tough time when he was worrying about being able to pay all Cathedral's staff. There is no sense of that knife edge but then again there is no unconsidered excess.
The delicacy of natural planting that was needed on previous projects to feather the hard edges of Duggan Morris' rigorous use of raw materials suggested that stepping up a scale might prove a struggle. Old Bearhurst shows otherwise. The spatial qualities here could easily bring larger environments to life. Upton is one of those developers who is intent on making sure that will happen. Duggan Morris is working with him and Cathedral on the Vinyl Factory development in west London, along with AHMM and Studio Egret West. Collaborating on the design of his own house has given Upton how a new insight into design and the architect's art. 'It has taught me about the composition of space, and to build trust earlier and let architects fly,' he says. 'It has taught me how to give an emotional brief.'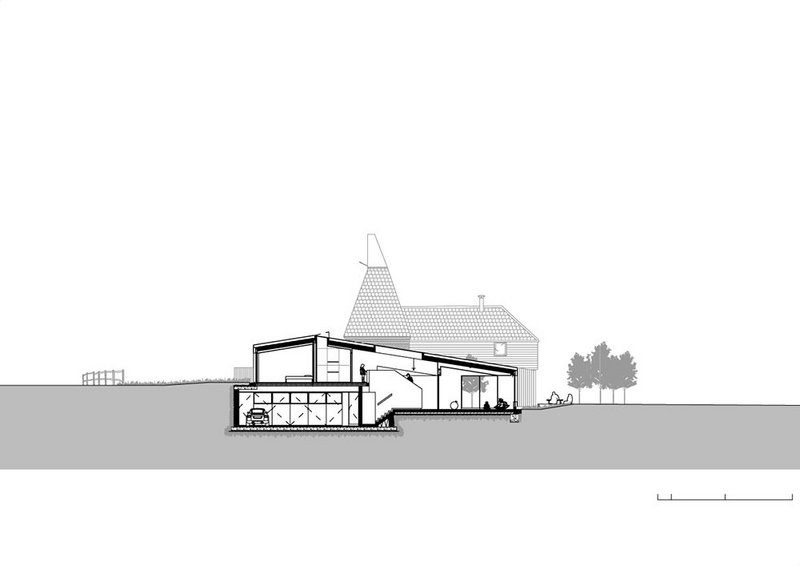 From the day room into the annex is half a level up to guest rooms and half a level down to the garage, gym and laundry.