Coin Street's latest addition by Benjamin Barfield Marks only has a five year licence, but it's a design worth keeping for much longer than that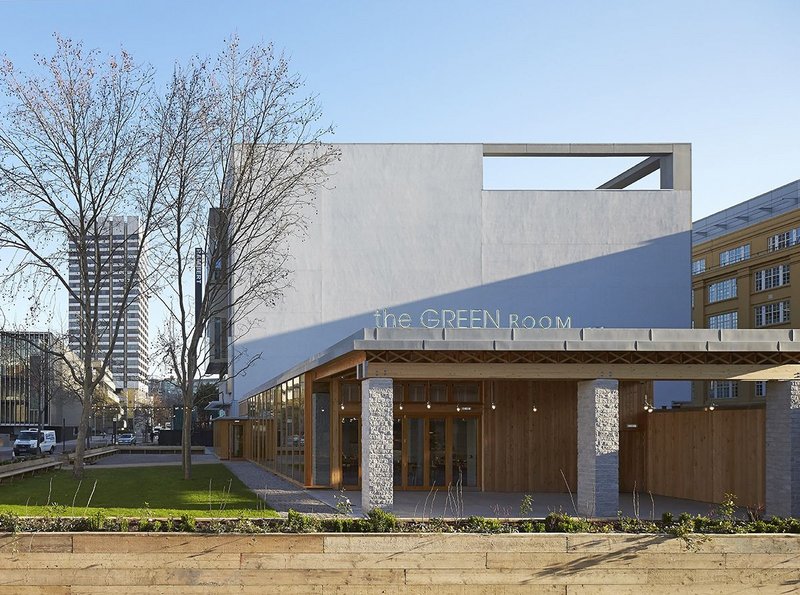 New, temporary, good and very visible, the Green Room is a satellite restaurant for the National Theatre.

Credit: Hufton + Crow
There's an interesting territory to be explored that lies between the pop-up and the 'permanent'. This is the world of the more conventional temporary building, the kind that wins a licence for five years or more – but can end up, with permission, lasting far longer. This makes it possible to build with confidence, especially – commercially speaking – in an urban area with a lot of passing trade. Hence The Green Room restaurant on Upper Ground, right behind the National Theatre. Its designer, Benjamin Barfield Marks, works as a project manager for Coin Street Community Builders, the remarkably patient and successful social-enterprise landowner and developer here for many years.
Something familiar about that name? Of course. Barfield Marks is the son of architects David Marks and Julia Barfield, and is still training to be an architect – he has Part 2. In the meantime his employer, RIBA Honorary Fellow Iain Tuckett of Coin Street, saw no reason not to give him an opportunity to exercise his practical design skills. The Green Room is a classic 'meanwhile use' building, and both Barfield Marks and Coin Street know all about those. Come to that, his parents' nearby London Eye famously started off as a temporary-licence structure (five years again), and won permanent planning permission after only two.
That's not the plan here, mind. It's a composite structure of steel, masonry and timber – a lofty single-storey pavilion on the patch of land between Allies & Morrison's new Rambert HQ and Waterloo Bridge. Its permanent successor building is already lined up, but must take its place in the development queue. Everything being built here fits into an overall masterplan by Lifschutz Davidson Sandilands for Coin Street's mixed-use 'terrace' of cultural, residential, leisure and commercial buildings on the site of long-vacant plots. Appropriately enough, this plot of land was for nearly three decades occupied by Coin Street's own temporary offices, including a Walter Segal post-and-beam kit building. Thirty years? That's longer than some 'permanent' office buildings in the City of London.
When Coin Street finally built itself a permanent HQ by Haworth Tompkins nearby, the Segal building stood empty – until Tuckett offered it free to anyone who would dismantle it and take it away. Marks and fellow student Matt Atkins accepted the challenge, got a team of volunteers together, and reassembled the building in Stockwell, south London, as the Oasis Children's Venture, a youth centre in a park with adventure playground right next door to the Marks Barfield family home. Upgraded to modern regulations, it's the best kind of direct recycling. And the best kind of job reference, you might say. Tuckett was so impressed he gave Barfield Marks this new £740,000 building to do on the site of the one he took away.
The photos say it all, really. There's nothing fanciful about the Green Room, which is being run as a satellite restaurant by the National Theatre, so giving it an income stream from people who don't venture into the theatre complex. Marks originally envisaged a loadbearing masonry structure to the principal columns, but the design-build contractor opted to clad steel columns instead. The stone is recycled granite paving setts from the riverside walkway and is used as a podium for the bar as well. The floor is polished concrete. Furniture and lighting is from the National's junkrooms.
With simple cross-grid of lightweight timber beams and framing, the Green Room is transparent on its public faces – including a separately expressed entrance lobby. But on the services side, where the kitchens also sit, it is largely closed, but for a clerestory. This side also backs onto a work site for the next phase of Coin Street's development. The roof continues westwards as a canopy so that the restaurant can spill out into gardens when spring comes.
Straightforward it may be, but the Green Room has a real civic presence on this key site, acting as a buttress of sorts to the (equally temporary) white flank of the Rambert building behind. It is well proportioned, a nice place to be. And in five years' time, if there's any justice, Barfield Marks will be busy on more 'permanent' projects. Though I wouldn't be surprised if the Green Room found itself rebuilt somewhere else.
---