Frank Gehry's Paris gallery, though apparently broken, is complete, but its dramatic facade is just an elaborate cloak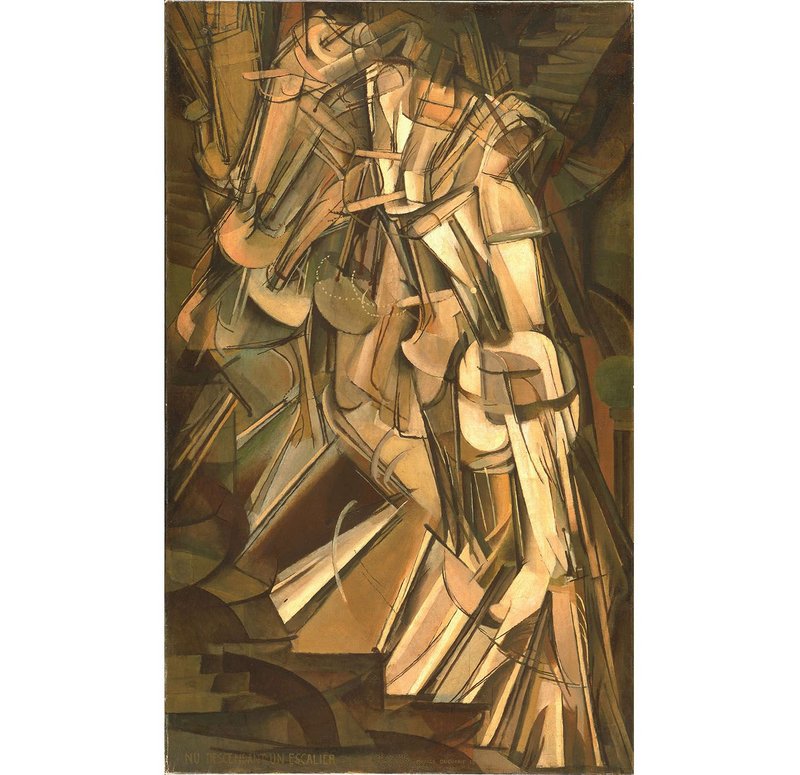 Nude Descending a Staircase, Marcel Duchamp, 1912.
I've been six hours in the Pompidou at the Frank Gehry and Marcel Duchamp shows, and I've hit the point where it's hard to tell which is which. It seems there's a lot the two have in common – not least their production levels. There's something too of Duchamp's 'ready made' in Gehry's early work; the use of 'poor', generic materials like steel fencing as symbolic elements in his home, massive binoculars appropriated as the entrance to the 1991 Chiat/ Day building or an aeroplane pinned delicately like a butterfly on the side of his 1984 California Aerospace Museum. Gehry's 2007 turd of a proposal for Andorra's National Art Museum is as visually shocking as Duchamp's 1917 urinal 'Fountain' – which turned him into modern art's enfant terrible and set the precedent for what the idea of 'art' might be – a role that some might say the 85 year old Gehry parallels in architecture today.
Analogies apart, there are also visual similarities. I'm doubly aware of this later, standing in front of Paris' Fondation Louis Vuitton at the city's Jardin d'Acclimatation, which, with its fractured carapace of huge glazed curves rising from the foot of a grand stepped water feature, bears an uncanny resemblance to Duchamp's Futurist 'Nude Descending a Staircase' (1913) – except here she's fallen down and is lying at its foot. Even so, it's an enviable position. The Jardin, strolled by Proust and once the site for a human ethnographic 'zoo', has the faded feel of Coney Island or Battersea Park; but technically it's in the Bois de Boulogne – Paris' huge naturalistic green space set out in 1852 by Napoleon III. Gehry's reported €100m vanity project for LVMH's Bernard Arnault, replacing the 'asbestos-riddled' Bowling de Paris, aims to bring cultural clout to the Bois' poor cousin, and is part of a wider regeneration of the 20ha gardens for Paris, which will inherit the building after 55 years.
Gehry's pioneering Digital Project software, exemplified by the mind- bogglingly contorted projects on display in the Pompidou retrospective, is as evident at Louis Vuitton as in any of his later work; but in its display of sheer possibility, it also highlights Duchamp's problem with the art of his time. From one angle, the show's huge model of the Bilbao Guggenheim even resembles the splayed thighs of Gustave Courbet's torso in 'The Origin of the World' (1866), the eye drawn to the thin slit of atrium glazing as unavoidably as it is to Courbet's disarmingly anatomical delineation of the female sex. The painting provoked Duchamp to vehemently object to the idea of appealing to the viewer on a purely visual level – what he termed 'retinal art' – so much so that in his own work, he vowed to 'put painting once again at the service of mind'.
Yet there are signs of a retinal approach at Louis Vuitton. Gehry works very much on a 'take it or leave it' basis; his recent 'showing the finger' to a journalist who asked what he thought of people dismissing his buildings as 'spectacle' is the kind of response we've come to expect of our greatest proponents of the art. After all, the Digital Project has allowed him to create what he wants exactly how he wants it. On the ground floor of Louis Vuitton, one of the 11 gallery spaces he's created is devoted to tracking, in models, the thinking Gehry went through to reach the final building form; certain things clearly informing the design from the start. Planning constraints dictated the 11,000m2 area and 'one storey' height of the new building (both, apparently, to be no greater than the demolished bowling alley), and Gehry has clearly used ingenuity to surmount them. First, he sank the building into a three-sided box of retaining walls – the fourth side the stepped waterfall – then he applied some creative readings of mezzanine planning guidance to squeeze a sizeable 43m high, technically one-storey gallery on the site. But with a relatively simple programme of orthogonal galleries jostled together, an auditorium at the waterfall's foot, restaurant and circulation, the models suggest that volumetrically, the building was actually there at an early stage. All the time and effort, it seems, was expended on the development of its 'second skin'; the look it might have, how it might inform the gallery volume and how much it might be free of it.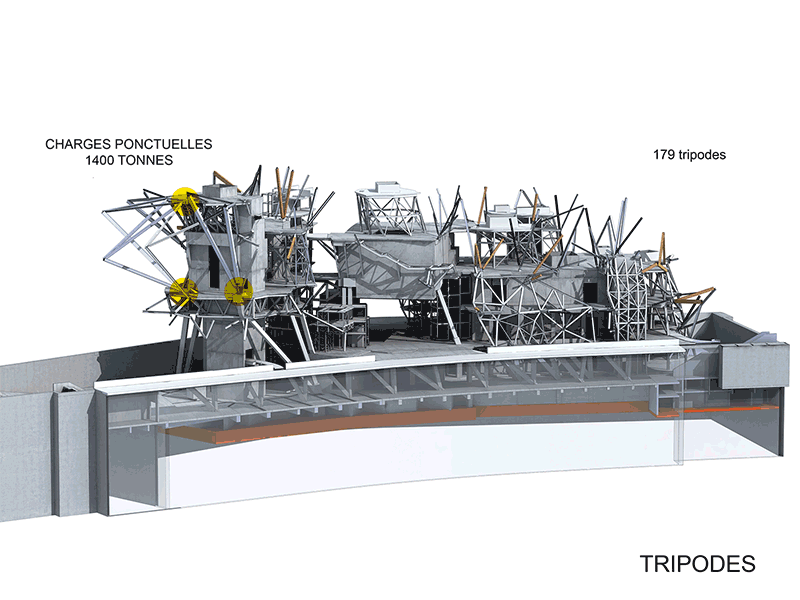 Louis Vuitton construction sequence showing structural hierarchies.
The structure itself is a hybrid one. Lower levels and gallery spaces are of reinforced concrete, but over 1,400 tonnes of steel is appended to this, to create Gehry's circulatory twists and turns, either clad in Ductal or glass, to create the final elevations. Steels holding very chunky curved LVL timbers in place frame the Foundation's 12 glass 'wings', of 3,600 unique curved fritted panels. Inside, Gehry chooses to make light of this complexity; in fact internal entrance and circulation areas seem lacklustre, prosaic even where you'd expect them to be most playful, but externally it's a riot of steel, timber and glass. LVHM's project manager talks of 'structural hierarchy', but if there are rules, Gehry, like Duchamp in his '3 Standard Stoppages', is playing games with them – details like bolted heavy steel beam end plates fixed to the cladding face rather than the concrete behind, fragile and unsettling in equal measure. At the beams' other end, the curved translucent glass facets, while defining the external form of the building, have a strange relationship with the many external, stepped viewing terraces, offering controlled views out, or closing them down altogether. From below you see this thick skin as a grand gestural indulgence, shading but wholly separate from the building, alluding symbolically to icebergs, clouds or the boats of which Gehry is apparently so fond; they're impressive, engineered, and functionally redundant.
But Gehry's right – you can take it or leave it. Bilbao looks like Duchamp's 1912 King and Queen Surrounded by Swift Nudes, and The Fondation like Nude Descending a Staircase. Small difference, one might argue, but it doesn't explain why one works for me and the other doesn't. So perhaps it's that Gehry's best projects arise from a keen analysis of context – be that physical or cultural. Ones that resonate stem from the intimacy of his own home, a play on the West Coast's postmodern emptiness or the considered stitching together of space with titanium tendrils within a declined industrial city as at Bilbao. New York's Beekman Tower, a Chrysler building caught in the Fannie Mae meltdown, stands as a 21st century testament, if any were needed, of our ultimate vulnerability. The Fondation Louis Vuitton however proves rather more elusive as an idea, a rarefied ark for art cast adrift from the city on the edge of the Bois de Boulogne, and sailing high above the trees; feeling as remote from their verdant canopies as it is from the centre. Given that condition, its destiny is to be a self-referential piece, only negotiating its relationship to itself and how it should 'look' – evidenced by its many iterations in model form: the wilful tectonic shifting of huge glass plates from here to there and back again as a purely formal, retinal diversion.
In 1923, Duchamp, bored by years working on his 'Bride Stripped Bare By Her Bachelors, Even' (The Large Glass) , declared it 'definitively unfinished'; ironically only considering it complete when its two huge painted panes were shattered in transit back from a New York show. Duchamp would spend 10 years piecing together the fragments; aware as he was that this image of an impossible machine, set within its metal border, was changing the framework in which the world understood the concept of art. On the face of it, the cracked shell of smoothly curved glass, the Fondation Louis Vuitton seems as shocking, decadent and outrageous. But beyond its skin it's quite bourgeois; and critically, it's not shattering our preconceptions but reflecting them.
---
Credits
Architect Frank Gehry
Design team Gehry Partners
Consultant Gehry Technologies
Executive architect Studios Architecture
MEP engineer Setec Batiment
Lighting L'Observatoire International / Ingelux
Civil engineer Setec Bâtiment
Building facade consultant RFR/TESS
Acoustical engineer
Lamoureux (Base Building)
Sound designer (auditorium) Nagata Acoustics
Landscape Atelier Lieux Et Paysages
Theatre/AV Ducks Sceno
Sustainable building consultant S'Pace / Terao
Building maintenance TAW
General contractor Vinci Construction