Norman Foster has made a small but exquisite mark with his Manchester Maggie's Centre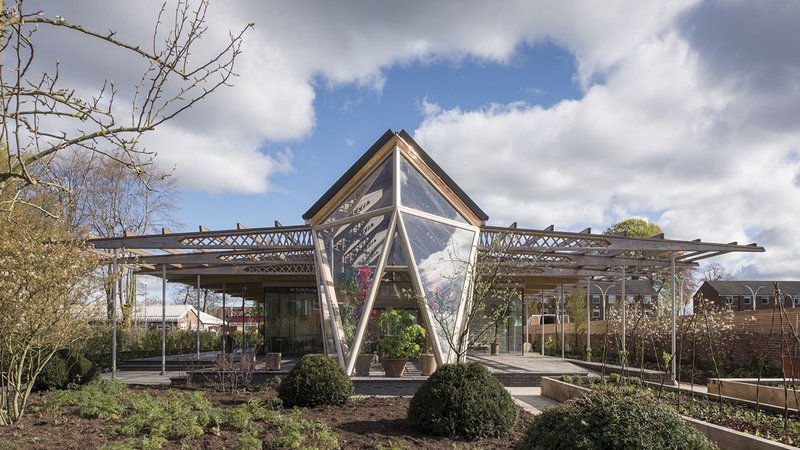 Cockpit end.

Credit: Nigel Young Foster and Partners
Norman Foster's first signature building in Manchester, the city he lived in until his mid-twenties, is a low-lying pitch-roofed suburban affair, tucked away on a leafy Victorian gabled backstreet. It is rare that he gets the chance to build on this scale these days.
His building is on the campus of The Christie, the specialist cancer care hospital in Withington, five miles south of the city centre. Just inside the front door a commemorative plaque lists the building's benefactors. Foster's new addition is named the Robert Parfett Building, bequeathed by his family, in memory of a Christie patient. I feel sure the family won't mind if we call it Maggie's. For it is for patients, family and friends affected by cancer that the Maggie's drop-ins exist. They are all in the grounds of cancer units. Like the Maggie's environment, the care service, benefits back up and counselling are bespoke and special.
The commemoration plaque is of the same laminated timber as the building's superstructure; a working model at a scale of 1:20. It mimics those plastic Airfix aircraft kits, with snap-out parts; columns, beams, branches and nodes, front and back, right and left. It's a playful thing, and so, to some controlled degree, is the building.
The Maggie's ethos, as it evolves, is wonderfully considered, and the various architects' responses to it, from Richard Murphy's 1994 red steel-beamed Edinburgh originator, to Foster's crafted laminated timber wing-and-pillar structure, is a hymnal to more than two decades of architectural variety, flair and fashion.
Foster's is a single storey structure with office space stripped along a mezzanine, tucked in below the skylight. It is, in almost every sense, a domestic building, though the single story is a generous height and the defined dwelling areas, hall, kitchen, dining space and sitting rooms, are loose-fit, light and spacious. At some stage the design team has had the luxury of sitting down with Vitra people and playing dolls' house: 'The Citterio Grand Repos chair and ottoman over there, Suita sofa just here, chaise longue, by the log-burner. The tall Aalto stools at the breakfast bar, work with the Aalto pendant lights over the dining table'. What a shopping day that was. And if you can't quite place the 12-seater oak dining table and the light and dark timber sideboards, it is probably because they are bespoke Foster designs. Oh, for such depth of pocket.
It is Maggie's, and it serves a community otherwise stressed and vulnerable. It is a crafted structure largely fabricated in a Swiss factory to models, drawn and made in Foster's studio. The superstructure repeats 16 times, in 3m bays. If you were blindfolded and guided into one end of the space for the big reveal, I bet that, like me, you would chuckle gleefully. Or at least, break into a broad smile. Buildings aren't commonly like this. They don't stand up on slim latticework legs with slender ankles. They don't rise to cut diamond roof-lights. They don't disguise walls as gardens, run dark brick floors in-doors from terrace to fireplace. The drawings, especially those annotated and coloured by NF, tell the building's story far better than I.
I'm sitting on a stool at a stone-topped table in the greenhouse prow. Project architects Darron Haylock and Diego Alexandro Seisedos are enthusiastically talking me through details of what, for them, has been a three-year project. Structure is laminated veneer lumber by Blumer-Lehmann of Switzerland, and SIPS. Exterior cladding is Siberian larch clapboard – painted to resemble limed. Roof is clad in bronze. Essentially, there is a dry side and a wet side to the interior, 2:1. The building is 2,000m2 including 500m2 veranda and 230m2 terrace.
The table I am seated at is Burlington stone from Cumbria. The stool is one of a set cut from a tree felled on the site. Tapering terracotta-painted steel legs, that are wheeled and locked in track, support the blue-green Burlington-stone top. If the weather is fine, potting and grafting can all be wheeled out onto the terrace, which is locally fired dark black brick. The garden, as at the London Maggie's, has been designed by Don Pearson Studio. It will provide fresh vegetables for people using the building.
Terracotta and green dominate the interior palette. On Maggie's behalf Sandy Nairne, former director of the National Portrait Gallery, has chosen, with Bridget Riley, a suite of her prints to dance along one wall. I have rarely seen the artist better displayed. Other rich prints and paintings are from the Whitworth collection at Manchester University.
In these secular days architects are rarely invited to consider the sacred and spiritual. We don't commission churches anymore. However, when it comes to health care and wellbeing there is much to be said for inviting the very best practitioners to address just such qualities. Norman Foster has introduced space and volume, lightness of structure, and light, into such public behemoths as Stansted, the Sainsbury Centre for the Visual Arts and Duxford Air Museum. Here at Maggie's, on a tight suburban side street in Manchester, he has made, on a domestic scale, a spiritual building: a retreat in every sense.
---
IN NUMBERS
Site area: 1,922m²
Total building area: 500m²
Architect Foster + Partners
Structural, 2nvironmental and fire engineer Foster + Partners
Quantity surveyor Gardiner & Theobald
Landscape consultant Dan Pearson Studio
Lighting consultant Cundall
Planning advisor IBI Taylor Young
Approved inspector AIS (Approved Inspector Services)
Greenhouse consultant Fleur de Lys
Main contractor Sir Robert McAlpine
Timber design and build contractor Blumer Lehmann
---