Restoration combined with playful interventions has renewed the civic status of a grand old library by converting it to multiple community uses.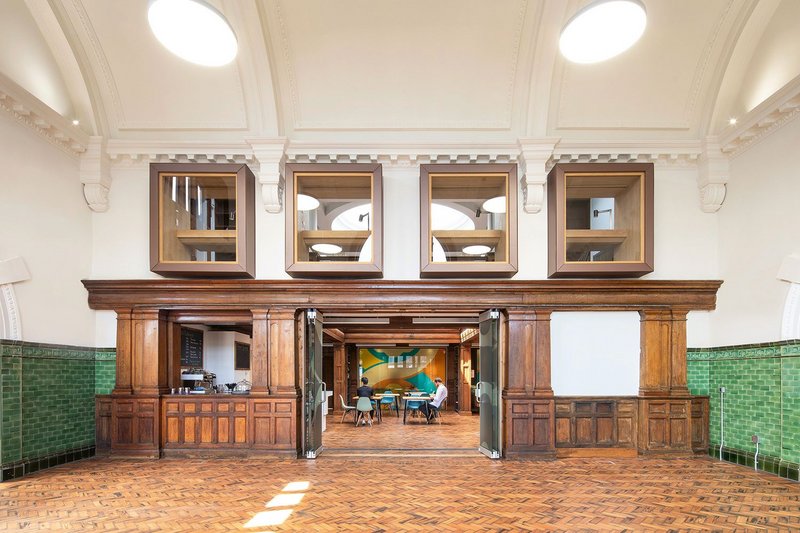 Credit: PAUL KARALIUS
'This one is almost at the end of my street so I've been round a few times, on the last occasion to chase away some kids I saw climbing in with spray cans. It's been in the same semi-stripped state for years and nothing much has happened until recently when all the cherry blossom trees were cut down and red wooden hoarding went up.'
These are the words of one user on urban exploration website 28dayslater.co.uk, discussing the former Andrew Carnegie Library in Tuebrook, Liverpool. The building frequently appears in posts since closing in 2006, with urbex practitioners (who generally respect and don't damage the heritage they visit) discussing its beauty, materials, and impressive civic nature – as well as a reliable alarm system and proximity to the police station.
Their ruinlust photographs record 10 years of theft, vandalism, and water ingress to the grade II listed building, a decade where the local community first lost a building of civic value, then saw it decay into its prominent site, slowly concealed by overgrowth. That is, until OMI Architects' red hoardings.
Appointed by local charity Lister Steps, OMI set out to restore its civic-ness, weaving together a mix of community uses including a nursery, rentable workspaces, and a multi-functional community hall. Working to a SPAB philosophy of minimum intervention, a gentle touch respects the existing interior volumes and materials – salvaging and restoring as much internal fabric as possible. The saturated wooden floor was lifted, dried, re-laid and sanded, and rich green wall tiles steam cleaned and damaged sections repaired. Windows were replaced with double-glazed, manufactured by REA Metal Windows, which made the originals and still operates less than 500m from the building.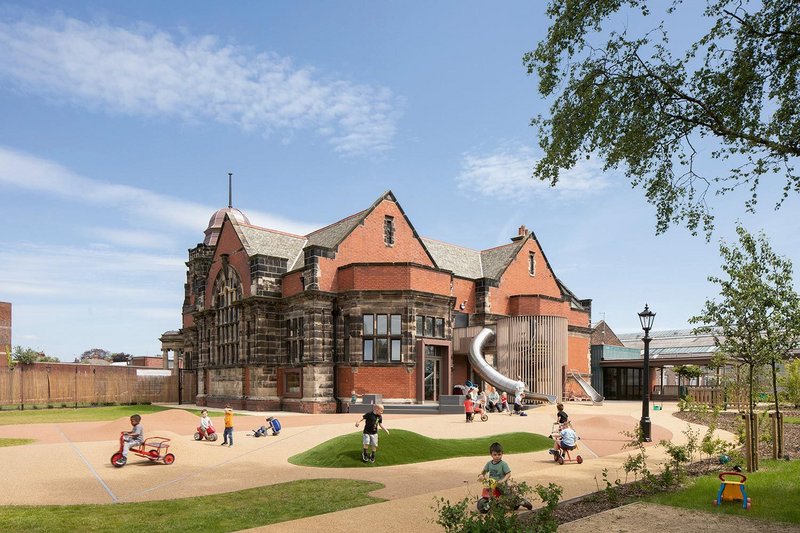 Little seems different from the outside, but the Old Library's internal changes are intimated by the fun kids' slide.

Credit: PAUL KARALIUS
The centrally-placed nursery adds a complicated ingredient to the architectural mix, with design needs that don't neatly fit the existing architecture or the brief's other spatial uses. It has led to what project architect Stuart McGrath calls 'a two-faced building – open and accessible to the public, but also private and secure for childcare', with the ground floor effectively diagonally split into distinct spatial uses.
Public visitors enter via foyer and corridor, arriving at the central café and reception in the former lending room. The new reception desk, servery and staircase are unashamed modern interventions, highlighting new functions but not competing with the existing rich fabric.
Adjoining, a former reading room has been restored, offering space for support groups, community clubs and private hire. Upstairs, rentable hot-desks surround the reception area void with four set into refurbished book-cases, and four oak designs inset in clerestory windows overlooking the community space. Steps lead to the tower room, now a meeting space.
The children's space is altogether different, requiring specific design solutions. Original high-level windows offered perfect reading light for library users, but are less suitable for baby, toddler and pre-school occupants. OMI cut new windows and doors through the deep walls, offering views and access into landscaped play areas, and sufficient depth for reading and play nooks. A Peckham-Library-like pod on stilts fills the space, not only containing rentable offices accessible from the first floor but also making a joyful addition to the kids' space. Wrapped in fabric acoustic panels with strip lighting to the soffit, it delivers a lower ceiling height for the children and helps turn what would be a daunting and echo-filled space into one better suited to play, learning and interaction.
Externally, the building has re-found its civic and local landmark status. All new external openings are framed with a zinc boxing, hinting at a new interior, while a new extension for a children's eating space and kitchen is clad in terracotta tiles, inspired by the green tiling within. Lastly, but perhaps most importantly for some of the new occupants, a new external fire-escape staircase doubles up as the route to an exciting, curving slide.