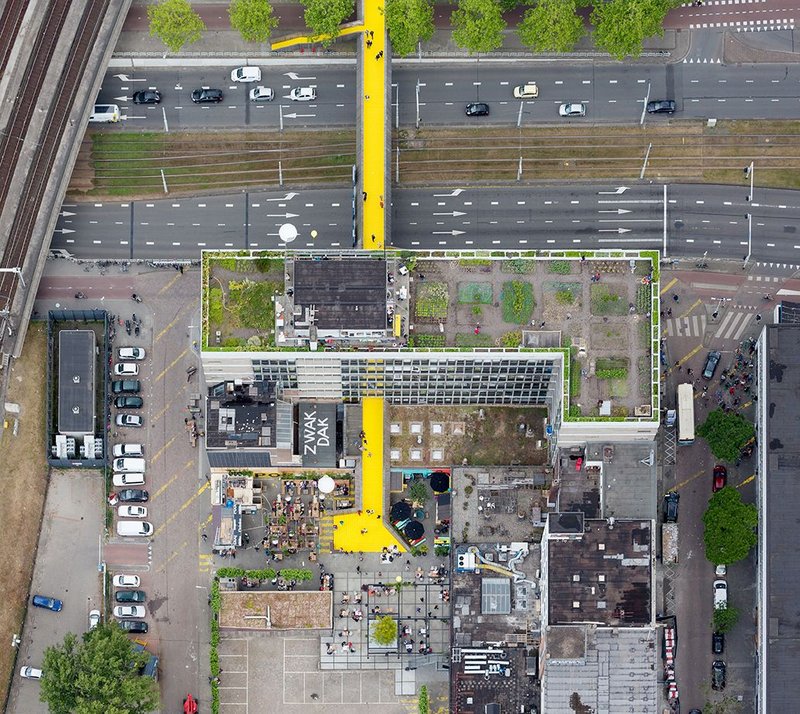 Test Site Rotterdam.

Credit: Ossip van Duivenbode
Ossip van Duivenbode was just nine years old when OMA's Rotterdam Kunsthal opened in 1992. Then, Rem Koolhaas was busy deconstructing not only spatial conventions, but their modes of representation too, commissioning young artist/photographer Hans Werlemann to capture its spatial complexity. Ten years later, as an architectural history graduate and then photographer, he'd come to see Kunsthal as one of the Netherlands' most important modern buildings, striking programmatic elements together until, in the ensuing friction, it sparked a whole new way of experiencing space.
Maybe that fuse glowed all the brighter in Rotterdam due to the dearth of serious programmatic analysis that followed the rushed post-war reconstruction of its city centre; exposing in the intervening years a ground plane of problematic public spaces and urban connectivity. It seems to have been topmost in van Duivenbode's mind when he sent us his photograph of the city's Schieblock.
An unprepossessing, derelict 1960s office block, this site exhibited all the symptoms of social blight; so much so that its owner, even stung by the recession, was keen to proceed with its demolition regardless. But then young local architect/activist ZUS set about raising €1 million to transform the building into start-up offices, galleries, commercial spaces – even a roof garden. Its pièce de résistance was the Luchtsingel – a pioneering, crowd funded, yellow timber bridge driven through the fulcrum of the block and spanning a divisive highway to help link the city centre with areas like Oude Noorden, where OMA's offices can be found. At the foot of its steps on a weekend its beer garden heaves with the city's design set partying. 'It was an ugly space made beautiful through nothing but the overlay of a good programme,' remarks van Duivenbode. 'In its own way it's a kind of anti-architecture.'
---