At Wilton's Music Hall Tim Ronalds Architects perfectly performs the delicate balance of improving without interfering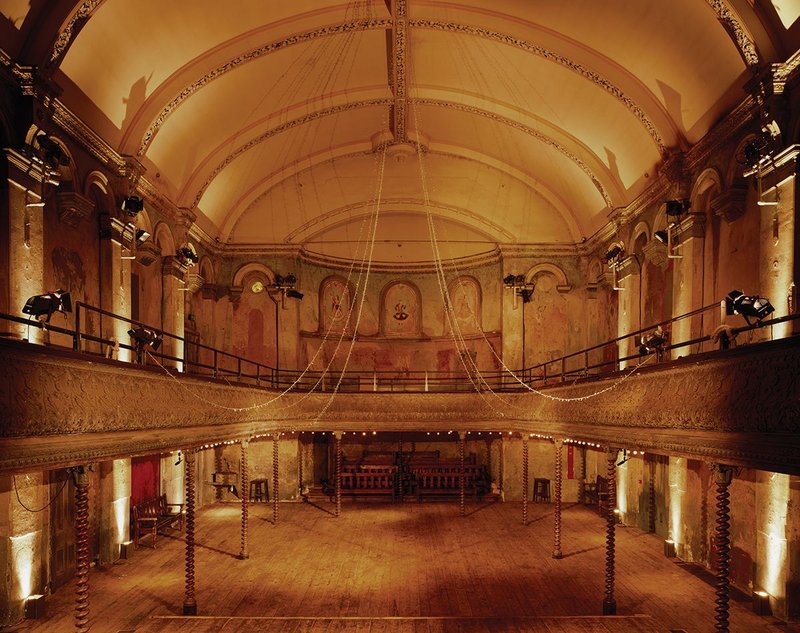 What's changed? Everything you can't see: H&V, sound insulation, cabling, structural reinforcement. What's not changed? Atmosphere.

Credit: Hélène Binet
This is the subtlest architecture imaginable: the architecture of invisibility. It is conservation but not restoration, a matter of arrested decay. A semi-ruinous small theatre building, a 'found space' which by sheer force of will had remained open to the public, is now safeguarded, but looks nearly exactly the same as it did before it closed for its £3m upgrade.
I know this because Wilton's Music Hall in London's Wapping was, before this work part-funded by the Heritage Lottery Fund, a place I periodically visited for performances, particularly music, and informal meetings, its peeling bars being a favoured haunt of journalists from the huge former News International complex nearby. Now that those newspapers have moved to London Bridge, Wilton's will be looking to the redeveloped Wapping site, masterplanned by Patel Taylor, to replace that daytime clientele alongside its new programme of ambitious productions.
In a way this is less about design than stewardship, since Tim Ronalds Architects has been working with Wilton's director Frances Mayhew since 2006, through various rounds of funding applications. This is a fragment of old London – Graces Alley with its terrace of houses in which the mid-Victorian music hall was inserted – that is preserved among so much that is new here, built in successive waves from the late 1970s onwards. The Docklands Light Railway, for instance, rumbles close behind it. The former News International across the nearby Highway was built on the site of the London Docks with their ranges of warehouses by Daniel Asher Alexander and John Rennie. But for the odd fragment such as Tobacco Dock, the low range along Pennington Street and some retained walls, the docks were demolished in the 1970s and the land later vested in the London Docklands Development Corporation. But this history explains why Wilton's is where it is: the docks and their East End hinterland supplied the audience for John Wilton's music hall of 1853, rebuilt in 1859. It was rebuilt again, largely unchanged, after a fire in 1877, but by then the East End was sliding into poverty, and in 1881 the theatre closed its doors, becoming a Methodist mission hall (until 1956) and rag-sorting warehouse.
Inevitably it was slated for demolition in a 1960s development, being saved by protestors including poet-conservationist Sir John Betjeman. In 1970 comedian Spike Milligan got the BBC to film a variety show there and in 1971 it was grade II* listed. Various phases of holding repairs ensued and film-makers started to discover it. Live performance resumed in 1997 with a recitation of The Waste Land by Fiona Shaw. Broomhill Opera took up residency from 1999 to 2004, after which the Wilton's Music Hall Trust was set up under Frances Mayhew. Mayhew has driven the development of Wilton's ever since.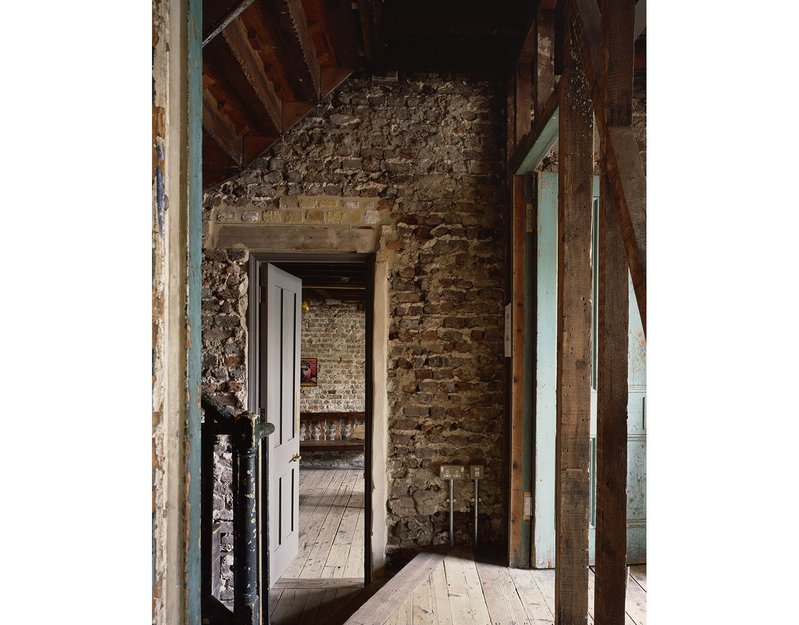 Helene Binet's images capture the colours and textures of Wilton's, forever scuzzy.

Credit: Hélène Binet
In his tender submission of 2006 Ronalds wrote: 'We understand from discussions with Frances that your aim is not to transform the building, not to carry out an academic restoration, nor to equip the hall as a theatre space – but rather to do what is necessary to make the building safe, sound and useable,' adding prophetically, 'the constraint of economy can also help.'
I join Ronalds in the bar one evening, and we proceed round the theatre. He seems almost at a loss for words at first – how to describe a job that has taken so long, been so very fiddly, is incredibly rewarding but presumably massively unprofitable, and ends up, as intended, looking virtually unchanged? The auditorium with its barley-twist iron columns, for instance, looks exactly as it did. But behind the plasterwork and beneath the floorboards is sound insulation, fire-proofing, a proper heating and ventilation system, plug-in points for lighting rigs, data cables, and new timber and steel structure spliced in to hold everything together. Because it really was falling apart. There were joists, says Ronalds, that structural engineer Philip Cooper described as 'failing to arrive at the wall'.
Upstairs (and there is a new stone and timber staircase to aid circulation, adding to what is already a distinctly eccentric set of interlocking and just left-over spaces) previously derelict rooms have been brought into use – most notably a rehearsal room and more bar and entertainment space. There's a workshop in the now damp-proofed basement.
If you ask, where's the architecture in all this, the answer lies in what is not done, as much as in what is. It's hard for a builder to know the level of finish, say, when there are no finishes apart from the odd bit of painted new matchboarding. 'Everything possible was preserved: broken fireplaces, chaotic Georgian brickwork, rotten window frames, fragments of plaster; disused roofs; old railway track built into the works in 1859; pulleys and cables, pipes for gas lighting, wooden mountings in the wall, holes deemed charming and abandoned birds' nests,' notes Ronalds. Salvaged materials are much used, along with new ones, such as cast-iron floor grilles for air movement in the auditorium, that look entirely appropriate. Patch repairs are done in the correct materials. Nothing is pretending to be what it is not, but the overall feel is preserved wonderfully well.
All this was done in two phases without the theatre ever completely closing. Project architect Adam Goodfellow detailed the work mostly by hand, on a drawing board set up in the building. Two builders – one for the main hall, the other for the adjoining houses which are part of the complex – similarly went native. The ever-present Mayhew, who uses charm and persistence the way other clients use money, carried the whole thing along.
Mayhew joins us at the bar. She's finalising the relaunch production of The Sting, and talking about how important it is not to cram in seats for commercial reasons: the sense of space, surprisingly in this tight little terrace, is one of the key attributes of Wilton's, the oblique views through from one space to the next forming a sequence of steampunk tableaux. She's a rare client, one who balances culture and commerce while knowing precisely what must not be lost: the ramshackle decayed Victorian-ness of the whole place.
In a way it's a shame that Wilton's is reborn just at a time when 'shabby chic' is a universally acknowledged decorator style. But this is not purpose-distressing, it's the real thing, adroitly managed. Ronalds, by downplaying his visible architecture almost to zero, has proved exactly what a good architect, with an engaged client, can do.
---
In numbers:
4 years of building work
162 years theatre has occupied site
30 years use as music hall
18 years since revival as theatre
---
Credits
Client: Wilton's Music Hall Trust
Architect: Tim Ronalds Architects (Tim Ronalds, Adam Goodfellow, Felix Lang, Jade Yianni)
Structural engineer: Philip Cooper, Cambridge Architectural Research
Services engineer: Max Fordham
Theatre consultant: Carr & Angier
Acoustic consultant: Ramboll
Quantity surveyor: Bristow Johnson (Phase 2), EC Harris (Phase 1)
Conservation plan: John Earl
Access consultant: All Clear Designs
Main contractor: Fullers Builders (Phase 1), William Anelay (Phase 2)
Suppliers
Phase 1
Slate roof, lead work: SW Roofing Ltd
Steelwork, balustrade: Specialist Welding Services
Salvaged floor boards: Lassco
Acoustic external doors: Clark Door Ltd.
Cast iron floor grilles: Cast Iron Air Brick Company
Ironmongery: SB Ironmongery Solutions Ltd.
Air handling unit manufacturer: Fläktwoods
Attenuators: Caice Design
Radiators: Walney
Phase 2
Rooflights: Standard Patent Glazing
Sarnafil I-Tech: Roofworks
Lime plaster: G Cook & Sons
Catering equipment: Nelson Catering
Traditional masonry: Stone Speights
Stone: Dunhouse Quarry
Reclaimed floorboards: West 7 Flooring
Light fittings: Davey Lighting