Pride and dignity offer a warm welcome at Witherford Watson Mann social housing scheme in Belgium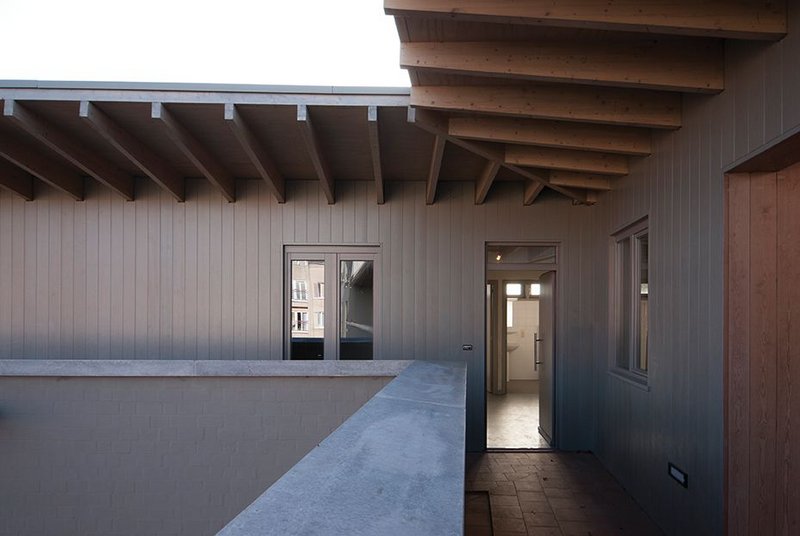 The corner on the first floor has its own character.

Credit: Maarten Vanden Abeele
Is there a stigma attached to social housing in Flanders? 'Not here,' says Nathalie Dupont, rental officer at WoonWel housing association. 'But on our larger projects people hate it.' 'Here' is the unassuming town of Gistel, north of Brussels, and more particularly the 13 homes of Herberg Sint Godelieve. Designed by 2013 Stirling Prize winner Witherford Watson Mann, these delineate a small public square for their elderly residents.
It was an unnecessary question. The first home I visited had a happy pride and dignity embodied in every graceful lace doily and glittering cup and saucer, set carefully on furniture dark with decades of polish. Unlike the familiar council house type in London, there was no sense of incongruity or mismatch between the architecture and interior decor. 'It is a very English home,' occupier Mariette teased English architect William Mann – unaware that he has been based in Belgium for 20 years. But the real object of her focus was the beams of the ceiling. In her single storey ground floor flat and the top floor flats, their loftiness and materiality elevate the spaces.
Not that they need much elevating. In deference to the nearby heritage-protected pub, the windows are not housing association standard PVC but hardwood. Otherwise, though, the housing association standard proves kind in space and storage. In photos of the elevations it looks diminutive; the plans seem barely more generous until you study their dimensions. Each apartment is 76-81m2, with a sensitive juggling of access, privacy, neighbours' concerns and outdoor space for each different configuration. On the ground floor, accommodating the equivalent of a lifetime homes standard cut into excess circulation space, so, bar the broad hall, you walk through rooms. The bathroom is sandwiched between two bedrooms. The kitchen is small: tenants were intended to dine in the living space, but most have squeezed in a table in here. This is where Mariette treats us to coffee and minuscule coconut macaroons.
So much here is about scale. As Mann and I drive the long flat roads across Flanders it seems remarkable that the tiny country of Belgium should have such vistas of openness. But our talk keeps returning to the word granular, how scale and responsiveness make architecture part of its place rather than apart from it. When Witherford Watson Mann won the competition, judge Bob Van Reeth – then Flemish government architect – thought no experiment could be expected here. Perhaps something more subtle then, a quiet step away from the ­formula of four-storey, stacked apartments facing up the street. On the old town boundary it breaks up its urban block into something more manageable.
As interpreted, the brief perhaps called for a piece of town, as well as a series of housing units. A historic inn and a new public space, plus homes for the over 50s. The L-shaped building blocks cup the small public square with its red-clinker brick paving and a picnic rug of grass, studded with young trees. It is a space that needs to be inhabited to come to life, – which it is, in some way, by the homes. The layout allows the existing building its place and draws back the homes and their own small yards to the outer edge of the site to allow the courtyard-square that also generously opens out the street, Tempelhofstraat. It seems of an earlier time, just another part of the town.
Ground floor apartments have doors from the square: their kitchens overlook it too. Living rooms look onto courtyards that one might reasonably call outdoor rooms given the dimensions and sense of enclosure. First floor flats are reversed, with living rooms surveying the square and the roofs of Gistel beyond. Windows at the back are unfortunately high ones for light rather than views to avoid overlooking. But the external front door and the extra elevation onto a brick lined courtyard space echo the freedom of a house rather than a flat. Wide communal staircases have a lofty darkness; they are blown fresh through apertures the size of windows.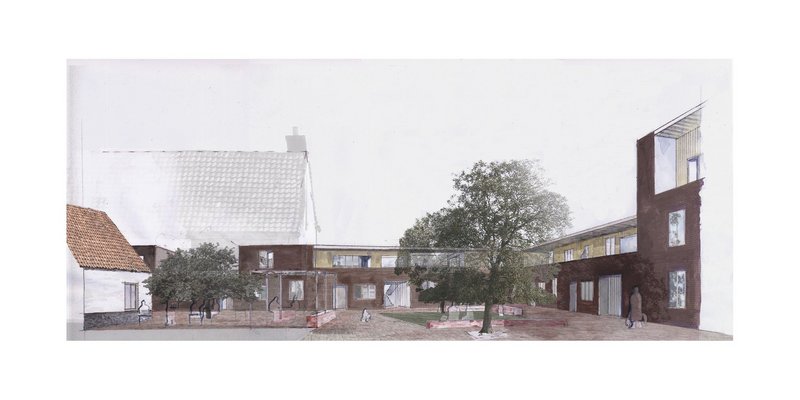 A sunny inn, a court and housing overlooking and contributing to this life.
The project was complex for its size. Planning and grant negotiations held it back at early stages, as did land purchase. So the designs of the 2003 competition only reached site in 2011. Lifts were dropped on cost grounds and the design of pub and public square were parcelled out to local practice Paul Deroose. Unfortunately, connecting up the housing utilities depended on the completion of the square and this, plus contractor bankruptcy, cost the project more time. Having spent 12 years with this small project, Mann didn't favour international expansion when the practice recently reviewed its direction, thinking about the level and depth of understanding you need to design in another culture, even one you have lived in for years.
Witherford Watson Mann set up on the back of winning housing competitions that were never built. This is its first housing project, by conception. It has some of the hallmarks of the firm's Stirling Prize-winning Astley Castle in its material expression and many of the imprints of its poetic masterplanning, drawing out the grain and avoiding the trap of symmetry. Its small scale communal centering hints at how the traditional model of almshouses, based around a shared green, might work in different modern urban condition. In London's Bermondsey the practice has planning for 57 homes for the elderly with those ideas in mind, public mingling with private between street and garden. As with the housing of Herberg Sint Godelieve it is a way of planning, an optimism based in a fundamental belief in human nature and the forms it has given rise to.
The macaroons are gone, but four more flats welcome me as I try to keep up with different decors from glass table modernism to eclectic with tomato plants. But all share pride and an optimism that matches that of the architect.
---
IN NUMBERS
€1.57m contract value
1,459m2 gross external area
£854 cost per m²
13 apartments
---
Credits
Housing client WoonWel
Architect Witherford Watson Mann Architects
Architectural support Bureau Bouwtechniek
Structural engineer BAS/ Dirk Jaspaert
M&E engineer Studiebureau Vandenberghe
Contractor Simoens
Landscape architect (design of public square) Paul Deroose
---