Foster + Partners savoured time and tradition to produce its chai for the Bordeaux winery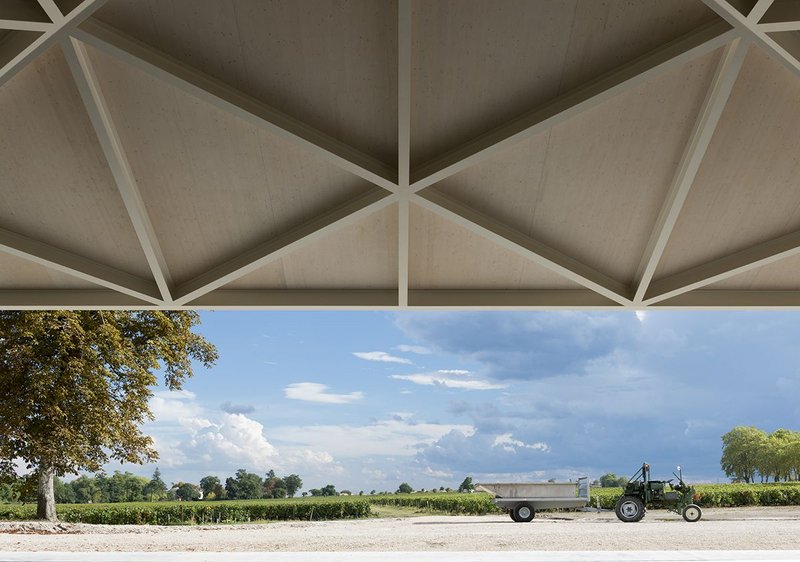 Any architect seeking evidence of money's corrosive potential need look no further than Norman Foster's Stansted airport. Granted, perhaps only those that passed under its vast, delicate 'floating' roof, supported by elegant steel 'utility piers' in the first few years might have got the clarity of original intent. The high-tech roof, information totems, electrics and services integrated into its pier structures created clear views through to the airside and runway; they offered, for people ascending from the train platforms below or arriving by car, formal legibility rarely seen in the airport typology.
Cheap air travel, post 9/11 security and retail demands soon put paid to that view but the latest iteration, courtesy of owner Manchester Airports Group's £80m 'upgrade' beggars belief. The airside half of the airport has been walled off and security moved to the far left of the terminal, with passengers kettled towards it via a huge hanging sign, throwing the strategy off-whack. Worse still, an expanded duty free area winds tortuously around the piers in a riot of tacky granite; above, the great signature soffit is obscured by a black suspended ceiling. It's just as well Foster doesn't fly budget; the sight would probably send him into a tailspin.
That corrosive potential was on my mind after I touched down in Bordeaux, but was quickly dispelled by a fine lunch at Château Margaux: a 2011 white with the starter, 2001 red with the main and the one 'the City of London served the Queen at her 80th birthday' with the cheese. Lunch was in the honey-coloured stone dining room of architect Louis Combes' 1815 neo-Palladian pile, the centrepiece of a 262ha estate that's been producing some of the world's best wines since the 1600s. It was shared with a gregarious Alexandra Mentzelopoulos, daughter of owner Corinne, sanguine Paul Pontallier, chief winemaker here for over 30 years, and Fosters partner Taba Rasti. To our east, beneath a low, wide roof of local clay barrel tiles is Norman Foster's latest project, a 1200m2 chai or shed for the making of Château Margaux's whites; and a 1400m2, 70m long underground concrete Vinothèque for the reds, hidden under the vineyard to the south, alongside the estate's drive.
Wine producers seem to have upped their game lately, with Gehry, Calatrava, Rogers and Foster building for them in Spain and Jean Nouvel in France. Also nominated for this year's Mies van der Rohe award was the radical landscape of a winery by Archea Associati for the Antinoris, the family behind the renowned 'Supertuscans' (RIBAJ, September 2013). But as Pontallier points out, while Château Margaux had been looking to expand its historically sensitive site for years it wanted to ensure that any new building abided by its understated pedigree and avoided ostentation. Its motives were also very different from the Rioja and Chianti; here, there's no hotel or restaurant, neither souvenir or wine shop. The château, he emphasises, is a farming concern with a local labour force of 100 – but a select global clientele. Ironically Pontallier uses the word 'sobriety' to describe the aesthetic – keen that any design should not be trophy architecture, but fundamentally utilitarian. It's the first new building on site since Combes completed the château in 1815.
Foster and the Mentzelopoulos family are personal friends; his family have holidayed there and the new chai was discussed informally before he was appointed in 2010. Since then, says Rasti, Foster's involvement has been consistent, with his many hand-drawn sketches appearing on hotel note paper from Brasilia to the Cipriani in Venice, derived from local barn vernacular, and suggesting the design was actively on his mind despite other, more palpable distractions.
If the Mentzelopoulos' worried he was going to come up with some high tech counter point to the early 19th century estate, they needn't have done. His proposal, adjacent to an assembly of stone estate buildings, doesn't break their eaves heights and melds almost seamlessly with the existing composition.
Like Stansted, it's all about the roof here, except with the edges taken off. The eventual design of 12 organic welded plate steel 'trees', each with curved branches reaching up to engage with a steel diagrid roof, has an almost disarming simplicity. Numerous column and truss options were considered by the practice's in-house engineers, but only the diagrid met the requisite span of 20m while giving a structure of sufficient finesse, a demand that ruled out use of timber. Rasti explains that the roof does all the work of spanning and giving requisite stiffness, with the central glass-enclosed box below disconnected from it. From a distance Foster wanted the roof to blend in with the existing, so sourced recycled clay barrel tiles; but on approaching, the structure becomes uncanny not so much for what is there than what is not. Facing south, the first four steel trees help support a projecting roof canopy – a strange, bold gesture at odds with the existing walls adjacent. But it's no empty one – at harvest-time this forms the 'grape reception', sheltering the fruit's initial outdoor processing from sun and rain – a physical reification of the tent hoisted annually in the neighbouring courtyard. Here you see the eaves detailing, where tiles project out and rain simply drops the 10m to a French drain below. And where the south side justifies the huge projection of this heavy tiled roof, on the other it cuts back and up, pulling north light into the mezzanine box and opening views to the landscape from its upper terrace.
This steel-columned self-supporting box, holding fermenting vats, barrel storage, R&D room and upper level wine tasting space, is the working heart of the shed and nestles beneath the diagrid's lime-washed timber soffit. You sense that Foster's wrestled with the corners: it's a Mies-lite detail, seeming to want to express its gravity as load-bearers but without any real load to speak of; but they do define the line of the box's two service walls running either side of the vats, containing all the CO2 fermentation extract ducts, feed pipes, electrics and monitoring equipment – all connecting back to the old building via a discreet glazed link. Externally, they are defined by oak slats echoing barrel staves, while internally they comprise stainless steel panels that hinge down, held by nothing more than metal wires attached to hooks.
This detail is part of the joy of this project and the polarised nature of its programme, acting as both a working building and a space for high-end hosting. So the high-spec framed glazed doors that elegantly slide or swing to access the craft-like detailing of the hosting level are offset below by a working factory floor. You'd expect the folding steel doors opening onto the canopy to be mechanical, but panels sit on wheels in runners, to be manually pulled across. Foster originally considered glass doors, but these industrial steel ones, perforated with small glass circles, tip their hat to Prouvé, and connect visually to the vineyards; its sleek, long bronze outer door pull contrasts on the inside with a workaday grouping of handles and grab bars. Cracked concrete floors, ripe for sluicing, were the best local contractors could realise and form a rustic base that sets off the beautifully engineered and spiral steel access stair to the vat head gantries, where balustrades are finished to the same level. Rasti speaks of the client's desire for mechanical rather than technological approaches from a facilities management angle, but one can't help but feel a desire for manual process is the default for an industry whose history can never fully be disassociated from the hands that picked the grapes or the feet that trod them.
This might not be a the work of a man at the height of his powers but there's a soul to this building that I've not seen in the firm's output in a long while; a master architect enjoying the luxury of developing his concept over time. Unlike the firm's drive to set precedents for corporations like Apple or Bloomberg, here he seems to reflect on old ones. Foster may have started with Stansted's roof but he's gone back – way back – for real inspiration. Past Prouvé's experiments with pre-fabrication, beyond Hector Guimard's steel engineering in turn of the century Paris, even further than Louis Combes' classicism. It's as if he's returned to the concept of Abbe Laugier's 1755 primitive hut, re-interpreting it for the modern day. It's highly considered, but notes of contingency dot the project, such as in the wire drop-down panels and folding doors. It's even in a node detail of the highly engineered, hand-welded branches meeting the diagrid roof, where one offsets to avoid an inevitable double-curve if structural logic were strictly adhered to. And as the family demanded, it sits demurely beside a wood, deferring to a landscape that's its only raison d'être. Like the wine business itself, its nature is grounded in the terroir; the work of an autumnal Foster – a meditation on land, time and production.
---
Credits
Client SCA Château Margaux
Architect Foster+ Partners
Structural engineer Ingerop
Collaborating architect A3A Cabinet d'Architecture
Mechanical engineer Secath
Wine making engineer Ingerop
Lighting engineer KEE
Lighting consultant Claude Engle Lighting Consultants
Contractors
Steel structure/glazing Seele
Roofing SECB
Roof edge GF3M
Timber cladding Legendre & Lureau
External doors/ rooflights Seele
Vats Serap
Concrete floor Vincy
Spiral stair/mezzanine BAU/Empty
Balustrades Realize (subcontractor)
Timber mezzanine floor BAU/Empty
Technical walls BAU/Empty
Internal glass partitions BAU/Empty/ Jofebar System
Mezzanine box lining BAU/Empty
Suppliers
Steel structure/glazing Seele
Roofing SECB
Roof edge GF3M
Timber cladding Legendre & Lureau
External doors/ rooflights Seele
Vats Serap
Concrete floor Vincy
Spiral stair/mezzanine BAU/Empty
Balustrades Realize (subcontractor)
Timber mezzanine floor BAU/Empty
Technical walls BAU/Empty
Internal glass partitions BAU/Empty/ Jofebar System
Mezzanine box lining BAU/Empty