A transformation for Haynes Motor Museum with Lazenby polished concrete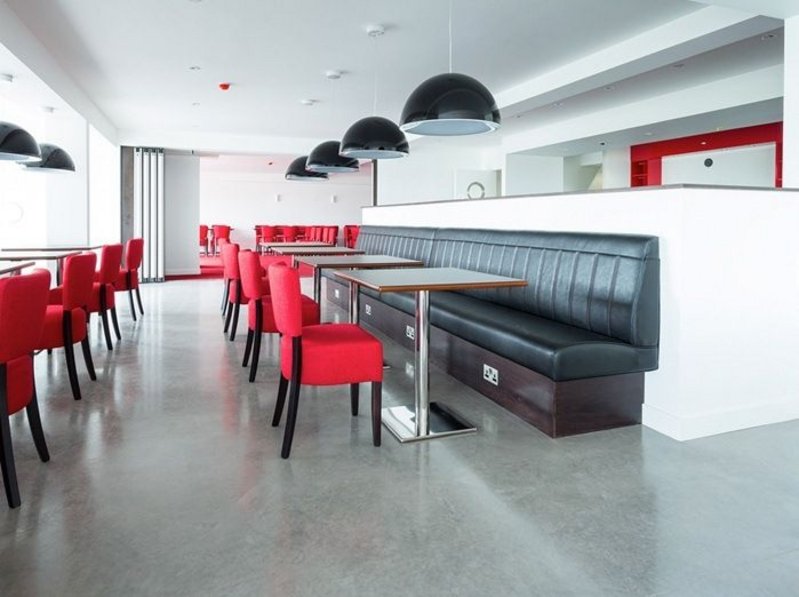 Haynes International Motor Museum officially re-opened in April 2014, with Lazenby polished concrete flooring throughout. The 860m2 of steel grey polished concrete flooring, cast in-situ concrete staircases and ramp have transformed the grand entrance, Café 750 and restaurant.
The abiding quality of the world-class exhibits is matched by Lazenby's polished concrete flooring, which is in a league of its own. The care, attention and professionalism during installation; unique colours and finishes and the superior quality of their products is unrivalled. International visitors will see a showcase of British craftsmanship and innovation.
Boon Brown Architects specified Lazenby polished concrete floors which were laid over existing concrete flooring. With an approximate CBR value of 2%, the 75mm deep (normally 100mm), C35 concrete slabs, were reinforced with a single layer of A142 mesh. This supports loading as specified in BS 6399; a uniform distributed load (UDL) of 4kN/m2 and a point load of 4.5kN.
Lazenby's superior quality was delivered on time and on budget. The classic, brutal qualities of Lazenby concrete adds prestige to public, commercial, retail and residential projects as evidently demonstrated at the Museum.