Spectacular interiors and bewitching plays of light at Ateliers Jean Nouvel's museum can't overcome a sense that, though subverted, colonial attitudes still linger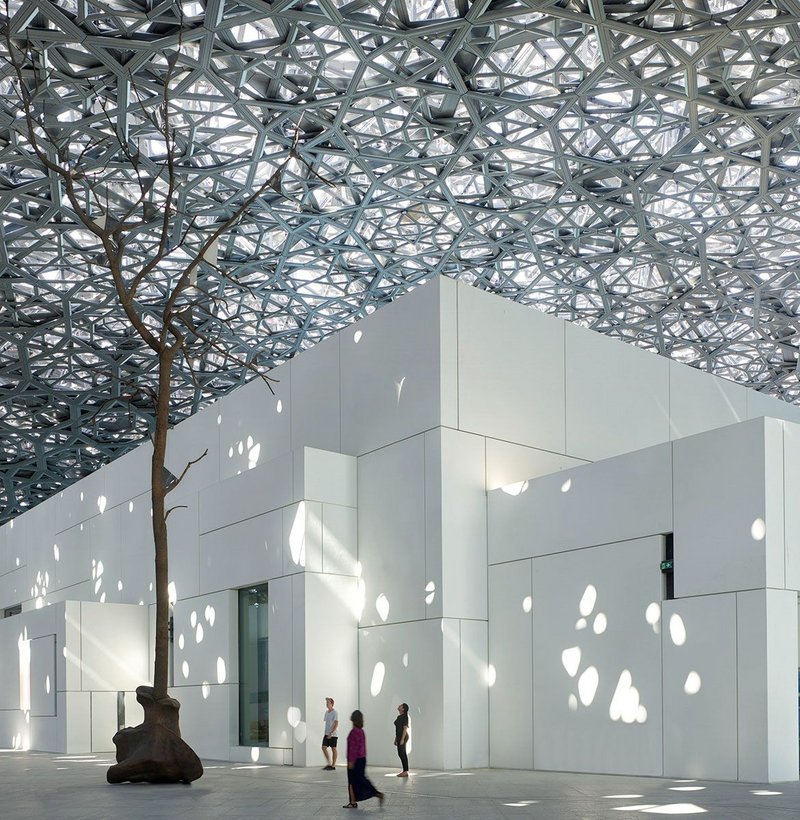 Nouvel's 'Arab village' of galleries beneath Nouvel's enormous fractal dome.

Credit: Roland Halbe
Three thousand, two hundred and fifty miles west of Abu Dhabi, in Paris' huge Bois de Vincennes, the remains of the 1907 first Colonial Exposition lie forgotten among the feral bamboo and rubber plants of its 1899 Jardin Tropical. Presided over by the overgrown stone 'Monument to the glory of colonial expansion', men and women brought from France's colonies – Congo, Algeria, Guyana, Tunisia, Senegal, Niger and Guinea – were paid a pittance to occupy replica villages, wear mock costumes and dance and play in what was in effect a human zoo, built to edify the two million visitors who flocked to gawp at them in their 'natural' environments. While conceding that these 'extras' had come of their own free will, historian Pascal Blanchard says of this power relationship: 'They were oppressed by the visitors' gaze which forced them into a role that was not theirs. This role gave visitors the impression they were looking at someone who was a symbol of a race.'
The Palais de la Porte Dorée, built for the 1931 version, became in the 1960s the Musée des Arts Africains et Océaniens (MAAO); whose colonial art transferred to Jean Nouvel's Musée du Quai Branly in 2003. The building may be new, but unsettling vestiges remain; the architect's route through the collection denoted by 'primitive' dark clay walls and cave-like interiors – a post-colonial museum mired, to some eyes, in problematic, simplistic colonial readings.
In a strange parallel, over on Saadiyat Island in the United Arab Emirates, there's been an analogous kind of cultural transplant going on in the form of Nouvel's Louvre Abu Dhabi. This new 19,000m² museum attempts to reappraise the West as the centre of history by presenting a collection that assesses it as relative to other great global cultures, states the official PR; to read it in light of anthropologist Jack Goody's '"theft of history", perpetrated by the West.' It's doing it with the new museum building and a collection of artefacts spanning millennia – half of which have been loaned from the Louvre in Paris and 12 other major French museums in a £633 million, 10 year deal, while it amasses its own collection. Along with the stalled Guggenheim and Zayed National Museums, the plan remains to turn Saadiyat Island into an $18 billion, 21st century arts complex. With millions of tourists changing planes at Abu Dhabi airport, it's intended to transform the city into one of the world's great cultural hubs.
And of course, in the century since the Colonial Exposition, the terms of reference have shifted slightly. A patch of Arabian desert has become an oil-rich Emirati state; one keen to express its financial might and arriviste cultural clout. And that needed a big gesture; one delivered spectacularly with Jean Nouvel's enormous, low, 180m diameter dome hovering like a space ship above his complex of 55 discrete white blocks of galleries, reception spaces, auditoria, restaurants and admin spaces. But if the dome form seems a crassly obvious Arabic symbol from the outside, nothing prepares you for its sheer power once you enter the open air public spaces beneath it. At 7m thick and built of eight complex arabesque-patterned aluminium layers between a steel structure supported on four enormous, hidden piers, it is engineering feat which, at 7,500 tonnes, weighs almost as much as the Eiffel Tower. Of course, it's not the solidity that makes your jaw drop but its 2% perforate nature, allowing Nouvel to generate his 'rain of light' as sunrays eke their way down between the layers in shards to dapple the shaded museum blocks and public circulation between with polka dots of softened, filtered Arabian light. As the passage of the equatorial sun moves quickly over the architect's gargantuan metal sieve, these myriad pools of light appear, grow and evaporate within minutes. Tracking the stone floors and white concrete walls over the course of the day, the effect is mesmeric.
The dome and everything beneath enter the realms of Ken Adam's stage sets for James Bond. Doppelganger reflections of light spring from the various pools that, sliding in beneath the dome, connect with the harbour to let VIPs purr their way into the museum complex by speedboat. Steps rise from the water to connect with the streets that run between galleries, exhibitions, auditoria and restaurant blocks, which allow visitors to freely wander between them. Lording journalists through their passages at the press launch like Bond arch villain Stromberg, Nouvel's at pains to point out that his concept revolved around the creation of a cultural medina, a village shaded by the dome apart from where the main galleries pop out from beneath it to the south.
This may work in so far as the basic 'randomised' nature of the blocks create passages and courtyards, but that's where any semblance to a real urban quarter stops. Though impressive in their scale, Nouvel's cubic white volumes have been stripped back and rarefied to the forms themselves and, in the galleries zone south of the plaza, are devoid of any relationship or engagement with the streets they create. Here, the blank walls might act as a canvas for the diurnal play of light, but the act of wandering has been reduced to exactly that; an act, with no intrinsic purpose. Nouvel argues that the interstitial spaces between each of the 12 galleries provide exits to these passageways – but to what end? Perhaps by way of addressing this, Ateliers Jean Nouvel commissioned artists Jenny Holzer and Giuseppe Pinone to relieve the concrete walls' unrelenting nature – but with only three pieces from each artist installed over the whole site, it's debatable how successful the strategy is; it certainly didn't draw me off the gallery route once inside.
To express the museum's curatorial perspective analysing the relativity of contemporaneous world cultures, the interconnected main galleries have been divided into 12 ages of chronological time, from pre-history to the modern age, with visitors passing consecutively from one into the other. Overall, it's fair to say the approach reflects the limited breadth of the collection; in comparison to the Paris Louvre's 38,000 artefacts, Abu Dhabi has less than 700. A collection of this magnitude accords with a gripe of late art critic Brian Sewell that Tate Modern's taxonomy was due to the fact that, unlike New York's MOMA, it had no significant collection of individual artists' work. And so it is here; in the 'A Modern World?' gallery, Whistler's Mother and a self-portrait of Van Gogh sit self-consciously alongside a Josef Hoffmann teapot and a passable 1894 painting of Cardiff Docks by someone called Lionel Walden. And curation accounts for local sensitivities; fig leaves abound and the nearest you'll get to a nude here is an inoffensive Titian. That said, the $450 million acquisition of Leonardo's Salvator Mundi shows how much purchasing power the museum has.
But, in line with the building's Bond villain credentials, Nouvel has entered into the spirit of things, creating stunning gallery interiors whose scale and intimacy better fit the notion of a fabulously wealthy and enlightened art collector (which, if you t hink about the autocratic nature of the Emirate, is bang on the button) than maybe that of a world class museum. The dome's filtered light is further refined in the galleries via roof lights fitted with 18 different kinds of glass panels; giving an overall effect of Secessionist delicacy. Minimal exhibits are indulged with room-filling, elegant, bespoke vitrines of glass, brass and granite. Floors are resplendent in brass-edged long planks of opulent stone; Italian Red Levanto like marbled beef, restrained Spanish Black Marquina, the shocking decadent orange-veined Black Saint Laurent flowing down from display plinths to the ground as cracking lava. And between, in the light-soaked break out spaces between galleries looking onto Nouvel's deserted medina, luxurious floors of thick brown leather are the basecamp for his space-age black seating.
Of course mention cannot be made of the general high quality of the construction without acknowledging the hundreds of workers who built it; a silent majority in the Emirate; enticed over, paid little, denied rights and working under harsh conditions. When asked, Nouvel distances himself from the politics and actualities of his building's four year construction, as most architects working here tend to. In his opening address Jean-Luc Martinez, director of the Paris Louvre, was at pains to say that worker conditions had been addressed on this project. But there is an irony that cannot be lost on the informed observer: a museum created in 1793, as a spoil of war for the liberated underclass of the French Revolution, continues – in its Gulf iteration – to be mired in accusations of worker oppression.
So despite the impressive nature of the endeavour, particularly its interior sophistication, there's an unsettling literality in its language; as if Nouvel unquestioningly appropriated traditional Arabic forms, adopted, modified and sold them back wholesale to their own culture. In a reappraisal of Pascal Blanchard's comments, that literality, reified by Nouvel, panders to the Emirati sense of identity, which itself seems dictated by the Occidental view of what the signifiers of Arab (and indeed Western) culture are; as if the architect's uncomprehending gaze has been returned with mistaken comprehension. Built by a French architect and complicit, migrant workforce, this floating palace for art surrounded by stilled seas, with its faux medina, is a modern Xanadu, a piece of colonial history repeating; a spectacular mirage to which we are all accessories.
---
IN NUMBERS
8,600m² gallery spaces
7,580 unique stars in dome
800 workers on site
30 year deal for Louvre name
Credits
Client Louvre Abu Dhabi
Architect Ateliers Jean Nouvel
Concept engineer Arup
Construction engineer Buro Happold
Facade engineer Andrew Snalune
Cost consultant Mda Consulting
Museography Renaud Pierard
Graphic design, signage Philippe Apeloig, Kristian Sarkis
Lighting design 8'18"
Scenography Ducks Scéno
Landscape Michel Desvigne, Jean-Claude Hardy
Interior design Eric Nespoulous / Jnd
Acoustics Studio Dap
Artistic commission Jenny Holzer, Giuseppe Penone