A waste-to-energy plant makes a striking addition to a Danish city skyline – especially at night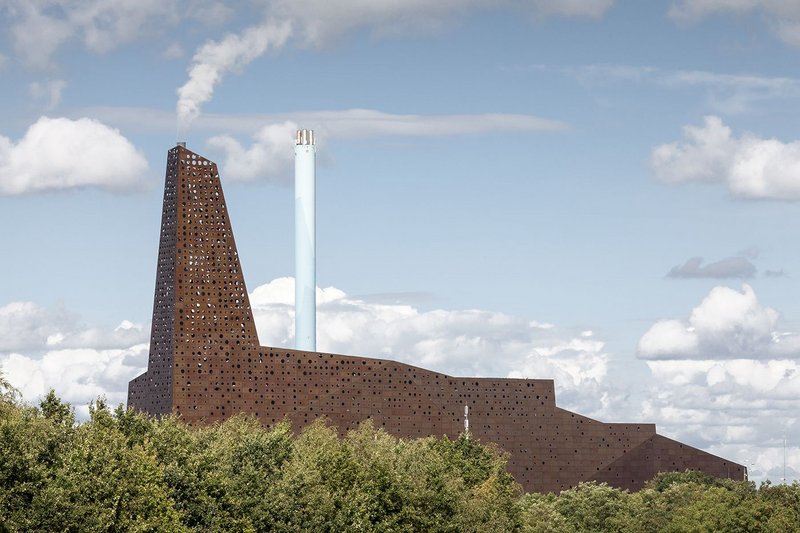 Homage is paid to the spires of Roskilde's Unesco-protected cathedral by the Incineration Line building.
A evening walk through empty waste land on the outskirts of the small city of Roskilde in Denmark could surprise visitors with an unexpected and awe inspiring sight.
The hulking angular form of the waste-to-energy Incineration Line building, designed by Erick van Egeraat, looms monolithically above the landscape, its aluminium facade perforated by hundreds of holes through which colourful lights glow brightly, mirroring the super-heated ovens that burn inside.
The plant was built for local waste management company Kara/Noveren and provides sustainable heat and power to for the whole region of Roskilde by incinerating waste from nine surrounding municipalities and beyond.
The facade itself is double-skinned; the inner layer provides ventilation, wind and water tightness, allowing freer expression on the outer layer of umber-coloured aluminium plates. The aluminium was pre-treated with a surface patina and laser cut with circular holes to create an irregular pattern that becomes more densely packed towards the roof and the top of the chimney.
Programmable lighting, installed between the two facades, is a poetic metaphor for the building's industrial use, as Erick van Egeraat explained: 'Several times an hour a spark of light will gradually grow into a burning flame that lights up the entire building. When the metaphorical fire ceases, the building falls back to a state of burning embers.'
To achieve a diffuse glow, the luminaires were positioned to reflect off of the inner facade and through the perforations in the outer skin. All lights can all be programmed individually in a range of colours, but with muted tones and intensity so as not to brighten the sky or dominate the surroundings.
The building's iconic silhouette is also a nod toward Danish history, although the lower part of the building resembles the angular roofs of surrounding factories, the impressive 100m tower is the modern day counterpart to the twin spires that top city's Unesco world heritage-protected Roskilde Cathedral.